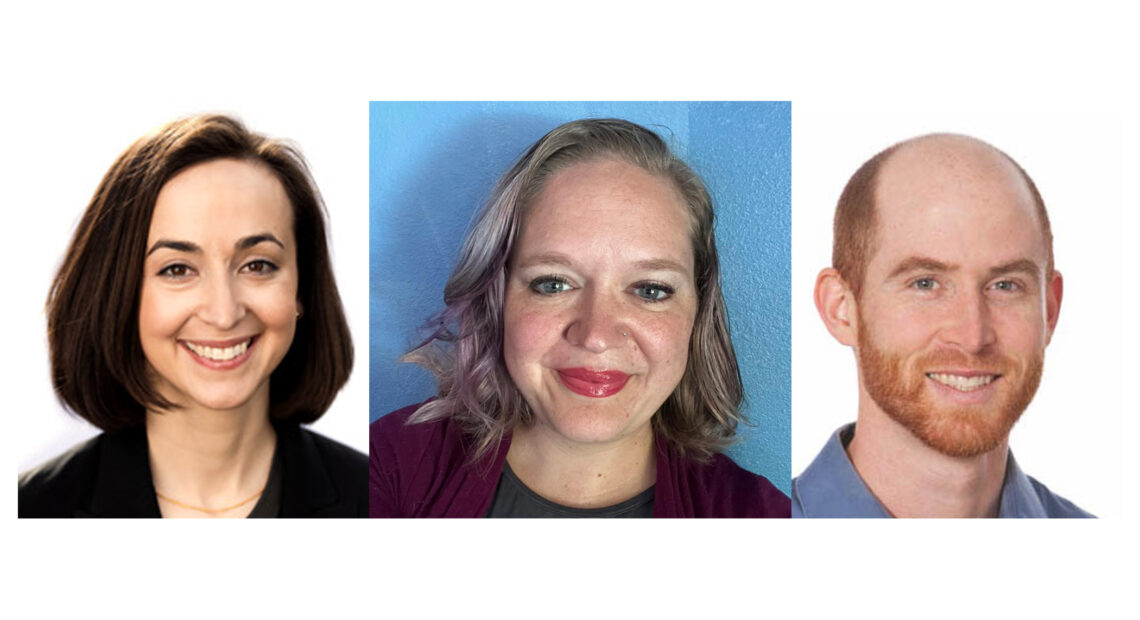 New Blood Northwest: First Time Candidates In Eastern Washington
Spokane-raised candidate thinks investing in community will help prevent crime
Maggie Yates is a Democrat, a first-time candidate running for county commissioner in a new district in west Spokane. She was born and raised here, and she wants to raise her own kids here, too. 
With the county's rise in violent crime, Yates is blazing a different trail. She served for several years as the county's law and justice administrator. But earlier this year, she resigned because her approach clashed with the law and order message espoused by the sheriff and prosecutor. Yates says the best way to tackle crime now – and for the long term – is by investing in public infrastructure and services.   
"Investing in attainable housing, behavioral health services, early childhood education, all of those investments are shown by research to actually improve public safety. But they're also those investments that create a really vibrant, resilient community that's going to weather pandemics and business cycles. And again, support working families," she said.
Yates says her prior experience as a judicial administrator gave her insight into how local government works.  
"I got to see on the one hand, how exciting local government is because it really has the potential to immediately and pretty drastically improve the quality of life for residents. But I also saw the ways in which our current elected officials are failing to do that for residents."
Yates says her experience also showed her county officials may not value data driven solutions, or advice from experts.  
"So I want to make sure that I'm operating with the best information. And then it's immediately starting to invest in relationships, both with the county workforce, and then with our partners across the region, and tackling the big, persistent challenges across the region," she said.
Yates has her own big challenge. She's one of four candidates in the primary. She has to finish in the top two to advance to the general election, where she would likely face one of the commissioners who originally hired her to work at the county. 
Over in the Yakima Valley, Dori Luzzo Gilmour tells us about another first time candidate. A middle school teacher, who says, she's running for her students.
Write-in candidate walks the talk
Lindsey Keesling is not the type of person to take the easy route. She's worked for the past seven years at Washington Middle School in Yakima. This fall, she'll head up the valley to Mabton to teach at the high school. 
Just a few weeks ago Keesling filed as a write-in Democratic candidate for the state Senate in the 15th legislative district.
"I really am honestly doing this for my students. I think it's more important to talk about what the actual situation is like in so many of our communities. I would be teaching students who are sleeping on their grandparents' couch because their parents got deported, teaching students whose friends were killed in gang violence days earlier," she said.
Keesling has been knocking on doors to introduce herself to voters. She's walked so many miles that she has worn out her favorite pair of kitty cat shoes. 
That what Keesling says sets her apart…her willingness to engage with the people she wants to represent. She thinks the current crop of public officials has lost touch.  
"The vast majority of their time should be spent actually directly petitioning with their constituents and talking about issues and being willing to take direction," she said.
Keesling has to get 100 votes as a write-in candidate in the primary to advance to November's general election.
Back in Klickitat County, a family doctor is running as an independent candidate, hoping people can put aside their political labels. 
Independent candidate wants a healthy democracy
Chris Faison thinks democracy and communities need to be healthy. It's his priority as a candidate for state representative in the 14th Legislative District, which covers Klickitat and parts of Yakima County.
"If democracy is a patient I am seeing in the clinic, I would walk into the clinic and say: 'Dang democracy, you don't look so good. You look kind of sick.  You had that recent scare and I'm worried about your heart. You need to eat better, you need to go out and get some sunshine and you need to get back out in the community, with the people," he said.
Faison is a family physician at Northshore Medical Group in White Salmon. He has experience in rural medicine. And he has worked extensively with community organizations in Klickitat County, empowering people around health and environmental justice.
"I was hoping that running as an independent will encourage people to put down our labels. I work with a very diverse group of patients in the clinic, and I really also want to be able to engage fully on this without isolating folks in the community."
He decided at the last minute to run for the first time. He filed his paperwork an hour before registration closed. 
He thinks community health goes beyond the walls of clinics and doctors' offices.
"Community health is economic health, it's working families with well paying jobs, it's affordable housing, nutrition, childcare. It's also environmental health," he said. 
Faison hopes to win the seat currently held by Republican Representative Gina Mosbrucker