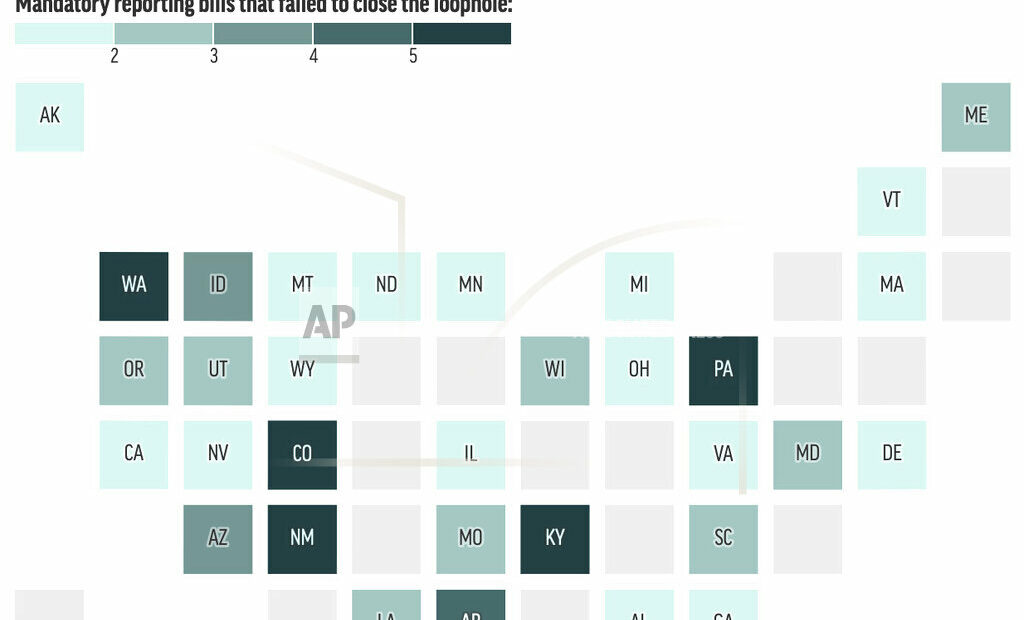 33 States, Including Washington, Idaho & Oregon Exempt Clergy From Reporting Abuse
By Jason Dearen & Michael Rezendes –  AP
Thirty-three states, including Washington, Idaho and Oregon, exempt clergy from laws requiring professionals such as teachers and doctors to report information about alleged child abuse to police or child welfare officials if the church deems the information privileged, an Associated Press review has found.
This loophole has resulted in an unknown number of child sex abuse cases being allowed to continue for years despite the perpetrator having confessed the behavior to religious officials. In many of these cases, the privilege has been invoked to shield religious groups from civil and criminal liability after the abuse became known to civil authorities.
Over the past two decades lawmakers in these states have proposed more than 130 bills seeking to create or amend child sex abuse reporting laws, the AP review found. All either targeted the loophole and failed to close it, or amended the mandatory reporting statute without touching the clergy privilege amid intense opposition from religious groups. Often, legislative efforts to close the loophole run up against lawmakers who are also church members.
Washington doesn't list clergy as mandated reporters but grants clergy-penitent privilege, though it's limited to pastoral communications. There have been numerous tries to add clergy as mandated reporters, and they've all failed.
In Idaho, three bills have amended the state's mandatory reporting rules over the past decade, yet none of them sought to eliminate the clergy-penitent privilege.
Oregon's statutes say public or private officials who are mandated to report include members of the clergy, except when such communication is privileged. There have been no relevant bills over the past decade that have challenged the privilege in Oregon.
You can read the full article by the Associated Press here.
Copyright 2022, Associated Press.