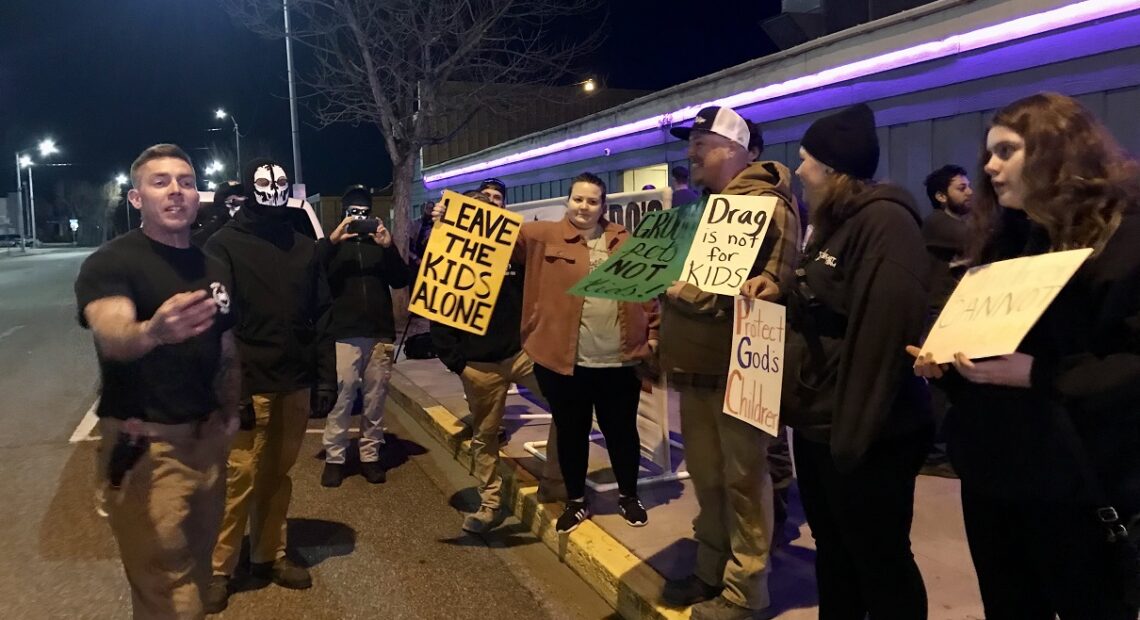 Drag shows face protests in the Tri-Cities – Part One
Protesters in Pasco and concerned citizens in Richland want to limit children's access to drag shows. Business owners and performers defend the events that are open to those of all ages.
Families lined up to enter Out and About, a local nightclub in Pasco, to watch the drag show. At the same time protestors held up "Leave the kids alone" and "Drag is not for kids" signs outside.
The show "All Ages Disney Drag Extravaganza" featured drag performers portraying Disney characters. More than 100 people attended the event.
Andrea Wabaunsee organized the event. She said performers have put on family-friendly shows for many years without issue.
"We usually wear bright colors and fun costumes that resemble characters from Disney shows; lip sync to all-ages appropriate music from Disney and others, read all-age appropriate stories, and talk about love and acceptance," said Wabaunsee.
Not everyone approves. Protestor Cherry Snowhite did not want children in the audience.
"We're gonna have men that are dressed up like women, it's going to be very confusing for kids. As a child: we climbed trees, we had fun, we played with our friends. But we weren't worried about what sex people were, exposing them to guys that are women and may be interested in children," said Snowhite.
Connor Jennings, another of the protestors, agreed.
"If you're an adult, you can do whatever you want. But I don't think it's right to bring kids into it. They're bringing these kids into a bar. They're letting anybody that's eight and under 11. It just doesn't seem right," said Jennings.
Drag show attendee Shannon Boisoneao said there's no sexuality or politics involved.
"The children that come here, their parents bring them, they're supervised by their parents. It's a safe environment. It has nothing to do with sexuality. It has to do with a performer, doing a performance, entertaining people," Boisoneao said.
Now that national discussions for restricting the drag-shows are being raised locally, Wabaunsee said the cast is experiencing hostility and harassment.
"I've been receiving a lot of really, really, really nasty messages, emails, people posting videos about me. It's been a lot of hate that I've noticed," said Wabaunsee.
Other venues managers say they've experienced the same harassment for scheduling drag shows. Tim Thornton manages The Emerald of Siam Thai Restaurant in Richland, which has planned an Easter Drag Bruch event.
"We have been receiving a lot of messages with hateful words, a lot of phone calls, voicemails. Pretty much it's harassment levels at our store, and it's starting to make my staff feel uncomfortable," Thornton said.
But the performers aren't backing down. They say the show will go on – specially to protect their First Amendment rights.
More stories in this series:
Part 2: Tri-Cities citizens urge city council members to keep children from drag shows
Part 3: Drag show protests throughout Tri-Cities lead to death threat, vandalism