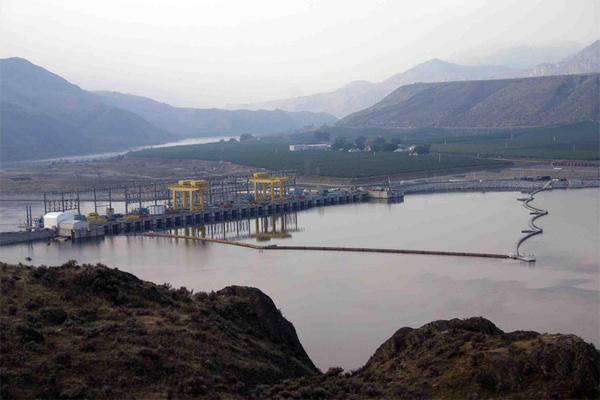 Hatchery Owner Dumps State Workers, Contract After 'Sexualized Culture' Investigation
After 50 years, Washington's Department of Fish and Wildlife will no longer operate the Wells Hatchery on the Columbia River near Pateros.
The Douglas County PUD, which owns the hatchery and a satellite facility in Winthrop, decided Monday to exercise a 90-day termination clause in its contract following an investigation into a "highly sexualized workplace" culture at the facility.
"We are going to be working closely with Washington Department of Fish and Wildlife staff to develop a transition plan for the coming months," said PUD spokeswoman Meaghan Vibbert. The state has operated the Wells Hatchery since 1967.  
The move follows reports earlier this month by public radio's Northwest News Network and The News Tribune of Tacoma that revealed the findings of the June 26 workplace investigation and the subsequent firing of the top four employees at the hatchery.
An outside investigator, Daphne R. Schneider Associates, found that three employees at the hatchery engaged in explicit sexual discussions at work and the hatchery manager failed to intervene. One woman who worked at the hatchery told investigators she sought a seasonal job elsewhere to escape the "constant, daily sexual banter."
The fired workers denied many of the allegations and described the conduct as "locker room talk."
The contract to operate the Wells Hatchery and the satellite facility is worth more than $2 million and had just been renewed with Fish and Wildlife in June. The decision to terminate the contract was made after a Monday afternoon meeting of the PUD commissioners.
"It is a major decision and we're taking it seriously, but we are confident for our future," Vibbert said.
Bruce Botka, a spokesman for Fish and Wildlife, said late Tuesday that the agency had received a letter from Douglas PUD regarding the contract and that it was under review.
"We're not taking a fight or flight type position at this point, we're just trying to figure out what the options are and what the best approaches are," Botka said. He added that Fish and Wildlife would be "disappointed" to end its relationship with Douglas PUD. 
The PUD said it plans to hire a new staff to operate the hatchery facilities. Vibbert said the current employees could apply for those jobs, but there was no guarantee they would be hired.
According to Fish and Wildlife, the Wells Hatchery complex employs 17 workers, but that includes facilities that are not owned by Douglas PUD.
The Wells Hatchery, which produces steelhead, sturgeon and kokanee among other species of fish, recently underwent a $37 million rehabilitation that is being completed in the coming weeks. 
Editor's note: This story was reported in collaboration with Walker Orenstein of The News Tribune and The Olympian.
Copyright 2017 Northwest News Network. To see more, visit 
Northwest News Network
.