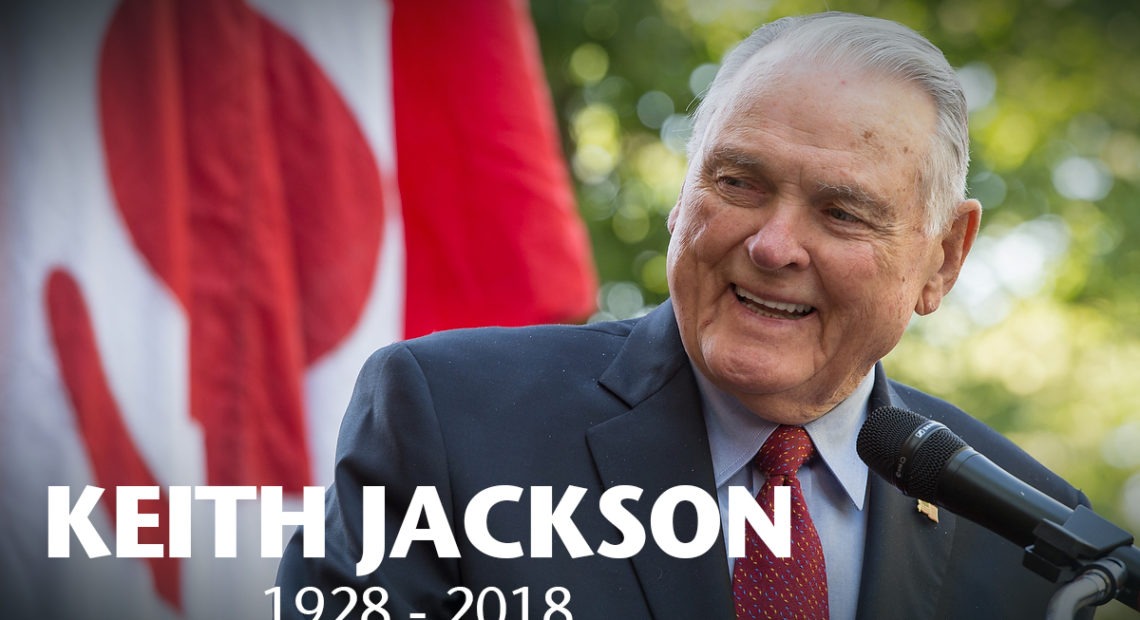 Keith Jackson, Sports Broadcasting Legend And WSU Alumnus, Dies At 89
Keith Jackson's name is synonymous not only with Washington State University broadcasting education, but with excellence in sports announcing.
The man whose popular phrase "Whoa, Nellie" became as much a well-known sports saying as it was his own moniker, died Friday, Jan. 12. He was 89.
In a career spanning over 60 years, Jackson had a front-row (or front press box) seat to some of the most notable and memorable moments in sports history. He was the first play-by-play announcer for "Monday Night Football," which debuted on his longtime employer ABC Sports in 1970. In nearly 50 years with ABC, Jackson covered almost every kind of major sporting event, from the MLB World Series, to NBA and NFL games, to 10 Olympic Games, according to ESPN. His Olympic coverage included that of swimmer Mark Spitz's record-setting seven gold medals in 1972.
Jackson lends his name to the Northwest Public Broadcasting office space on the Washington State University campus, where inside the Keith Jackson Newsroom, a display case holds examples of his numerous awards for sports broadcasting excellence, as well as his typewriter.
For all of his wide-ranging (and well-traveled) sports coverage, it was his calling of college football games that brought his name into the homes of millions of people on Saturdays for over four decades. His memorable, down-to-earth and approachable way of explaining football let fans connect not only with their favorite teams, but with the voice and human on the other side of the camera describing the on-field action to them.
He is credited with popularizing the nickname "Granddaddy Of Them All" for the Rose Bowl football game and stadium in Los Angeles, home to the UCLA Bruins.
ESPN senior writer Ivan Maisel remembered one of Jackson's many unforgettable game calls this way:
"His folksy, pull-up-a-chair voice told you a story, but he also thrived in the biggest moments. Take the 1994 Colorado 27-26 victory at Michigan, when Kordell Stewart threw a 64-yard Hail Mary that Buff receiver Blake Anderson tipped to teammate Michael Westbrook for the winning touchdown.

 Three wideouts at the top of the picture. Stewart, with time. Let's it go! He's got three people down there! The ball's up in the air, caught! Touchdown! Caught by Westbrook for a touchdown! Incredible!

 "And then, 25 seconds of silence. It was never about Jackson. It was about the moment.

 There is no time remaining. (Seven more seconds of silence). There are no flags on the field. Only despair for the Maize and Blue, joy and exultation for the Buffaloes of Colorado.

 "That's a graduate class in broadcast journalism," Maisel wrote.
Jackson was famously humble, often diminishing his own role in sports history and likening himself to someone not wanting to intrude on the real action on the field. In exploring a possibly autobiography (which wasn't published), Jackson told stories of his life to Kansas City Star writer Vahe Gregorian.
Gregorian dug up notes from their more than 20-year-old conversations after news of Jackson's death and published them over the weekend.
"There are times I turn on an athletic contest that I'm quite sure my profession has died," Jackson told Gregorian. "If he wants to go into show business, he should go back to vaudeville and get his own stage. Amplify, clarify, punctuate. Don't intrude. I live by that. I do not in any sense at any time try to intrude on what's happening. I merely define it."
Born in 1928 in Roopville, Georgia, Jackson served several years in the U.S. Marine Corps. before enrolling at Washington State University, where as a broadcast journalism student he called football games for campus radio station KUGR.
His first professional job after graduation was at Seattle's KOMO. He was hired as sports director for ABC Radio West in 1964.
In 2014, Jackson spoke at the dedication ceremony of WSU's Jackson Hall, which had been renamed in his honor as part of the larger Murrow Hall complex. He reminisced about coming from the southeast to the small town of Pullman, Washington.
"It was a comfortable place after one year for me," Jackson recalled. "And I just simply admitted right then and there that this was my kind of place, and my kind of people. And you still are. Even though the place is getting bigger and bigger. The people are keeping up."