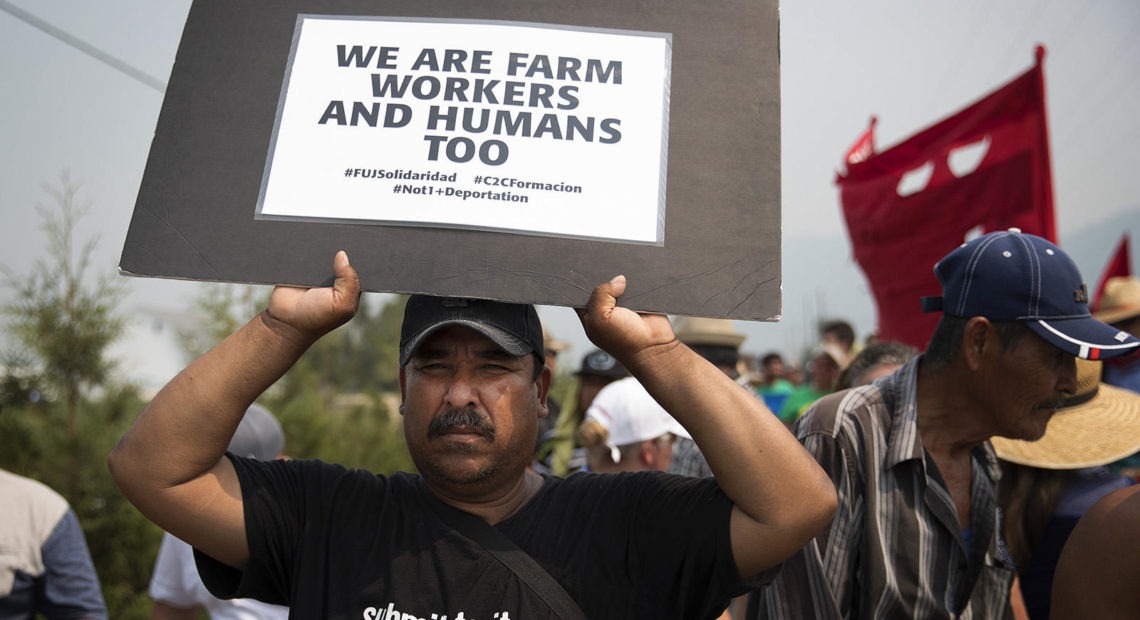 Washington L&I Fines Farm For Violations; Lawsuit Previously Filed After Worker's Death
The Washington Department of Labor and Industries says it found no violations after the death of farmworker Honesto Silva Ibarra last August. It comes after a six-month investigation into Sarbanand Farms in Sumas, Washington.
But Sarbanand does face $150,000 in state and county fines for other violations. Labor and Industries found the farm violated workers' rights through missed employee breaks and late meal periods. Sarbanand and its parent company, Munger Bros., also face a class action lawsuit filed on behalf of more than 600 workers, alleging anti-trafficking violations and unfair retaliation.
Silva Ibarra was a 28-year-old H-2A temporary worker from Mexico. The King County Medical Examiner's office found he died of natural causes.
Original Story, January 26, 2018:
Barbaro Rosas and Guadalupe Tapia both picked blueberries for Sarbanand Farms in Sumas, Washington. 
Last August, they watched as their coworker Honesto Silva Ibarra was rushed to the emergency room. Ibarra was a Mexican H-2A farmworker like them. He died a few days later.
Rosas and Tapia are now part of a lawsuit hoping to gain class-action status alleging workplace labor violations by the farms.
If approved by the court, the lawsuit could represent over 600 other workers who were affected by work conditions. The plaintiffs believe the company violated federal anti-trafficking laws and unfairly retaliated against workers who protested.  They allege the company that brought workers from Mexico, C-S-I Visa Processing, was unlicensed and unbonded, meaning they violated labor contractor laws.
"H-2A (visa) workers are more vulnerable and have fewer legal rights than even undocumented farmworkers," said Joe Morrison of Columbia Legal Services, which filed the lawsuit.
Morrison stressed the challenges workers face coming from out of country to work on sponsored work permits. When they come for harvests, workers are fed and housed by farm owners. Often they don't have cars and are at the mercy of their employers.
Rosalinda Guillen is the executive director of Community to Community. The grassroots organization focuses on food sovereignty and immigrant rights in the Bellingham area.
Guillen is frustrated because this fall, Congress introduced a new H-2C guest worker category.
"If a farmer brings guest workers, to work for him, he must provide housing for those workers. This bill removes that. That to us is very troubling," Guillen said.
The new temporary worker program would also make farmers and workers agree to binding arbitration, meaning workers couldn't receive legal aid from tax payer-funded help.
UPDATE, Jan. 29, 2018: Munger Bros. LLC and its Washington subsidiary, Sarbanand Farms, released a statement emailed to news media, saying the companies had been "unjustly charged in a lawsuit." The companies said they would "vigorously fight the allegations … which will be shown to be untrue and without merit."
They declined further comment, citing pending litigation.