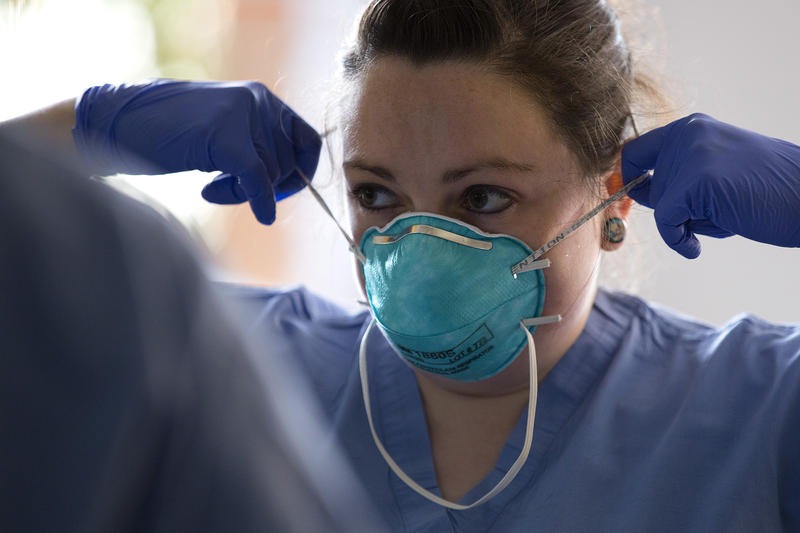 Yakima County Gets Stay-At-Home Order As President Trump Declares Emergency For Washington
BY NWPB & AP STAFF
Updated March 23, 2020, 8:15 a.m. PT
Coronavirus continues to spread in Washington and Idaho. As of Sunday, March 22, Washington had nearly 2,000 confirmed cases, with at least 95 deaths since the outbreak began. Idaho's official number stood at 47 cases, with most in Blaine County.
President Trump on Sunday announced an emergency declaration for Washington, freeing up federal assistance.
On Sunday, a nursing home in Bellingham became the latest site of a coronavirus outbreak affecting a vulnerable population. Shuksan Healthcare Center now has at least 32 confirmed COVID-19 cases. Twenty six are residents, and six are staff, according to the Bellingham Herald and Whatcom County's health department.
Yakima County Stay-At-Home
Yakima County residents are being told to stay at home, except for essential travel and work. That order came Sunday night from county health officer Teresa Everson in response to growing coronavirus exposure, which the county health department reported at 32.
The order means people must stay at home except for needed travel for food, medication, medical treatment and certain essential jobs. Under the order, essential jobs include grocery stores, gas stations, pharmacies, banks, take-out and delivery food options, laundry services and essential government functions.
"This order has been implemented in recognition that if we don't take drastic action now, there will be a day in which our healthcare system is overwhelmed," Everson said in a statement. "And we will not be able to provide critical medical care to the most vulnerable in our community."
However, people are still allowed outside for exercise like walking, hiking and bike riding – while maintaining 6 feet of distance.
On Friday, Washington governor Jay Inslee said he did not have immediate plans for a similar statewide mandate, but would evaluate the need for one depending on how people comply with requests for social distancing.
Whitman County, Wash. – Moscow, Idaho
Also on Sunday the Whitman County health department confirmed its first case of COVID-19. The patient, a female in her 20s, is recovering and self-isolating at home.
Across the border in Idaho, Latah County does not have any confirmed cases – yet. But Moscow city officials are taking preventative measures. The city council voted Friday to close bars and restaurants for in-house service until May 5 – though food pick-up and delivery are still allowed. Social gatherings in Moscow are also limited to 10 or fewer people.