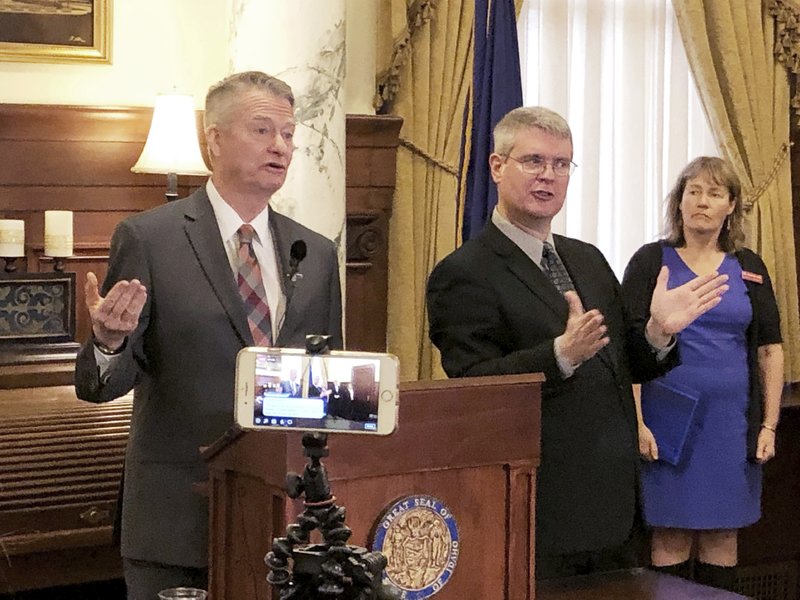 Coronavirus In Idaho: Moscow Closing Bars And Restaurants As Cases Grow Statewide
BY SCOTT LEADINGHAM / NWPB, DOUG NADVORNICK / SPR & REBECCA BOONE / AP
Updated March 21, 2020, 1:30 p.m. PT
The new coronavirus, and the disease COVID-19 it causes, continue to make their presence known in Idaho.
In the latest local development Friday, the city of Moscow will close bars and restaurants for in-house servicing beginning at midnight Saturday, March 21 until May 5, 2020.
The move came Friday in a city council meeting intended to let Mayor Bill Lambert make an emergency order.
According to the order, gatherings of more than 10 people are prohibited, and all bars and restaurants in the city must close for in-house dining service. Food pickup, take-out and delivery are still allowed.
The initial order from the mayor was to last at least seven days. The city council then voted to extend the closure until May 5.
The move comes as more Idaho counties, cities and school districts close facilities. Gov. Brad Little has so far declined to make any statewide orders.
Not all Moscow city councilors attended the Friday afternoon meeting. Council member Anne Zabala dialed in by phone, and was notably hesitant before voting to let the mayor act.
Lambert noted that although there are not yet any confirmed COVID-19 cases in the city or Latah County, the move is necessary to help protect public health and safety.
Fast-Moving Developments
And in a week of fast-moving developments, there were two more Thursday: The first confirmed case in North Idaho is in Kootenai County. The Panhandle Health District said Thursday the man in his 60s has mild symptoms and he's resting at home.
Gov. Little said the second development involves a county in south-central Idaho.
"We're receiving confirmation this afternoon that limited community spread of coronavirus has been detected in Blaine County," Little said during a Thursday news conference. "That means this is the first time in Idaho that a person contracted the virus from an unknown source in their community. Up until now, all confirmed cases were the result of travel to an area outside of the state or from close contact with someone who contracted the virus through travel."
That prompted the state to issue an isolation order for Blaine County. It means certain public places will be closed, but grocery stores and health care facilities will remain open.
Idaho has not yet issued a statewide order closing schools, bars or restaurants, though many local districts have shut their doors.
As of Thursday evening, the state had 23 confirmed cases, including 16 in Blaine County. That number is expected to rise as more tests come in.
AP Idaho Hospital Beds Analysis
Idaho has fewer than 2,300 general care hospital beds statewide, with fewer than half of them estimated to be empty and available to take new patients on any given day, according to an Associated Press analysis of Centers of Medicare and Medicaid cost reports data.
But officials with the Idaho Hospital Association say their count of hospital beds statewide is far higher, with roughly 2,800 acute care beds — including 555 intensive care beds — reported in Idaho this year. The AP excluded specialty care beds such as those designated for psychiatric care, alcohol and drug dependency care and rehabilitation from both sets of numbers.
Either number means there may not be enough beds for coronavirus patients if even the most conservative estimates from state epidemiologists are accurate.
The number of COVID-19 cases in Idaho continues to grow, with 12 new cases in central Idaho's Blaine County announced Thursday and Gov. Brad Little placing the region under mandatory isolation orders in an effort to stop community spread of the illness. Many hospitals nationwide are bracing themselves for an expected onslaught of coronavirus patients. The number of available beds is critical to each facility's ability to manage the incoming surge.
The AP compiled the data showing bed counts and average occupancy levels at more than 3,000 short-term acute care hospitals in the United States for fiscal year 2018, the most recent publicly available numbers.