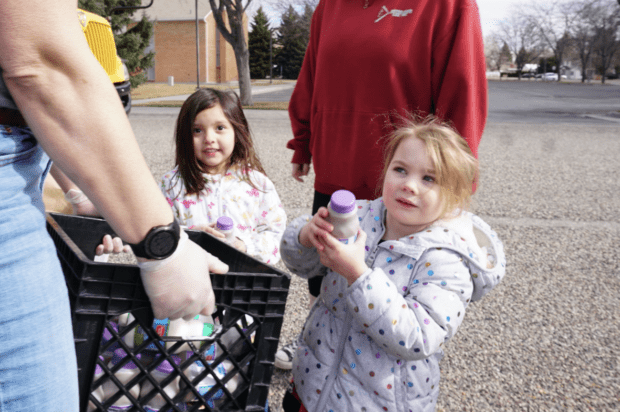 'A Helpless Feeling': Hundreds Of Idaho Children Unaccounted For In Switch To Distance Learning
WATCH: Tracking learning outcomes for students suddenly doing distance education
(Story continues below video)
As the Bonneville School District was closing its doors because of the novel coronavirus, Ucon Elementary teacher Waydann Lambertsen made boxes for each of her 22 third graders to take home.
Inside were books and work packets, pencils and whiteboards, enough learning material to teach them "through to summer and then some," Lambertsen said. She asked parents and students to come pick up their materials, and delivered some to students' homes.
Two weeks later, one box was still at the school.
It belonged to a student Lambertsen spent the year trying to reach. A child who struggled academically, when the student made it to school at all. By March, the third grader had better attendance and seemed to be more engaged with class. Lambertson thought she was making progress.
But Lambertsen lost touch with the student as Bonneville transitioned into at-home learning. Texts, emails and calls to relatives for weeks went unreturned.
"I felt like, with this one little child, I had actually built a pretty good rapport," Lambertsen said in an interview with EdNews. "It's heart wrenching to think that you may be losing all of your efforts."
Administrators in Idaho's largest districts say they've lost touch with up to 5 percent of their students during the transition to remote learning. These families haven't responded to texts, calls, emails and sometimes home visits from administrators.
Teachers worry these students are falling behind academically. But their fears run deeper than that. Educators worry about child abuse and neglect. They worry parents could have lost their jobs, been evicted or that families are in mental or physical distress.
"It's just kind of a helpless feeling, not being able to contact them," said Fernanda Brendefur, principal of Whittier Elementary School in Boise.
Hundreds of children unaccounted for
Idaho's largest school districts were unable to make contact with hundreds of students in the month following school closures.
It's not a problem unique to the Gem State. Educators reported up to 27 percent of their students were essentially "truant" from school in an early April survey by Education Week, a problem that was more severe in high-poverty districts. Growing rates of youth homelessness could contribute to communication challenges, EdWeek wrote, as can other economic woes prompted by the coronavirus.
Idaho Education News collected data from eight of the state's largest districts in late-April. Most told EdNews that one or two percent of their students were unaccounted for, and that teachers were making contact with more students every day.
In districts with tens of thousands of students, those numbers add up.
Here's what districts told EdNews:
West Ada, Idaho's largest district, couldn't provide a comprehensive count of how many students the district had not been able to reach. More than 2,000 students — roughly 6 percent — were missing from a district-wide survey about technology and internet needs in early April, spokesman Eric Exline said. This could be the highest number of students the district has not been able to reach, but Exline estimates the number is "probably lower, maybe even considerably."
On April 22, the Boise school district had not heard from roughly 275 families. By April 30, spokesman Dan Hollar said that number had fallen to around 140. The district has 25,000 students.
The Nampa School District said it had touched base with 99 percent of kids at the secondary level and only a "small handful" of elementary students had not been in touch.  The district has more than 15,000 kids.
Bonneville, with almost 13,000 students, said between 1 and 2 percent of students had not been in contact by April 22.
Pocatello superintendent Doug Howell said on April 24 that his district couldn't reach about two dozen of his 12,000 kids.
Coeur d'Alene was still trying to reach 80 of 10,800 students on April 23.
Twin Falls reports roughly 143 students of 9,500 have not been in touch with the district.
Vallivue can't reach about 1 percent of elementary students, and around 5 percent of students in middle and high schools. The district has 9,500 kids.
Percentage-wise, those numbers aren't terrible, Vallivue Superintendent Pat Charlton said. But they are still a concern.
"It's always a concern when you have – in this case – over 100 students that you just haven't been able to reach at all," Charlton said. "Especially at the secondary level,  where five percent of kids have, perhaps, just thrown in the towel.
I'd like to see that number improve."
Communication challenges compounded by the coronavirus
Boise's Brendefur gets more concerned each week she doesn't hear from her missing families.
The Boise School District shut its doors on March 16. By April 28, Brendefur's staff still hadn't touched base with 17 families of the school's 500-plus students. They  have tried calling, sending emails and texts and snail-mail to these families weekly, trying to keep in mind that too much communication might overwhelm or exhaust them.
Educators worry that efforts to reach students at home have been complicated by the novel coronavirus. Families may be struggling economically, had to move to save money or lost the ability to pay for phone service or internet. Any of those challenges could intensify stress or mental health needs.
"There's the concern that families have gone through a crisis, or a life-changing event," said Heidi Rahn, federal programs coordinator for the Nampa School District. "There's a worry that they don't know to reach out to us to help them."
Missing contact information and social-distancing orders compound the communication challenges.
Bonneville superintendent Scott Woolstenhulme said he recently discovered the district didn't have working phone or email addresses for at least 100 parents. In some cases, districts have used emergency contacts or a student's friends to get in touch.
Charlton, from Vallivue, wonders if the district's academic policies have inhibited student response rates. Vallivue told kids that remote-learning assignments would only help, not hurt, their grades. This could mean some kids who are satisfied with their grades decided to start summer early, Charlton said.
All districts told EdNews they've tried the regular communication channels: phone, text, email, in some cases letters or alerts through student learning platforms. But some are wary to do home-visits because of social-distancing and stay-at-home orders related to COVID-19.
Districts like Nampa have sent school resource officers or staff to knock on doors if the district hadn't heard from a family. Bonneville and others said they were waiting for Gov. Brad Little's stay-at-home order to be lifted before they would take that step. (That order expired on Friday).
"A sense of closure"
A Ucon elementary teacher heard from Lambertsen's missing family last week, more than a month after schools closed.
The student's caregivers had decided not to engage with education, Lambertsen said. They were frustrated that the Idaho government allowed schools to close when other businesses didn't have to.
Lambertsen still hadn't heard from the family late last week, but she knows they received educational resources from the district. After cycling through worry that she couldn't reach her student, and frustration that the family didn't want to engage, Lambertson is starting to feel relief.
"It's a sense of closure, I guess. That it's okay." she said. "We have something and I have to be okay with it being enough."
Originally posted on IdahoEdNews.org on May 3, 2020
NOTE: Idaho Education News is an underwriter of NWPB programming, though NWPB is editorially independent. See all NWPB business supporters here. This article is re-published with permission.