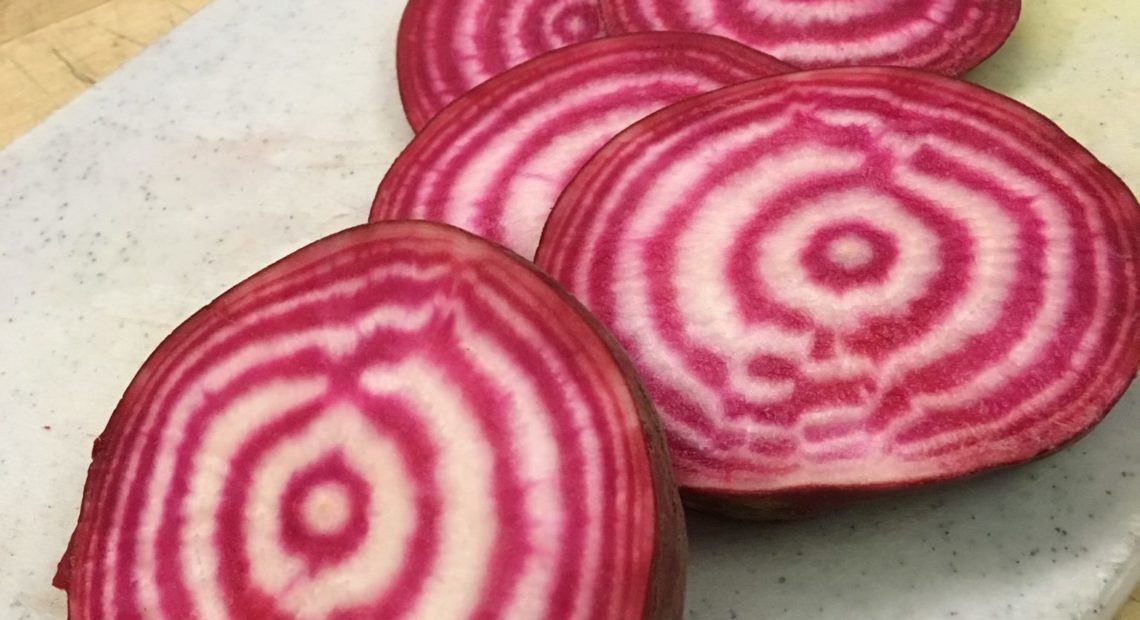 Beets for Beethoven's Birthday!
So it's true! All these years, you've carefully pronounced the "beet" in Beethoven's surname as "bait," you well-educated music lover. And you're right, you're right. But dig a little bit, and there really is a beet!
On a suggestion from my linguist friend, the Seattle violinist Sandra Layman, I checked with the popular music historian and educator Robert Greenberg, who confirmed this. He writes, "Beethoven's paternal grandfather (also named "Ludwig") was a Flemish-speaking native of what today is Belgium, where "van Beethoven" means, literally, "from the beet field."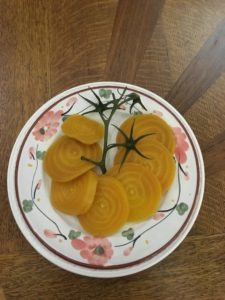 As pictured above, simple baked* golden beets reveal their lyrical internal patterns, decorated with a little spiky tomato stem—suggestive of the birthday boy's inclinations to take the simplest of musical elements and, sometimes spiky and sometimes sweet, build something startlingly new.
So, to celebrate Ludwig-From-The-Beet-Field's birthday, December 16, may I suggest serving this earthy, health-giving root? Especially since the genius was born in the season of celebratory red?
You also see a raw chioggia beet picture,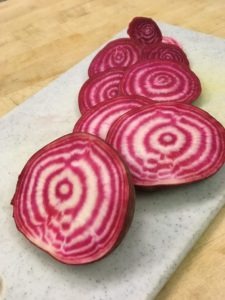 which pales when baked. So, like the maestro's music itself, it's best appreciated unadulterated, to reveal its true colors: intense, earthy passion and a pure, pure soul.
*Bake beets unpeeled, tightly wrapped and on a cookie sheet (beware of drips in your oven), 350° for 90 minutes or so. Cool a bit, slice off the thick–and possibly muddy–root end, and slide the skin off with a paper towel. (This gets messy. Plan on one whole paper towl per beet. If you're baking red beets, wear gloves or wear the consequences.) Slice parallel to the cut you made at the root end to get nice round slices.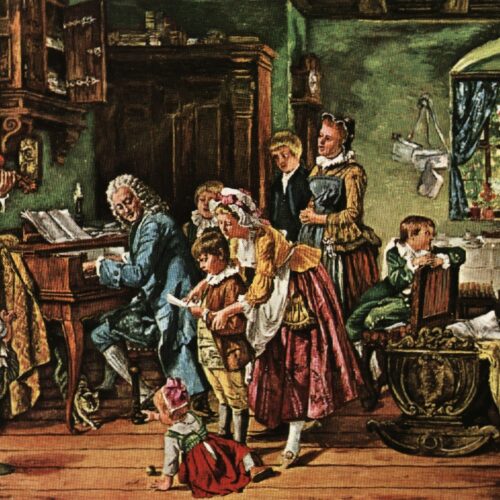 You've heard so much about the sons of Johann Sebastian Bach, but there were daughters, too.
Bach was 23, and his wife Maria Barbara was 24, when the first of their children was born. They named her Catherina Dorothea. CD grew into a singer, and helped out in her father's music work. Fifteen years passed, her mother died, her father remarried, and finally, CD Bach acquired a sister: Cristina Sophia Henrietta, daughter of Johann Sebastian and Anna Magdalena Bach. CSH died at the age of three, just as another sister, Elizabeth Juliana Frederica, was born. EJF Bach would grow up to marry one of her father's students. Continue Reading Women's History Music Moment: Bach's Daughters
Read More »