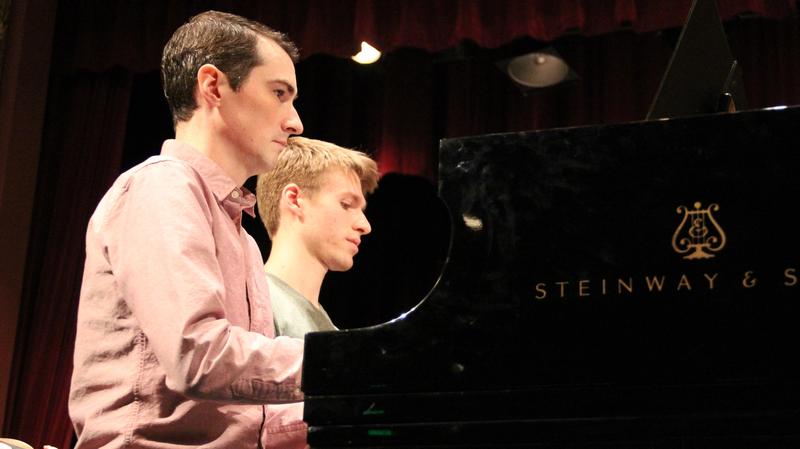 'Breaking Through' The Music Industry: Paul Henning Back On The Palouse
From the wheat fields of the Palouse to the recording studios of Hollywood, Paul Henning has found success in the Los Angeles music industry.
Henning grew up near Pullman, Washington, on his family's 130-year-old wheat farm. He used to tell himself he would never major in music, but once he started college at Washington State University he did what he said he'd never do.
"I had an interest in architecture clear up until orientation," Henning says. "My friend who was going to be a flute major convinced me to sign up for music classes."
While at WSU he majored in music composition. He is a pianist by trade but took up violin at the urging of his composition professor.
"I was actually a little hesitant because I thought it's gonna be a really hard thing for an adult to be a beginning violin student, but I was truly amazed," says Meredith Arksey, Henning's violin professor at WSU.
Henning says he worked twice as hard as anyone else to master his new instrument.
"I have a whole career in Los Angeles as a violinist, which I never would have predicted," says Henning, who is also concertmaster of the Golden State Pops Orchestra.  "I am actually concertmaster of The Golden State Pops Orchestra."
Henning admits he's been very fortunate in Los Angeles, having played violin on movie soundtracks such as "Moana," "Frozen" and "The BFG."
He also works as an orchestrator on movie soundtracks, which means he proofread the composer's score before it was recorded.  
"It's a specialized skill to be able to find wrong notes on a page that is just dotted with notes. Which one of these 10,000 notes is wrong," he says.
He says one of the most interesting experiences as an orchestrator  was with "Star Wars: The Force Awakens."
"I probably did half of (it)" he recalls. "John (Williams) is very old school. He does everything by hand. He writes each note one at a time. So I take these incredibly detailed pencil sketches that he does, and I painstakingly put every note into a music software program."
On top of working as a studio musician and orchestrator, Henning somehow finds time to produce his own music. His album "Breaking Through" harkens back to his childhood home on the Palouse.
"This is an album of my own original music that I wrote and recorded. It's actually music that was inspired by my time on the Palouse and the picture on the cover is a picture that was taken at Kamiak Butte."
The album was recently nominated in the Contemporary Classical genre for the Hollywood Music In Media Awards.
"Crossing my fingers that I can get through," Henning says. "I'm also working on a Grammy campaign, which is a loftier goal."
WSU student music group Allegro has brought Paul Henning back to Pullman to perform pieces from "Breaking Through" with the WSU Symphony Orchestra.
The concert is 8 p.m. Thursday, Nov. 9 in WSU's Bryan Hall Theater