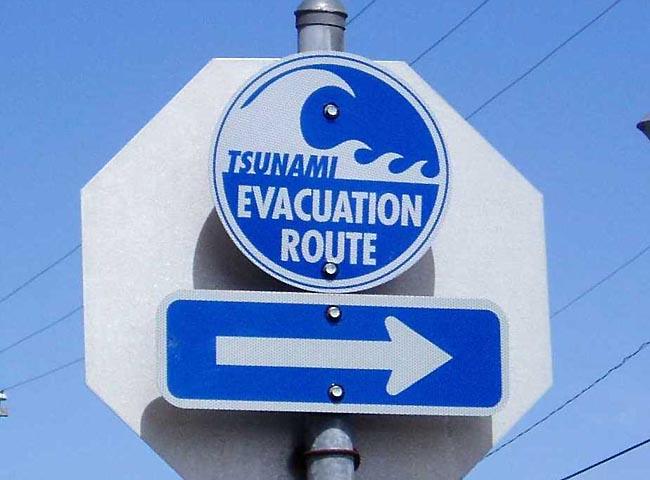 Coastal Counties Put Heads Together To Avoid Future Tsunami Alert Glitches
Emergency managers from Washington coastal counties and tribes practiced tsunami alert communication and coordination with state and federal partners Thursday. They're trying to smooth out glitches revealed after an undersea earthquake in Alaska in January.
When that magnitude 7.9 quake hit off the coast of Alaska, it triggered a tsunami watch along the Oregon, Washington and California coasts. Most people slept right through the alert because it came in the middle of the night.
Coastal residents who did get the alert were often confused about what to do in a tsunami watch, said Pacific County Emergency Management Director Scott McDougall.
"We had people who were self-evacuating as a result of the watch, which just basically said, 'Pay attention, we're going to tell you what to do later.' But they thought that meant they needed to go," he said.
McDougall said the difference in messaging a tsunami watch and a tsunami warningneeds to be clearer. The warning alert means waves are incoming and you should move inland or to higher ground immediately. A tsunami watch is less urgent than a warning, and it does not set off sirens.
City of Ocean Shores Mayor Crystal Dingler said during the January incident information didn't filter down as quickly and as well as she would have liked. She said she and many other Northwest coast residents have updated their NOAA weather radios since then or checked to make sure they were opted in to county telephone notification services.
There are many ways to get tsunami alerts, most of which require a person to sign up for something such as texts, email or an automated telephone call. Even if people don't opt in, the highest alert level will set off warning sirens along the coast and trigger emergency messages on radio and TV.
The tsunami generated by the January 23 Alaska earthquake ended up being barely noticeable on the Pacific Northwest coast and did not cause any damage.
On Thursday, more than 50 local, state and federal emergency managers and responders gathered at the state Emergency Operations Center at Camp Murray near Tacoma for a tabletop exercise using a dire scenario of a distant tsunami generated by a magnitude 9.2 Alaska subduction zone earthquake.
Coastal areas of the Pacific Northwest would have three to five hours of advance warning in this instance.
During the exercise, participants reviewed who would be notified at each stage of the evolving situation and the correct response to imperfect knowledge of whether a damaging wave was coming.
"This way, we've practiced, we've tested, we've refined, we're on the same page," Washington Emergency Management Earthquake Program Manager Maximilian Dixon said.
Closer to home, the offshore Cascadia subduction zone poses a bigger tsunami threat, but in that case the strong shaking would serve as your primary alert to move to higher ground. Other means of warning may not be functional in the aftermath.
Next week, emergency managers and geologists are going on an outreach tour through four Washington coastal counties. The so-called Tsunami Roadshow will present updated information about tsunami hazards, the alert levels and preparedness actions people can take. The six public presentations in Raymond, Ilwaco, Westport, Ocean Shores, Port Angeles and Chimacum between April 10-13 are free.
Copyright 2018 Northwest News Network