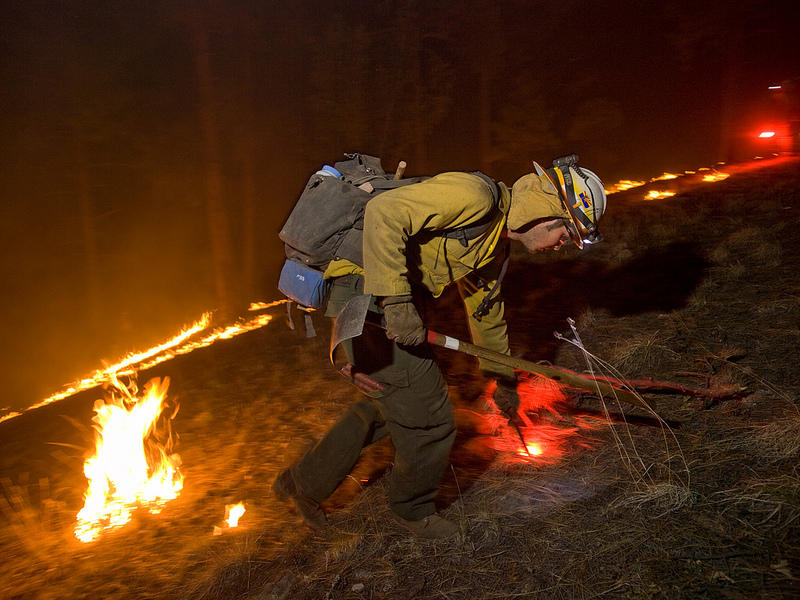 What Do Those Wildfire Containment Numbers Mean?
Editor's note: This post was originally published in 2014. It continues to be picked up by news aggregators such as Google News. The central theme of the story, wildfire containment numbers, remains relevant and accurate. 
The Carlton Complex Wildfire remains the largest in Washington's history. As of Monday, it was 66 percent contained. But what does that number mean? It's all about fire lines.
In order to extinguish a wildfire, fire fighters must first stop it from growing. That means digging a fire line around its perimeter. That's a shallow trench with no fuel for the fire to burn, usually 10 to 12 feet wide. It's difficult for the fire to cross that line, so by expanding it around the fire they can prevent it from spreading.
The fire containment numbers you hear in our reports measure how much of the fire's perimeter is surrounded by a fire line. Right now, more than half of the Carlton Complex fire is contained by a fire line. But remember, that fire is immense – about 391 square miles. Digging a line around that sort of area can take a long time. It can mean hundreds of miles that have to be dug by hand. And while that's happening, the fire could continue to spread in the directions that aren't contained.
Containment isn't the whole story, either. Contained fires aren't yet under control. That's the next step. Even a fire that's 100 percent contained could continue to spread. Strong winds could make it jump the fire line. Controlling a fire means ensuring that the fire can't spread or cross the containment line. That means putting up barriers, removing or burning any fuel that could help the fire spread, and cooling any hot spots – those are especially active parts of the fire that could suddenly jump.
So the Carlton Complex's 59 percent containment means progress is being made, helped by last week's rain and cooler temperatures. But on Monday, a heat advisory was announced for central and eastern Washington, leading to concerns that the fire could grow. Oregon's 618-square-mile Buzzard Complex fire, currently the nation's largest, is 95 percent contained and unlikely to spread. But there's still a lot of work to do before both fires will be extinguished.
Copyright 2014 Northwest Public Broadcasting