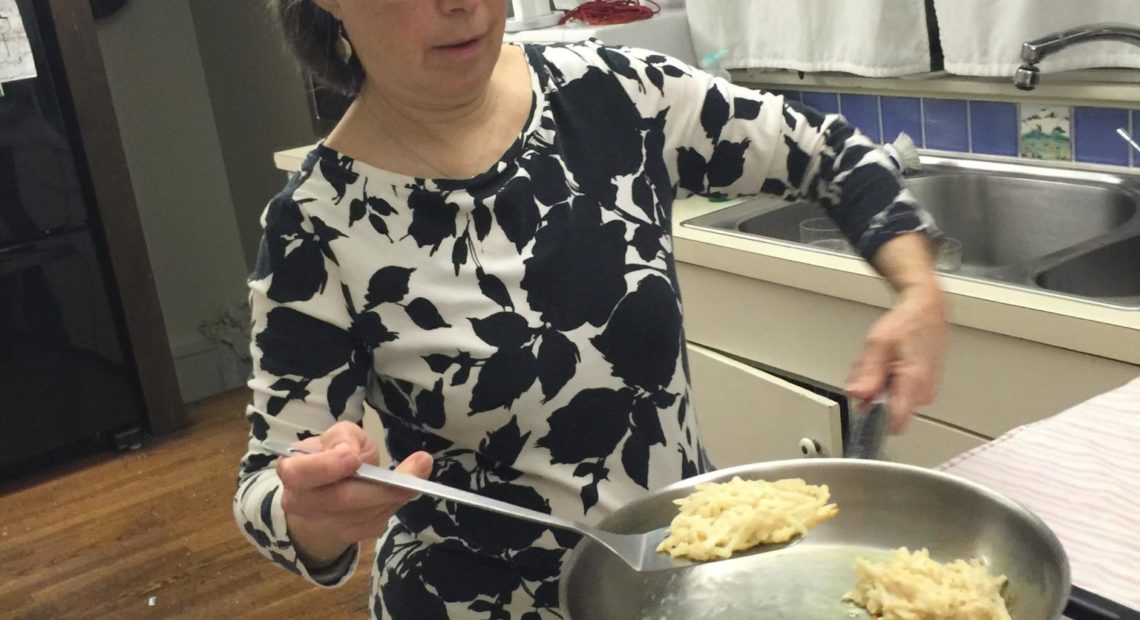 Sugar On Your Latkes? Facts And A Culinary Twist With Gigi Yellen's Recipe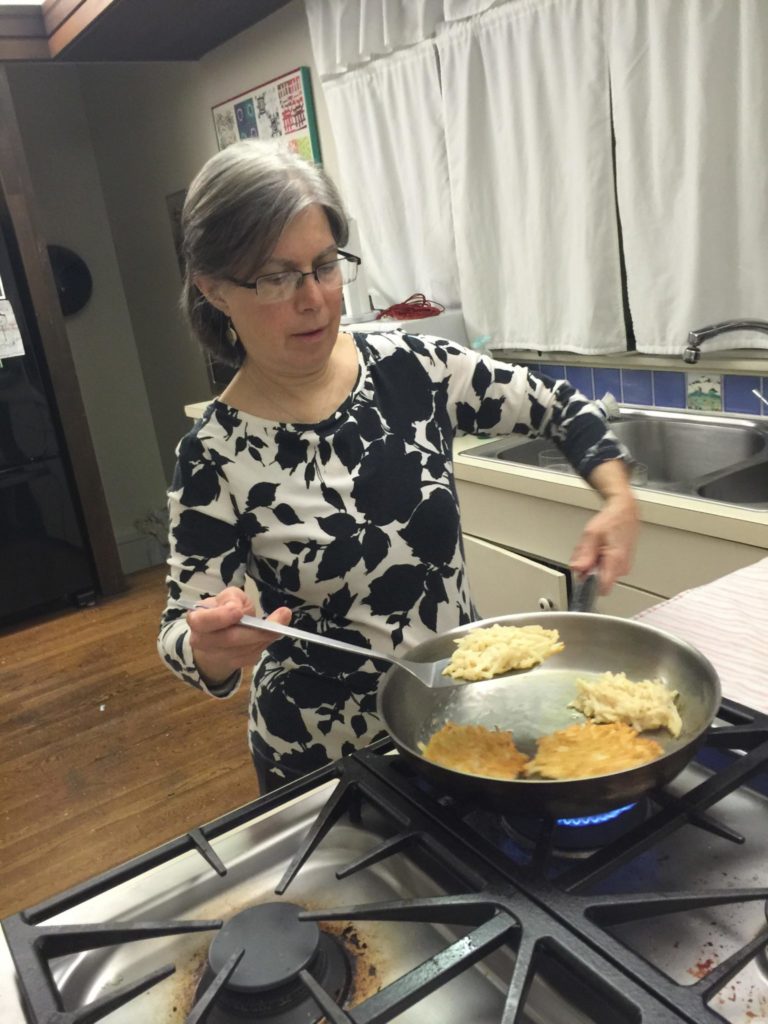 The original Hanukkah lights were wicks floating in oil. So the holiday's ancient legend gives the wintertime cook an excuse to fry potatoes and just about anything else that cooks in oil. People insist on eating these things before you can get them onto a serving platter, so, word to the wise: if you're expecting to get out of the kitchen, make latkes before your gathering, freeze them on a cookie tray, and pop them into a warm oven or onto a warming tray.
Sephardic and Mizrahi Jewish traditions feature leeks and feta in their Hanukkah fries. Israeli bakeries blossom with fried jelly doughnuts this time of year. In America, Eastern European Jewish immigrants popularized the simple potato "latke"—a pancake with a name inherited from Russia and Ukraine.
Bagged, pre-shredded potatoes-for-hash-browns save a lot of latke-making effort! Thanks to the folks at Simply Potatoes whose recipe I've borrowed (and commented on) here.
Some top latkes with sugar (me), some with salt, some with sour cream, many with applesauce.
It all makes for intoxicating aromas and a warm and welcoming home!
Oil for frying: this recipe calls for 1 tsp oil in a nonstick skillet. I prefer a regular skillet and more oil. I use olive oil. Just beware of its relatively low smoke point.
1 package Simply Potatoes® Shredded Hash Browns
½ cup Better'n Eggs (or 2 eggs)
1/3 c. whole wheat flour (or all-purpose, if you must)
¼ c. finely chopped green onion (well, any onion, or you could just sprinkle in onion powder.)
¼ tsp. ground black pepper
1 tsp. salt
¼ tsp. baking powder
1. In large bowl stir together Simply Potatoes, Better'n Eggs (or eggs), flour, onion, pepper, salt, and baking powder.
2. Heat the oil! In a 12-inch nonstick skillet over medium heat.
3. Cook 4 latkes at a time: spread 1/4 cup potato mixture for each latke into 3 1/2-inch circles in skillet. (Please do not obsess over size. Just don't make them so big your spatula can't turn them over.)
4. Cook about 4 to 5 minutes, turning once. You want them brown and crispy. Not burned. Not limp. Repeat with remaining potato mixture and add oil to skillet as needed.
5. Drain the latkes on a paper towel.