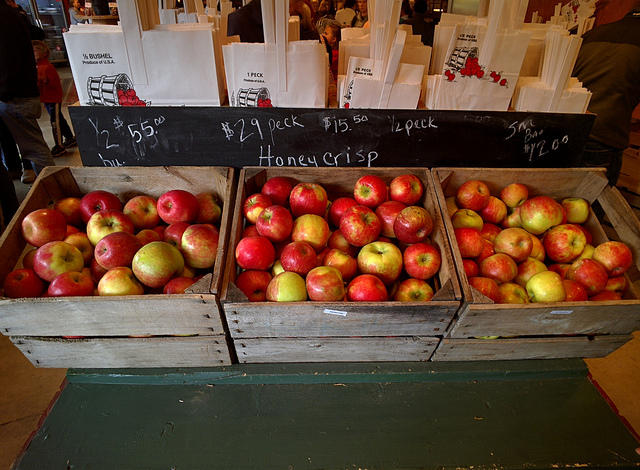 Is Washington Headed For A Honeycrisp Bust?
The sweet, tart crunch of a Honeycrisp apple is a powerful food experience. It brings taste, smell, and sound together in a single bite. Is it any wonder that it's one of the most popular apples in America? But becoming so popular – and profitable – so quickly, has some concerned about the variety's future.
The Honeycrisp is the sixth most-widely grown apple in Washington, but this variety is not well-suited to the state. Developed in Minnesota, it was bred to grow well in a cold climate with very different soil conditions. Despite the challenges, it's a big moneymaker. Honeycrisps sell for a lot more at the store than other varieties – generally around $3 a pound.
"It's changed the market for apples, not only at the market level but at the producing level. It has changed the way consumers want an apple to taste," says economist Karin Gallardo from Washington State University.
Why, then, are some saying we're at "peak honeycrisp," or predicting a bust in the apple's popularity?
"If the consumer detects that the quality has degraded or is not consistent, they will be switching to another variety," Gallardo says. "It is very important that growers keep this in mind, especially the new ones that are attracted to honeycrisp. There is a lot of temptation, because of the high prices, to not harvest at the proper time or to overload the trees."
And without an enforcing body to say "this is how you have to grow Honeycrisps," orchards are dependent on their neighbors working hard to maintain the apple's reputation.
"There is no absolute control on this. Not everybody has the high level of commitment that some growers do. This is a very challenging variety, it needs investment in labor," Gallardo says.
That's why researchers with WSU's tree fruit program published a paper on preserving Honeycrisp quality. Seminars and classes teach fruit growers about maintaining the Honeycrisp.
And Washington orchards aren't putting all their apples in one basket. Diversification is important in any industry, and apples are no different.
"Growers are not just investing in Honeycrisps. They keep up a diverse portfolio of varieties in their operations," Gallardo says. "But they won't devote more acres to Honeycrisp, because eventually it will decline."
It all means more challenges, and more expenses, for an industry that provides a huge number of jobs to Washington.
Copyright 2016 Northwest Public Broadcasting