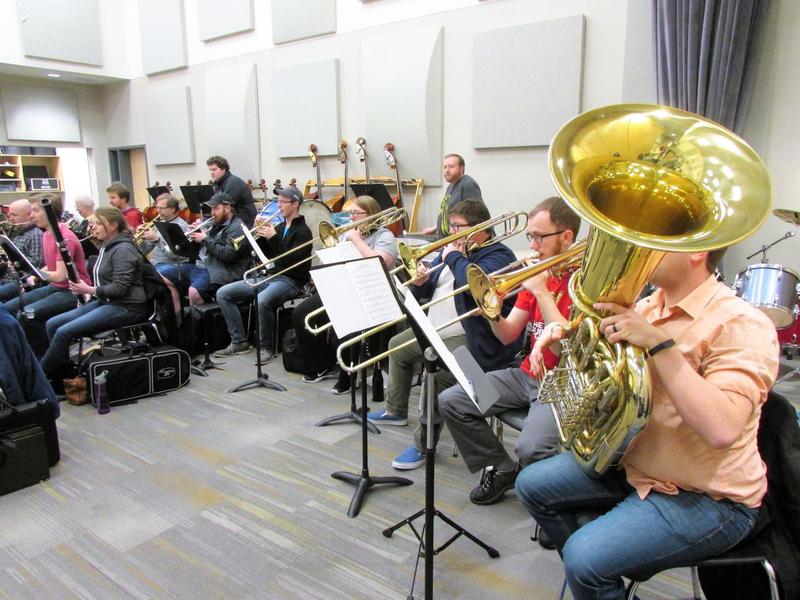 Violin prodigy and child wizards at Washington Idaho Symphony
Less than a week before their first performance, the Washington Idaho Symphony starts rehearsal for their 40th Annual Domey/Gillespie Young Artist Concert. The concert is a major event, but a professional symphony is too busy to spend more time rehearsing.
For the past 45 years, the Washington Idaho Symphony has brought music to eastern Washington and northern Idaho.
"A lot of [our musicians] are professors at either Washington State University or the University of Idaho," says Jeremy Briggs Roberts, the symphony's conductor.  "We have a lot of students from the universities and a lot of members from the community who are freelance professionals.
Each season, the Washington Idaho Symphony partners with the Domey/Gillespie Young Artist Fund to bring music to the Palouse while supporting local young artists.
Each year they hold a competition to select two winners from the community. The winners receive a $1,200 scholarship from the Domey/Gillespie Young Artist Fund .
One of the two young artist winners will be featured at this concert. Satoka Abo is a high school violinist from Moscow studying under Ferenc Cseszko, violin professor at the University of Idaho. Abo will perform the first movement of the Tchaikovsky Violin Concerto. "She plays like a pro," says Ann Yasinitsky, the principal flutist and co-president of the symphony. "She could go to Juilliard no problem."
"Some young  artist winners have gone on to worldwide careers," says Roberts. "The most notable being Thomas Hampson, who regularly sings at the Metropolitan Opera and major opera houses all over the world."
Along with the violin concerto, the symphony will be performing Harry Potter and the Sorcerer's Stone Suite and Tchaikovsky's Symphony No. 5.
Tickets information is found here. Those who attend the concert dressed as their favorite Harry Potter character will be entered to win a prize.  
The concert has two performances: January 28 at 7:30 p.m. at Pullman High School and January 29 at 3 p.m. at Clarkston High School. Information about future concerts can be found on the Washington Idaho Symphony website.