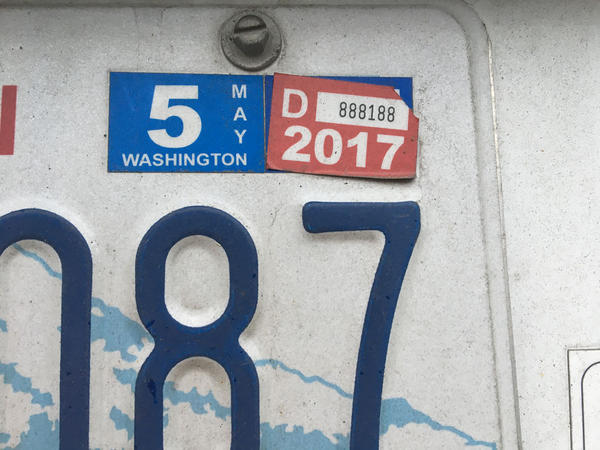 Eyman To File Another $30 Car Tabs Initiative, Would Repeal Sound Transit Taxes
For Tim Eyman, when it comes to initiatives it's all about timing. And now the professional initiative promoter thinks the time is right for another version of his $30 car tabs measure. That's because of Sound Transit 3, the voter-approved measure that has resulted in a spike in vehicle registration renewal fees.
Eyman plans to file the initiative, which would set annual registration fees at a flat $30, to the legislature Tuesday.
He said this new initiative to the legislature would effectively repeal all Sound Transit-related license fees and require the agency to retire the outstanding bonds.
"That's the most exciting part about this initiative," Eyman said. "This is giving the voters a chance to have a do-over."
This isn't the first time Eyman has targeted Sound Transit taxes. In 2002, voters approved Initiative 776, another $30 car tabs measure. But the Washington Supreme Court later ruled the initiative did not apply to Sound Transit fees.
Sound Transit 3 is a 24-year, 62-mile expansion of light rail along with bus rapid transit to communities including Everett, Tacoma, Redmond and Issaquah. Voters in Sound Transit's service area approved the $53.8 billion expansion last November. The funding package includes a 0.8 percent increase in the motor vehicle excise tax.
It may not have looked like much on paper, but when the new Sound Transit tax was tacked onto vehicle renewals there was sticker shock. That's because Sound Transit uses a slower depreciation model to calculate the value of vehicles.
In response, Republicans in the Washington Senate introduced several proposals to roll back the taxes or require Sound Transit to use a different vehicle valuation schedule. Sound Transit resisted those changes saying it would result in the loss of billions of dollars.
A Democratic proposal to offset the cost of the higher fees with a taxpayer credit also failed to pass.
Eyman's car tab initiative would require that vehicle taxes be based on Kelley Blue Book value.
In order to qualify an initiative to the legislature, Eyman would need to collect 259,622 valid voter signatures by December 29. If he succeeds, the legislature would have the option of passing the measure or letting it go directly to voters for approval. The legislature can also approve an alternative measure and then send both to voters.
Last week, Eyman failed to collect enough signatures to qualify Initiative 1550 for the November ballot. It would have cut property taxes by 25 percent and capped annual increases going forward.
Eyman is pursuing this new car tabs initiative at the same time he's embroiled in a campaign finance lawsuit filed in March by Attorney General Bob Ferguson.
That lawsuit alleges, among other things, that Eyman received a $308,000 unreported kickback from a signature gathering firm. Ferguson is seeking $1.8 million in penalties against Eyman plus repayment of the $308,000. The lawsuit also asks the court to permanently bar Eyman from managing the finances of any political committee in the future.
Eyman's attorney has maintained his client did nothing wrong and says the case is a "simple" dispute over campaign finance reporting requirements.
Copyright 2017 Northwest News Network. To see more, visit 
Northwest News Network
.