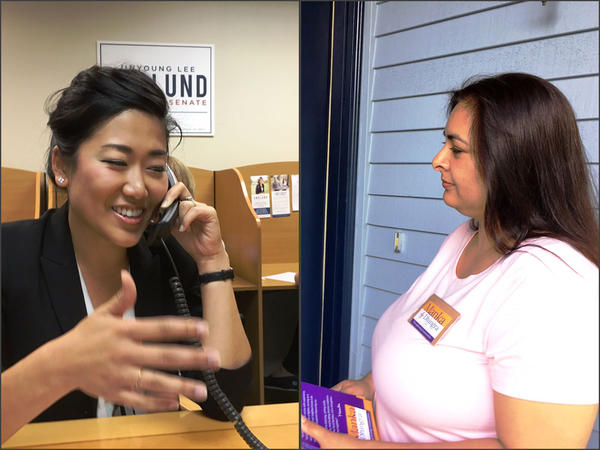 National Spotlight Shines On Battle For Control Of Washington Senate
First it was Georgia. Then Montana. Now the national political spotlight is falling on Washington state and a special election later this year. But unlike those earlier contests, this one isn't to fill a seat in Congress.
It's for the state legislature.
Jinyoung Englund and Manka Dhingra are vying to fill the state Senate seat in Washington's 45th legislative district. It was previously held by Republican Andy Hill who died of cancer last October. But this isn't just any seat.
The race will likely determine if Republicans hold onto their one-vote majority in the state Senate—or if Democrats are able to win back the chamber and reassert one party rule over Olympia.
Entering the fray
Yet the contest has drawn two political novices. Neither Dhingra nor Englund have run for political office before.
"I think it's incredible that for such a high stakes race as this one we have two women who are minorities, come from Asian backgrounds to run," Englund said.
Englund, a Republican, is Korean-American. Dhingra, a Democrat, is Indian-American and is also Sikh.
Dhingra said she decided to get involved in politics after the election of Donald Trump.
"I realized that as a woman, especially as a woman who's Indian and Sikh and American that I had to take some responsibility for what was going on in our state and in our country," Dhingra said.
Dhingra is a senior deputy King County prosecutor who's developed and run therapeutic courts for the mentally ill and veterans. She also founded a nonprofit that works to address domestic violence in the south Asian community.
Englund is a business consultant who's worked for the Bitcoin Foundation promoting the electronic currency as an alternative to cash, especially in developing nations. She's also worked for Washington Republicans including Congresswoman Cathy McMorris Rodgers.
Until recently Englund lived and worked in Japan with her husband who's in the Marines and currently deployed.
"When we knew that this seat determined the balance of power my husband and I made a decision that, 'OK we should definitely step in and see what we can to ensure that balance of power,'" explained Englund.
'This isn't even a swing district'
The Washington state Senate is the only Republican held legislative chamber on the West Coast. As a result, this race is garnering national attention with recent stories by New York Magazine and Politico.
Politico reported that "Democrats are especially eager to nationalize the race" after disappointing losses in special Congressional elections in Georgia and Montana. 
 

Republicans have held this state Senate seat since 2010, but the two House members from the 45th are Democrats and Hillary Clinton pummeled Donald Trump here last year.
"Mathematically, looking at the numbers this isn't even a swing district, it's a Democratic district," said former state Republican Party chairman Chris Vance who unsuccessfully ran for U.S. Senate last year and also teaches part-time at the University of Washington.
Vance thinks this race is the Democrats' to lose. But he said there's one issue that could propel Republicans to victory: fear of an income tax. He pointed to the recent vote in Seattle to tax high income earners.
"The Democrats just handed Republicans a huge gift with this vote in Seattle on the income tax because now Republicans can say, 'hey look no matter what they say, they want in Seattle, they're going to want it everywhere,'" Vance said.
But he added that Republicans in the state Senate may have just handed Democrats a huge gift too by backing a hike in property taxes as part of a plan to fully fund schools as required by the Washington Supreme Court.
"And so I wouldn't be a bit surprised to see the Democrats say, 'oh OK Republicans say they're going to prevent an income tax, but they just dramatically raised your property taxes,'" Vance said.
Big money, high stakes
All bets are this will be the most expensive state legislative race in Washington history. Already this race has drawn nearly $2 million in direct contributions to the candidates plus independent spending by outside interest groups. Some estimate the race could ultimately attract $6 to $8 million.
Englund said she doesn't like the fact the race is drawing so much money.
"But the reality is it's a high stakes race," Englund said. "If the opposing party wins they'll have the green light to push through any tax plan that they want and people are willing to donate to a campaign to try to stop that from happening."
Dhingra said she worries about how all that money will be spent.
"After the election last year I'm actually concerned about truths and fake news and what they may be saying," Dhingra said. "But the people in the 45th district tend to be some of the most educated individuals in the state of Washington and so I'm hoping that they can see through all of that."
In addition to Englund and Dhingra, there is also an independent candidate running in the race, Parker Harris.
The primary election is August 1. This election is just to serve out the last year of Andy Hill's term. Whoever wins in November will have to run again in 2018.
Copyright 2017 Northwest News Network. To see more, visit 
Northwest News Network
.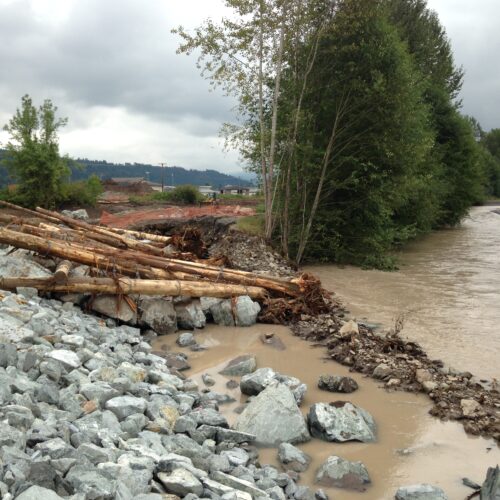 Washington Rep. Steve Tharinger of the 24th district became intimately acquainted with levee setbacks when he discovered the levee protecting his house on the lower Dungeness River was not only not protecting his house, but harming the ecosystem too.
"I sold my house and the five acres in a barn we had, so that we'd have more room to move that levee back and give the river more room," Tharinger said. Continue Reading Rethinking levees to reduce flood risk
Read More »