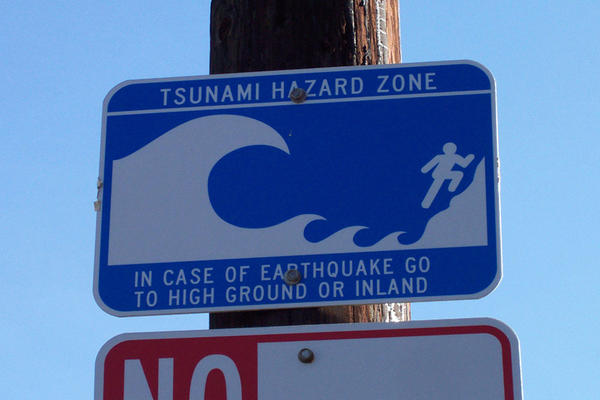 Tsunami Zone Update Gets Pushback From Oregon Coast Legislators
When a massive tsunami hit the northeast coast of Japan in 2011, waves of water overtopped sea walls, swallowed buildings and surged higher than anticipated. One thing those images prompted was a reexamination of the tsunami risk in the Pacific Northwest.
Sooner or later the offshore Cascadia fault zone is going to unleash a monster earthquake and tsunami. When that day comes, the hope is that coastal schools, fire and police stations and hospitals are located high enough so that they don't get washed away when we most need them to be there. 
In Oregon and Washington, the state geology divisions released new tsunami evacuation maps beginning in 2013. The tsunami inundation map updates are still rolling out segment by segment in Washington state. More people and property are in harm's way under the new maps—about 30 percent more along the Oregon Coast.
And at a series of meetings in Salem that has proven to be a sticky problem.
"Any hazard mapping, as I can attest to from having worked at FEMA, and at the state and at the local level, it's always heartburn," said Jay Wilson, former chair of the Oregon Seismic Safety Policy Advisory Commission.
Structural engineer Jeff Soulages joined Wilson in venting at a meeting of Oregon earthquake safety advisors. They're upset at the state Department of Geology and Mineral Industries for delaying the adoption into statute of the new, higher tsunami flood line to regulate vulnerable new construction.
"I cannot understand for the life of me why you would wait when you already you have these maps," Soulages said. "They've been in your hands for four years." 

"There's going to be a lot more heartburn if we have that tsunami and we've continued to move forward with the status quo," Wilson added.
'There's no place to go'
One way Oregon differs from neighboring Washington and California is that in the mid-1990s, the Oregon Legislature made it a rule that certain "essential facilities" cannot be built inside the tsunami zone, namely new hospitals, fire and police stations, schools, colleges and jails. Existing critical facilities are grandfathered in place and there are exceptions when, say a new fire station, for strategic reasons needs to be close to a highway or population center.
None of this applies to construction of private businesses and homes. 

There's a reason the old tsunami line is still in place when it comes to new construction: strong pushback from coastal legislators, including Republican state Sen. Jeff Kruse.
"On the South Coast, if you're going to move things, where are you going to move them to? There's no place to go. Here's the ocean and there's the mountains. There's not a whole lot of space," Kruse said. "You get up to Cannon Beach or Seaside, it's a different environment. Still like in Seaside, if you're going to move the inundation zone line, you've got to go miles to get back above it again."
The pushback is bipartisan. Democratic state Sen. Betsy Johnson said people living along the coast have regulatory fatigue and don't need what she called "holier than thou" lectures.
"I don't think they need a board in Portland to tell them how to think thoughtfully about tsunamis," Johnson said. "The other thing that I am very worried about is if we allow this culture of casualty to infest our thinking, we drive people away from the coast that the coast needs."
Johnson is concerned that an expanded tsunami zone will upend long-term planning for a new hospital in Astoria. It also complicates where to build a new fire station in Gearhart. A new marine studies building at the Hatfield Marine Science Center in Newport gets a pass because it has a planned capacity under 500 people. 

Who should decide where essential facilities go?
Documents obtained by public radio show the Coastal Caucus, comprising the eight legislators from districts along the Oregon Coast, took the position that siting decisions should rest at the local level with the state limiting itself to a consultative role. In contrast, some Willamette Valley legislators and disaster resilience experts have periodically proposed to give the state geologist's staff stronger authority to regulate development in the tsunami hazard zone.

Coastal legislators have let the Oregon Department of Geology and Mineral Industries know in no uncertain terms that they would try to strip the agency of authority if it broadens the tsunami regulatory zone.
DOGAMI Communications Director Ali Ryan Hansen said the agency's board decided it made sense to pause and consult more with affected communities.
"The scientific information about where a tsunami is expected to reach is widely available, but it has it not been used to update this regulatory piece," Hansen said. "Our board wants to be responsive."
Hansen said the department in its history has never been asked for an exception or denied a development application for being inside the tsunami zone. The agency's board tentatively plans to revisit the tsunami line question this December.
In some ways, Oregon's conundrum is just a preview of what Washington, Oregon, California, Alaska and Hawaii will all get to wrestle with beginning next year. In 2018 the national building code council distributes an updated model building code, which for the first time incorporates tsunami design criteria. States can choose to adopt or ignore the new model code. 

The proposed new tsunami provisions cover siting, design and structural resistance to collapse, battering and scouring. The new chapter also gives guidance on how to build taller and stronger to provide an elevated safe haven if a building must be located in the tsunami inundation zone.