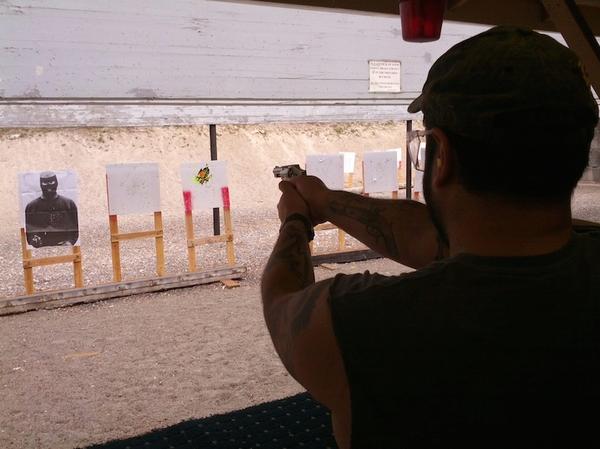 Ninth Circuit To Hear Challenge To Washington's Background Check Law
A three-judge panel of the Ninth Circuit Court of Appeals will hear a challenge Monday to Washington's voter-approved background check law for person-to-person gun transfers.
The lawsuit challenges provisions of Initiative 594 which voters overwhelmingly passed in 2014. Specifically, the plaintiffs argue that the background check requirement fails to exempt certain temporary, non-commercial gun transfers that could put law-abiding gun owners at risk of prosecution.
Plaintiffs' attorney David Edwards offered the example of an unmarried couple who share a pistol.
"They have a single firearm that they keep in their home for self-defense and the concern is that the statute essentially says that they cannot both use that firearm," Edwards said.
Other scenarios raised by the lawsuit include a person who checks their gun as baggage before flying to Seattle and then retrieves the gun from an airline employee upon arrival, or someone who wants to borrow a gun while visiting from out of state.
In addition to the individuals, the plaintiffs include the Bellevue-based Second Amendment Foundation.
Edwards is appealing a 2015 lower court ruling that found the plaintiffs don't have standing to sue because they haven't been prosecuted.
The Alliance for Gun Responsibility, which sponsored Initiative 594, called the lawsuit "unfounded" and said the claims are based on "hypothetical situations."
"Since the initiative became law, we've seen smooth adoption by gun owners and dealers," the Alliance's CEO Renee Hopkins said in a statement. "The law is doing exactly what it was intended to do—help keep guns out of dangerous hands."
According to the Alliance, between December 2014 and April 2017, I-594 prevented 201 private sales of guns.
This year, the Washington Legislature clarified what constitutes a gun transfer under Initiative 594. As a result, some of the plaintiffs—a security firm, a private investigator association and a gun safety school—are dropping out of the lawsuit.
"I'm satisfied," said Monica Cowles of the Northwest School of Safety, the lead plaintiff in the case. Cowles trains women in the safe handling of guns. Before the change, in the law she was concerned that she and her clients would run afoul of the law by taking turns handling different guns during class.
According to the Washington Attorney General's office, which will defend the law in court, only two people have faced prosecution under Initiative 594. One is charged with illegally transferring a gun that was later used in a murder. The other is accused of stealing a gun and then exchanging it for drugs.
"Nothing about these two prosecutions creates for Plaintiffs a genuine threat of imminent prosecution,'" Deputy Solicitor General Jeffrey Even wrote in a court filing.
Copyright 2017 Northwest News Network. To see more, visit 
Northwest News Network
.