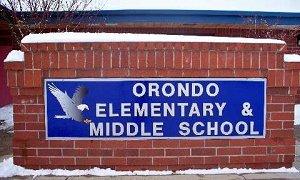 'Don't You Live With Ms. Juana?' Student Homelessness In Migrant Central Washington
Orondo, Washington, lies on the Columbia River between Chelan and Wenatchee. Its population fluctuates with the growing season as migrants work surrounding fruit orchards.
This small town's school district has the largest percentage of homeless students in the state. For the 2015-2016 year, nearly half of the 156 students in Orondo were in a state of homelessness.
Ismael Vivanco is Orondo's superintendent. He thinks Washington's definition of homelessness translates differently when applied to migrant communities like his.
"A parent might come in and put that they're not homeless, because to their definition, they're probably not," Vivanco said. "But we take that extra step, we know our families. 'Que no vive con doña Juana?' Don't you live with Ms. Juana? Yeah? Well that qualifies you as homeless."
Of Orondo's homeless students, most have a roof over their head but are often in sub-par conditions or doubled up – meaning two or more families sharing the same home.
Oregon is experiencing its own rise in student homelessness.
The Oregon Department of Education recently reported a 5.6 percent increase in student homelessness rates compared to last year. That's 22,541 students. And 75 percent of those kids reported homeless are also in situations where they're sharing housing.
Washington had twice that, with nearly 40,000 students lacking adequate housing.
Washington's Superintendent of Public Instruction office believes numbers may be up because of better self-reporting by schools. But according to the state's 2015-2016 data, about one in three schools reported having fewer than 10 homeless students in the district.
The Institute of Children, Poverty, and Homelessness believes underreporting may be a problem.
School districts can look to federal help. But the state program that focuses on student homelessness and education, which gets funding from the U.S. Education Department, is predicting a nearly 10 percent drop in federal funds for the next fiscal year.
Copyright 2017 Northwest Public Broadcasting