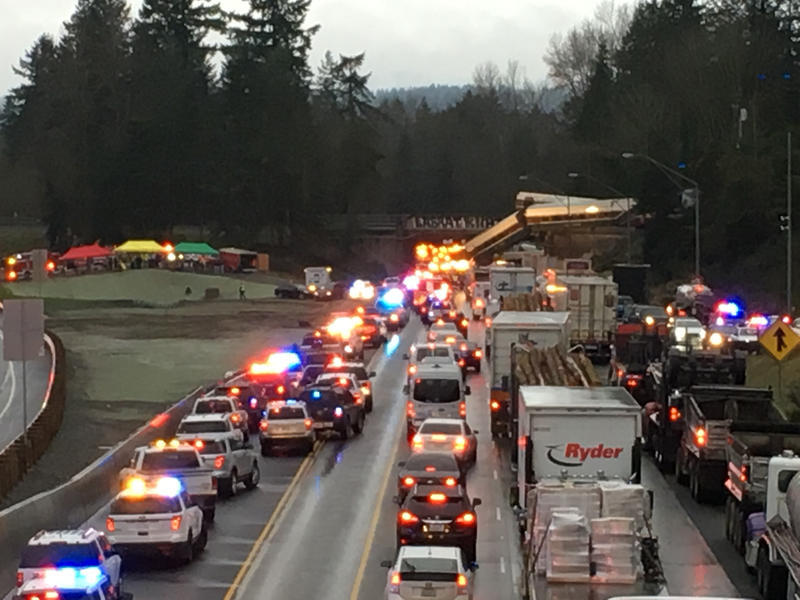 UPDATES: I-5 Amtrak Train Derailment Brings Investigation, Lawsuits And Many Questions
This is a developing story and will be updated as we learn and confirm new and relevant information.
An Amtrak train on its inaugural run from Seattle to Portland derailed Monday morning, Dec. 18, 2017, sending at least one train car off an overpass and onto a busy Interstate 5 below.
The derailment happened in DuPont, about 40 miles south of Seattle near Joint Base Lewis-McChord, before 8 a.m. during morning rush hour. Three people were killed and dozens injured.
UPDATE: Jan. 4, 2018: Lawsuits Filed
A conductor who was at the front of the Amtrak train is alleging in a lawsuit filed this week that the crew received inadequate training.
Conductor Garrick Freeman of Bellevue, Washington, was riding in the front locomotive. He wanted to familiarize himself with a new, faster routing on Amtrak's Seattle to Portland service. Freeman suffered a shattered pelvis and cracked ribs when the engineer driving the train failed to slow down at a curve and the train crashed onto the freeway below. Freeman hired attorney Anthony Petru to sue Amtrak for unspecified damages.
"I have concluded that Amtrak and its partners had every opportunity to slow down the process and make sure that everybody was thoroughly and competently trained. It appears to me as though there was rush to get this train in service before Christmas," Petru said. "In doing so, the opportunities to train – and the time that it takes to properly train – weren't provided to the employees."
Petru filed the lawsuit in Pierce County Superior Court in Tacoma. An Amtrak spokesman said the rail service does not comment on pending litigation.
Separately, a Chicago-based law firm filed suit against Amtrak in King County Superior Court in Seattle on behalf of injured passenger Pennie Cottrell. The lead attorney says nine other passengers have retained him too, so that lawsuit will be expanded or replicated later.
-Reporting by Tom Banse
UPDATE, Dec. 21: Survivors Suggest Lawsuit Coming
Six survivors of Monday's train have put Amtrak on notice that they plan to file a lawsuit. It's the first, probably inevitable, sign that various parties affected by the deadly train wreck are lawyering up.
The survivors retained a Chicago-based law firm that specializes in railroad and plane crash cases. Fresh from a visit to the scene of the Train 501 derailment, Clifford Law Offices Partner Michael Krzak says "the families want answers" to why this keeps happening.
"If you look at the history of Amtrak over the past few years there have been a series of derailments similar to this one including the 2015 derailment in Philadelphia where, like here, the engineer was operating the train in excess of 50 miles per hour over the posted speed limit," Krzak said.
Amtrak CEO Richard Anderson committed Wednesday to pay for the medical and incidental expenses of all of the crash victims and their families. Krzak says his firm may seek additional punitive damages if it gets evidence of "flagrant indifference" to safety.
– Reporting by Tom Banse
UPDATE, Dec. 21, 10:15 a.m.: Amtrak Promises To Cover Costs
After the derailment, there will be mounting medical, road-repair, and other costs. Amtrak President Richard Anderson tells Washington Governor Jay Inslee that Amtrak will pay for all of it.
Inslee says taking on the cost is a substantial commitment from Amtrak.
He says he wouldn't consider it a binding contract, but has faith Amtrak will follow through.
"I don't think there's any reason this will not be fulfilled," Inslee said. "And it's the right thing to do. Maybe we're astounded when people do the right thing, but Amtrak did the right thing here. When there's a significant failure they step up to the plate and take responsibility."
Three people died in the wreck Monday morning, and dozens more were injured. The cause of the derailment is still under federal investigation.
There is no cost estimate yet for medical expenses or road repairs.
– Reporting by Kate Walters and Paige Browning, KUOW
UPDATE, Dec. 20, 10 p.m.:
Interstate 5 has reopened to southbound traffic in the area affected by the derailment. The Washington State Department of Transportation warns it will may be slow going as cleanup and safety work continue.  All southbound lanes will be open for the Thursday commute, according to WSDOT.
Name Of Third Victim Released: Benjamin Gran
Authorities have identified the third person who died in Monday's train derailment as Benjamin Gran, 40, of Auburn, Wash. No other details were immediately released.
The two other previously reported people killed were Zack Willhoite, 35, and Jim Hamre, 61, two passenger rail enthusiasts.
UPDATE, Dec. 20, 1:50 p.m.:
The Washington State Department of Transportation says it has cleared all train cars from I-5, and is working to make the road safe to reopen southbound lanes to traffic. But there is still no estimate on when that will happen.
For updates, subscribe to the DOT's email updates here, or see the DOT's Tacoma-area Twitter feed.
The DOT says:
First we will clear the trees in the area that have been identified as in danger of falling over. Our crews can then safely enter the area to assess the extent of the damage to the roadway and guardrail. What exactly needs to be repaired in order to allow traffic to safely move through the area will be determined. Then we will work to reopen Southbound I-5 as soon as safely possible.
Two Victims Identified