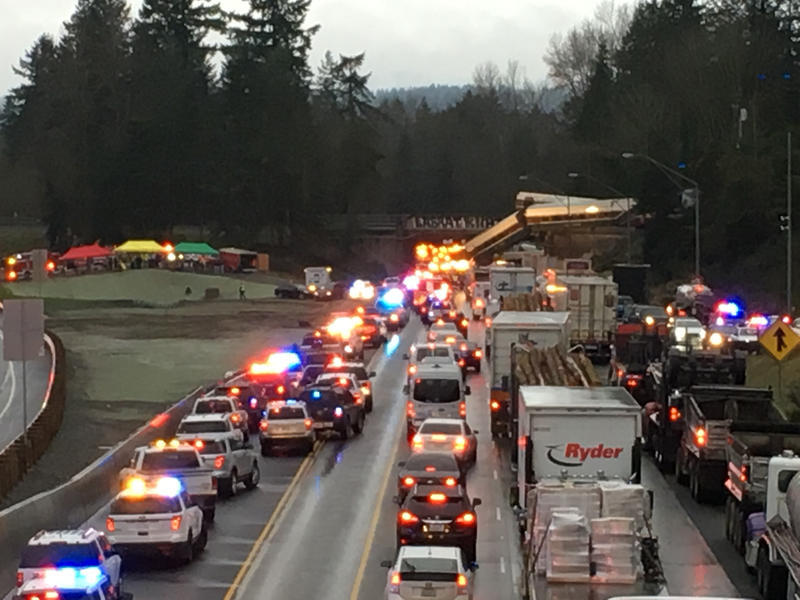 UPDATES: I-5 Amtrak Train Derailment Brings Investigation, Lawsuits And Many Questions
This is a developing story and will be updated as we learn and confirm new and relevant information.
An Amtrak train on its inaugural run from Seattle to Portland derailed Monday morning, Dec. 18, 2017, sending at least one train car off an overpass and onto a busy Interstate 5 below.
The derailment happened in DuPont, about 40 miles south of Seattle near Joint Base Lewis-McChord, before 8 a.m. during morning rush hour. Three people were killed and dozens injured.
UPDATE: Jan. 4, 2018: Lawsuits Filed
A conductor who was at the front of the Amtrak train is alleging in a lawsuit filed this week that the crew received inadequate training.
Conductor Garrick Freeman of Bellevue, Washington, was riding in the front locomotive. He wanted to familiarize himself with a new, faster routing on Amtrak's Seattle to Portland service. Freeman suffered a shattered pelvis and cracked ribs when the engineer driving the train failed to slow down at a curve and the train crashed onto the freeway below. Freeman hired attorney Anthony Petru to sue Amtrak for unspecified damages.
"I have concluded that Amtrak and its partners had every opportunity to slow down the process and make sure that everybody was thoroughly and competently trained. It appears to me as though there was rush to get this train in service before Christmas," Petru said. "In doing so, the opportunities to train – and the time that it takes to properly train – weren't provided to the employees."
Petru filed the lawsuit in Pierce County Superior Court in Tacoma. An Amtrak spokesman said the rail service does not comment on pending litigation.
Separately, a Chicago-based law firm filed suit against Amtrak in King County Superior Court in Seattle on behalf of injured passenger Pennie Cottrell. The lead attorney says nine other passengers have retained him too, so that lawsuit will be expanded or replicated later.
-Reporting by Tom Banse
UPDATE, Dec. 21: Survivors Suggest Lawsuit Coming
Six survivors of Monday's train have put Amtrak on notice that they plan to file a lawsuit. It's the first, probably inevitable, sign that various parties affected by the deadly train wreck are lawyering up.
The survivors retained a Chicago-based law firm that specializes in railroad and plane crash cases. Fresh from a visit to the scene of the Train 501 derailment, Clifford Law Offices Partner Michael Krzak says "the families want answers" to why this keeps happening.
"If you look at the history of Amtrak over the past few years there have been a series of derailments similar to this one including the 2015 derailment in Philadelphia where, like here, the engineer was operating the train in excess of 50 miles per hour over the posted speed limit," Krzak said.
Amtrak CEO Richard Anderson committed Wednesday to pay for the medical and incidental expenses of all of the crash victims and their families. Krzak says his firm may seek additional punitive damages if it gets evidence of "flagrant indifference" to safety.
– Reporting by Tom Banse
UPDATE, Dec. 21, 10:15 a.m.: Amtrak Promises To Cover Costs
After the derailment, there will be mounting medical, road-repair, and other costs. Amtrak President Richard Anderson tells Washington Governor Jay Inslee that Amtrak will pay for all of it.
Inslee says taking on the cost is a substantial commitment from Amtrak.
He says he wouldn't consider it a binding contract, but has faith Amtrak will follow through.
"I don't think there's any reason this will not be fulfilled," Inslee said. "And it's the right thing to do. Maybe we're astounded when people do the right thing, but Amtrak did the right thing here. When there's a significant failure they step up to the plate and take responsibility."
Three people died in the wreck Monday morning, and dozens more were injured. The cause of the derailment is still under federal investigation.
There is no cost estimate yet for medical expenses or road repairs.
– Reporting by Kate Walters and Paige Browning, KUOW
UPDATE, Dec. 20, 10 p.m.:
Interstate 5 has reopened to southbound traffic in the area affected by the derailment. The Washington State Department of Transportation warns it will may be slow going as cleanup and safety work continue.  All southbound lanes will be open for the Thursday commute, according to WSDOT.
Name Of Third Victim Released: Benjamin Gran
Authorities have identified the third person who died in Monday's train derailment as Benjamin Gran, 40, of Auburn, Wash. No other details were immediately released.
The two other previously reported people killed were Zack Willhoite, 35, and Jim Hamre, 61, two passenger rail enthusiasts.
UPDATE, Dec. 20, 1:50 p.m.:
The Washington State Department of Transportation says it has cleared all train cars from I-5, and is working to make the road safe to reopen southbound lanes to traffic. But there is still no estimate on when that will happen.
For updates, subscribe to the DOT's email updates here, or see the DOT's Tacoma-area Twitter feed.
The DOT says:
First we will clear the trees in the area that have been identified as in danger of falling over. Our crews can then safely enter the area to assess the extent of the damage to the roadway and guardrail. What exactly needs to be repaired in order to allow traffic to safely move through the area will be determined. Then we will work to reopen Southbound I-5 as soon as safely possible.
Two Victims Identified And Remembered: Zack Willhoite & James Hamre
Authorities have confirmed three deaths in the Amtrak derailment on Monday. Two people have been publicly identified so far. 
Zack Willhoite was 35 and worked in customer service at Pierce Transit. James Hamre was 61, and a retired civil engineer.
They were on board the inaugural run of Amtrak's new route between Seattle and Portland because both were rail enthusiasts. And both were active with the advocacy group All Aboard Washington, which promotes passenger rail travel.
Lloyd Flem is the group's executive director. He knew both men very well.
"They devoted part of their discretionary time – a major part – to this, " Flem said. "We treasure their friendship and their activism in this regard. They will not be forgotten by us, or by the people of the DOT or others
Zack Willhoite's colleagues at Pierce Transit said he was admired by his coworkers. James Hamre's family said in a statement on Facebook that they are heartbroken by his loss. The third person who died in the derailment has not yet been identified.
– Reporting by Ed Ronco, KNKX
UPDATE, Dec. 20, 9:10 a.m.:
The CEO of Amtrak is apologizing for the train derailment in DuPont Monday that killed three people and sent around 100 to the hospital.
The accident this week is the latest in a string of major Amtrak derailments in recent years. An Amtrak train derailed near Tacoma as recently as this summer, and eight people were killed in a Philadelphia crash in 2015.
Tuesday night, Amtrak president and CEO Richard Anderson said the accidents must stop.
"They're just not acceptable," Anderson told reporters. "They're not something that who we work and spend our professional careers at Amtrak want any part of."
Anderson says he supports the federally mandated positive train control safety systems that can prevent such accidents.
Railroads have until the end of next year to implement the safety upgrades. So far, Amtrak has about half of its locomotives equipped. The system was not operating on the train that derailed this week.
-Reporting by Anna Boiko-Weyrauch, KUOW
UPDATE, Dec. 19, 9:50 p.m.:
Railroad and highway crews made significant progress Tuesday clearing mangled train cars off of I-5 from Monday's derailment. There's still no estimate for when the southbound lanes in DuPont may reopen.
Federal investigators continue to probe what went wrong. National Transportation Safety Board member Bella Dinh-Zarr says nothing looks to be amiss with the rails where the speeding Amtrak train jumped the track at a curve.
"As far as we can see – obviously, there is still a lot of wreckage that needs to be removed – but at the curve, the rail appears to be intact," Dinh-Zarr said at press conference Tuesday.
NTSB investigators say one priority is to determine whether the engineer driving the train was distracted. That engineer hasn't been interviewed. All of the train crew members were injured and hospitalized Monday.
– Reporting by Tom Banse, Northwest News Network
UPDATE, Dec. 19, 4:10 p.m.:
Washington Gov. Jay Inslee is vowing to make passenger rail service safer. He made his comments at the scene of Monday's derailment.
"Given the nature of this tragedy, given the extent of loss, I feel we will succeed in improving rail transit coming out of this," Inslee said during a news conference.
Inslee said he's talked to the U.S. Secretary of Transportation and been briefed by the National Transportation Safety Board. Officials have confirmed three passengers were killed and dozens injured.
The crash is raising questions about the safety of the popular commuter rail line that runs between Vancouver, British Columbia and Eugene, Oregon.
In July, an Amtrak Cascades train traveling from Eugene to Seattle derailed near Steilacoom, Washington. There were no serious injuries, but speed was a factor. Then this week, the Portland-bound Cascades train derailed at high-speed on a new bypass route that allows trains to avoid Steilacoom.
At a news conference at the crash site, Pierce County Executive Bruce Dammeier was asked today about his confidence in Amtrak's safety record in his county.
"We have had two accidents in Pierce County and you can bet that we're going to be part of making sure that those questions are asked and that we believe the answers that come out from it," Dammeier said. "This is a very serious issue that we've got to get to the bottom of."
He added that there will be "plenty of time" to get those questions answered.
-Reporting by Austin Jenkins, Northwest News Network
UPDATE, Dec. 19, 11 a.m.:
National Transportation Safety Board officials say have they obtained data from recorder in the rear locomotive. The data indicates the train was traveling nearly 80 mph near the time of derailment, which is 50 mph over the 30 mph speed limit on that section of track.
Officials say three people are confirmed dead. More than 70 were injured, and at least 10 people transported from the scene were in serious condition.
Original Developing Updates, Monday, Dec. 18:
Even before today's derailment, cities along the new Amtrak route have been voicing safety concerns for more than a decade.
In 2013, Lakewood, Washington sued in an attempt to block the train route from passing through town. They lost.
Lakewood City Councilmember John Simpson said the biggest concern was safety, with trains traveling up to speeds of 79 miles per hour.
"It is an issue that the city of Lakewood was adamantly opposed to in order for the train to save six minutes of travel time," he said.
Two weeks ago, the mayor of Lakewood predicted the new route would lead to deaths; not due to derailment, but because of the increased number of railroad crossings in suburban areas.
Amtrak said the new route was created to avoid the slower, congested route along the water and improve travel times.
The route used to hug the coastline along Point Defiance, but was moved inland a few miles.
-Reporting by KUOW News
UPDATE, 4:45 p.m.:
Washington State Patrol spokeswoman Brooke Bova said the train had 12 cars and two engines. A total of 13 cars jumped the tracks.
Bova said five vehicles and two semitrailers on I-5 were hit. Train 501 is one of four new trains that Amtrak added to their schedule between Seattle and Portland. The new service started Monday morning. The derailment occurred on the first run of the new morning train.
UPDATE, 1:20 p.m.:
No official numbers of casualties have been released. News outlets have reported varying numbers of people killed. Northwest Public Radio will refrain from reporting specific numbers until more official information is available.
The Pierce County Sheriff's office said multiple drivers were injured but there are no reports of any drivers being killed.
Eyewitness Account
Greg Mukai was driving southbound on I-5 when the derailment occurred about 50 yards in front of him.
"It clicked in my mind after I stared at it for a couple seconds that that was the train that I was just looking at earlier," he said.
"It was really quiet – I was expecting more noise and craziness to be going on," he said. "I think everybody was really in shock."
Mukai said he then saw people getting out of their cars and rushing to help. Many appeared to be military personnel wearing their uniform or morning workout gear.
Speaking to media at DuPont City Hall, Emma Shafer said she was on the train car that was dangling from the bridge over I-5.
"It kind of felt like just like the end of the world, like you'd just come out of this nuclear bunker and you're just like standing amongst all of this wreckage," she said.
UPDATE, 10:50 a.m.:
CHI Franciscan Health said 77 people were being transported to hospitals in Pierce and Thurston Counties, four with severe injuries. Madigan Army Medical Center at Joint Base Lewis McChord accepted 20 patients.
Seattle's Harborview Medical Center, the region's only Level 1 trauma center, said as of 9:20 a.m. they were not expecting any patients.
-KUOW and NWPB News
UPDATE, 10 a.m.:
The Washington State Patrol has set up a family reunification center at DuPont City Hall.
The Pierce County Sheriff's office says "injuries and casualties" have been reported but no official numbers have been released.
Amtrak says there were "approximately 78 passengers and 5 crew members on board."
All southbound lanes of I-5 were closed south of Joint Base Lewis-McChord at Nisqually Road (exit 116), and motorists were being warned to avoid the area or take alternate routes. Northbound traffic is getting by on two lanes.
-Reporting by KUOW/Derek Wang
UPDATE, 9:22 a.m.:
Amtrak reports it was the 501 train from Seattle on its first ever run that derailed this morning. The train left Seattle at 6 a.m.
According to WSDOT, the train was running down a new bypass created to avoid slow curves and "single track tunnels on the BNSF Railway main line tracks near Point Defiance and along southern Puget Sound." The project rerouted passenger trains to an inland route on an existing rail line that runs along the west side of I-5 through south Tacoma, Lakewood and DuPont and then  reconnects back to the BNSF Railway main line near Nisqually on the east side of I-5.
Original Story: 8:30 a.m.
KUOW/Derek Wang reports:
An Amtrak train derailed in Pierce County Monday morning. At least one train car ran off an overpass and struck I-5.
All the southbound lanes near Mounts Road are closed.
Amtrak and the National Transportation Safety Board say they're aware of the situation and are gathering information.The state patrol is responding.
Pierce County Sheriff's office tweeted that there are injuries and casualties, but no numbers have been released.
State officials are urging people to avoid the area and to take alternate routes.
This is a developing story. We will update this post with new information as we have it.