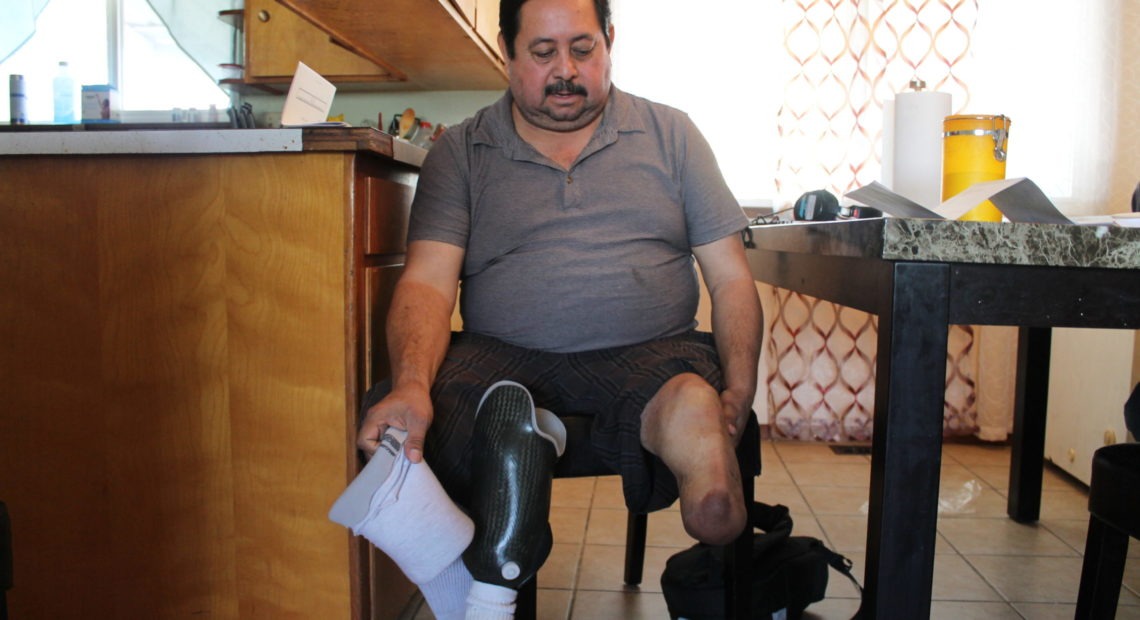 Fighting For Compensation: How Well Is L&I Hearing Latino Farmworkers?
Jose Luis Mendoza is an animated man. He's 56, with a black mustache. He speaks passionately about a work ethic he says he inherited from his father.
Mendoza started working at 16, picking strawberries in California.
He's now been in agriculture 40 years.
A mi, me enseñaron a trabajar, no a andar robando, pidiendo limosna. Pero si no puedo que voy hacer? Me falta un pie!
"Of course I would, my parents taught me to work, not to rob or be begging," Mendoza says in Spanish. "If I can't, what can I do. I'm missing a foot!"
He's also the kind of man that's cracking jokes even as we're talking about his accident.
Caí de espalda, por que hiba caer de cabeza, y entons yo de ahi deje carne y piel, en mi zapato.
"I fell on my back, I was going to fall on my head, and then there was flesh and skin left in my shoe," he recalls.
Six years ago, Mendoza lost part of his left leg, and with it, the ability to work as a farm laborer.
While working at Zirkle Fruit in Selah, Washington, a coworker backed up a machine as they loaded trucks. The machines are quiet, and drivers are supposed to honk when they're in reverse. But Mendoza says he didn't hear anything.
Mendoza found himself on his back in the fetal position. The machine had run over his left ankle. And he was bleeding.
He says an ambulance came 40 minutes later. Doctors saw Mendoza's injuries and decided to airlift him to Seattle.
That was a Friday. By Monday, doctors amputated Mendoza's leg below the mid-shin. Six years later, he still can't work in agriculture.
After his accident, Mendoza filed a claim with the Washington Department of Labor and Industries. His claim is still pending.
Which prompts the question: Is that normal time for a claim like this?
"There is no average I can quote you," Lori Evans with the Washington L&I Department says.
"It depends on the type of injury, the severity of the injury. It's a high volume of external forces that could come to work," she says.
Evans heads the Limited English Proficiency team. They resolve claims with non-English-speaking workers. But she says there's no standard time for resolving these cases.
Timelines can vary from when a worker is injured to the time they file their claim and get treatment. Claims can take several years. While the goal is to get workers back to their job as quickly as possible, that's easier said than done. Depending on the severity of the injury and a doctor's evaluation, the claims process can take longer and get more complicated.
And with more time and complications, that means more money. Whether it's lost wages, attorney fees, or medical bills, the claims process costs everyone money.
When he worked for Zirkle Fruit, Mendoza said he could make up to $1,600 a month. Now he gets a monthly check from L&I for about $400 – hard to support his family of six.
He'll get this amount from the state as long as he doesn't go back to work, file for unemployment, or push for permanent disability. If Mendoza is able to appeal L&I's claim decision, then the state would have to pay him a pension. But that's only if both parties agree Mendoza's injury qualifies as a total or partial permanent disability.
And that's why this year Mendoza got a lawyer.
Se siente uno deprimido, humillado. "You feel depressed, humiliated," he says.
For Mendoza, it's been a frustrating experience. Six years and multiple doctors later, there's still no answer on what will happen to him or his family. Attorney and medical bills are piling up along with the regular costs of food, school and housing.
Mendoza says it's hard to accept he can no longer provide for his family how he once did. To add to his stress, Mendoza only speaks Spanish. So all the work with attorneys, doctors and the state has to be translated.
Washington's L&I department has caseworkers specifically for people like Mendoza.
Lori Evans and her team work with injured workers filing claims for those who don't speak fluent English. The group started a year ago after hearing complaints from workers who couldn't access the system because of a language barrier.
While L&I wouldn't comment on individual cases, Evans did say that there are 11 claims managers that speak Spanish in the Olympia office, and 6 more in Yakima. She declined to offer an opinion on whether that's enough.
In total, L&I has 233 claims managers covering the 2.5 million insured workers in Washington.
According to L&I data, in 2015 the department received about 86,000 claims filed by English speakers, 87 percent of which were accepted.
In the same year, about 12,500 claims came from Limited English Proficiency speakers, and 91 percent were accepted, meaning workers were able to receive monetary support after their work-related injury. The majority of Limited English Proficiency claims were from Spanish-speaking workers.
Yo le pido a dios que me deje durar muchos años para seguir peleando con ellos y para ayudar a la gente, que no puede ayudarnos, que tienen miedo. Esto no va parar hasta que nos mueramos. 
Mendoza says he prays to God for a long life so that he can keep fighting for full compensation. He wants to help other workers, especially ones who are too afraid to fight back. He says he'll devote his entire life to it if he has to.