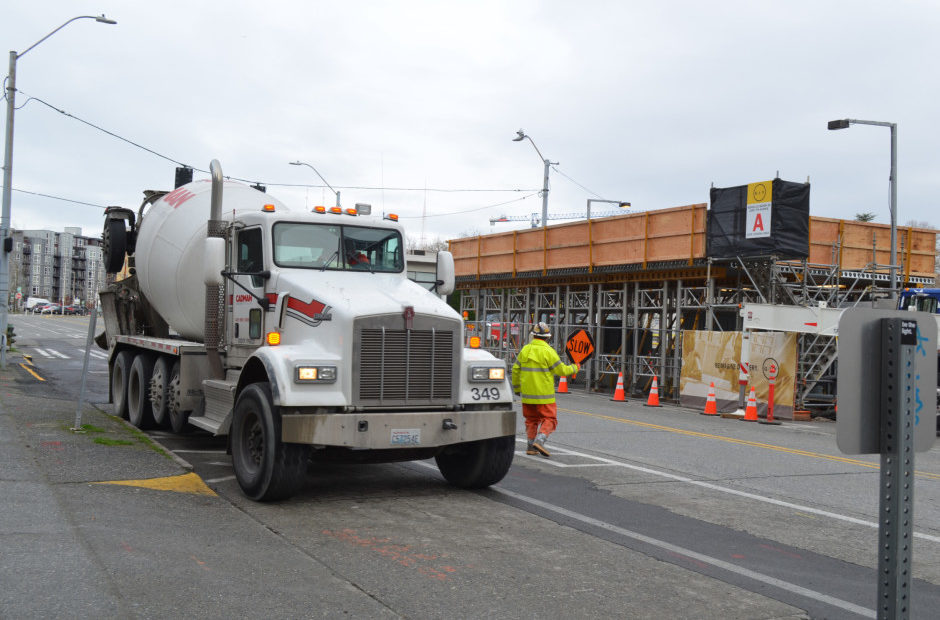 As Seattle Booms, A New Reality: The Carbon-Concrete Conundrum
Yet another building with 400 offices, first-floor retail space, and underground parking is going up in Seattle's South Lake Union.
One of the primary ingredients for the building is concrete. As each concrete truck empties its contents into the site, a new one pulls up: that's a truckload of concrete every five minutes.
As the Pacific Northwest booms, it's using a lot of concrete to build buildings, roads and other infrastructure — and making all that concrete is a big part of our carbon footprint.
"Even in a like super low-carbon pathway for the world, we need cement," says Pete Erickson, a researcher at the Stockholm Environment Institute's Seattle office. Cement is basically the glue that holds concrete together. Washington uses 1.8 million metric tons of cement and Oregon 0.8 million metric tons of cement per year. Making that cement emits roughly that many tons of carbon dioxide (CO2).
"We need to build buildings. We need to build light-rail lines," Erickson continues. "The question really becomes: how do you make that cement?"
The only cement plant in Washington is in South Seattle: Ash Grove. It makes one third of all the cement used in Washington. Its kilns dominate the skyline by the Port of Seattle. And it also contributes an out-sized chunk to Seattle's carbon footprint: the plant accounts for ten percent of the city's greenhouse gas emissions.
The chemical reaction that turns limestone into cement releases CO2. There's not much that can be done about that, except to substitute a small amount of cement with alternatives like ash. The other half of Ash Grove's emissions comes from heating up its kilns: the plant burns coal, tires, and other fuels to generate enough heat to turn limestone into cement.
Environmentalists are worried about the carbon that's coming out of Ash Grove's smokestack, but the people who live near the plant are worried about something else.
Ash Grove releases particulate matter, sulphur dioxide, and other pollutants into the air. Ever since a consent decree from the EPA in 2013, Seattle's Ash Grove plant has had to limit the air pollution it emits.
"Sometimes it smells like burning. Sometimes it smells like rubber," says Paulina Lopez, who's lived in South Seattle for 12 years and works with a non-profit on air quality. "It does make you wonder, you know, like if you're doing the right thing with your family by exposing them to this."
Lopez's 4-year-old son has respiratory problems. He's not alone. Asthma rates are high in South Seattle, and bad air quality can trigger asthma attacks.
"South Seattle — it's where most people of color live," Lopez says. "We have a history of immigrants. We have more than 300 industries around us. That's an environmental justice issue."
Ash Grove declined multiple requests for interviews or comment. The company's vice president of environmental affairs, Curtis Lesslie, defended the plant in comments to the Department of Ecology in 2016. He argued the Ash Grove plant in Seattle is much greener than most cement plants because only about half the fuel it burns is coal. Petroleum products like tires make up the other half.
Indeed, the plant did get EnergyStar ratings in 2006, 2007, 2008, 2015, and 2017, which means, in those years, it was in the top 25 percent of cement plants in the U.S. in terms of energy usage.
"It's not a bad thing that the cement plant is in Seattle," says Pete Erickson, with the Stockholm Environment Institute. "In fact, it could be a good thing. To not have climate catastrophe, cement is one of those things that we're going to have to figure out. Let's have Ash Grove — let's have Seattle — be a leader in figuring out how to do that."
Erickson says the government could help encourage Ash Grove to be more efficient and to burn less coal through a carbon tax or a carbon cap. Alternatively, requiring construction firms to buy low-carbon cement could create market pressure. Erickson says any of that would give Ash Grove the incentive to innovate.
"It could, you know, upgrade to a more efficient technology," he explains. "It could use natural gas instead of coal. It could capture that CO2 as it's exiting the smokestack and turn it back into something else, even cement itself."
All of that would mean burning less coal and fewer tires — which would, in turn, help clean up South Seattle's air.
That's what Paulina Lopez would like to see. Her husband wants to leave South Seattle to find cleaner air to breathe, but, she says, "I always tell him, you know, 'Until I see a big change, like something that I feel very proud, I don't want to leave.'"
Copyright 2018 Earthfix