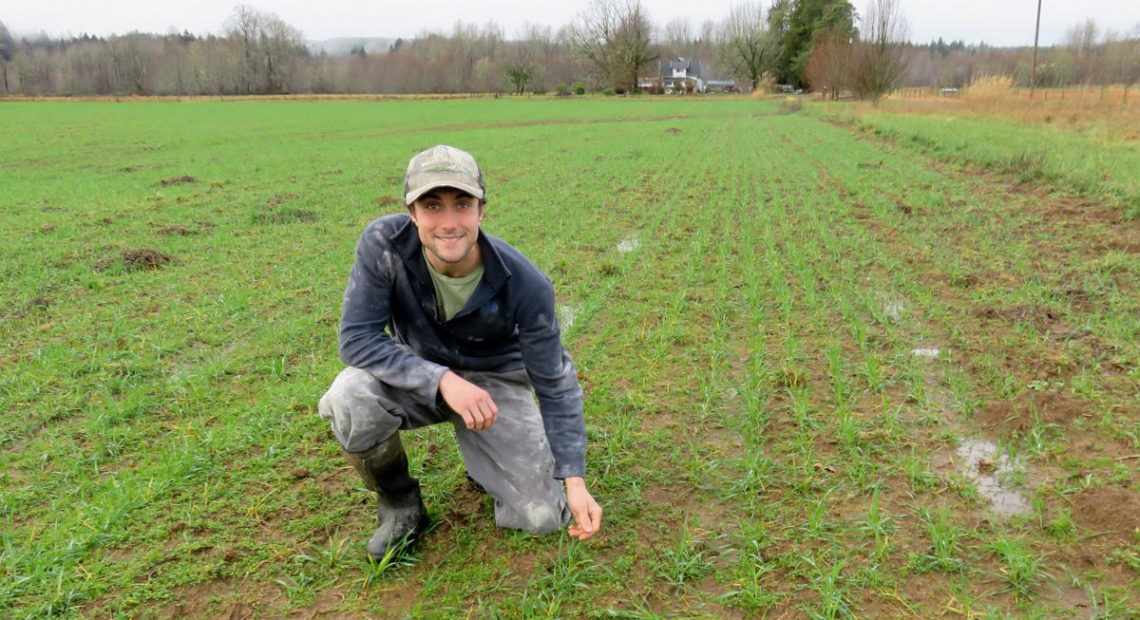 Where's The Wheat? Bringing Grains Back To The 'Wet' Side Of The Cascades
Nowadays the vast fields of grain in eastern Washington, north Idaho and northeastern Oregon feed the world. But once upon a time—1825 to be exact—the first crop of wheat in the Northwest was planted at Fort Vancouver.
For the rest of the 19th century, many farmers grew wheat, oats, rye and barley west of Cascades. Now, foodies, farmers and others are collaborating to revitalize the historic grain production on the wet side.
You've no doubt heard catch phrases of the local food movement such as "Buy local" and "Farm to table." You can see it take off it in the crowds at your closest farmers market or with "NW grown" labels on products at your grocery store.
But Laura Lewis, who leads the Washington State University Food Systems Program, said there's a "missing piece" for people who want to eat local in the maritime Northwest.
"We just look at wheat or flour as this general, generic thing," Lewis said. "We don't differentiate. We want flour."
Lewis wants to see the return of "a local and regional grain economy."
"Knowing that you can go to a farmer's market and get rolled oats," she said. "Or you can get barley, or you can get wheat berries and they were produced within 50 or 100 miles distance from that particular farmer's market."
Returning Wheat To The West Side
For the past six years, WSU—with help from Oregon State University—has organized a January conference to promote specialty grain production, especially west of the Cascades. This year's edition of the Cascadia Grains Conference sold out with around 300 farmers, bakers, brewers, distillers, brokers and academics in attendance.
Farmer Evan Mulvaney dropped by. He started growing peas, wheat and barley a couple years ago on a former dairy farm he bought near Montesano, Washington.
"I talked to the family who I was buying my farm to see if they had ever grown grain before," Mulvaney said. "It turns out they had. In the 1950s and '60s, there was a lot of grain production in Western Washington."
Mulvaney rotates his organic crops across about 100 acres of what used to be pastureland. It rains a lot here near the Washington coast and one ill-timed rain storm or high humidity can spoil mature grain.
"We work with the rain by planting our crops as early as we can. We have come to grow a lot of triticale, which is a cross between wheat and rye," Mulvaney said. "It does very well in wet soils throughout the wintertime. That crop will be ready to combine and harvest in late July or early August."
That's when it's reliably sunny and dry, even here.
Most of the grain Mulvaney grows stays on the farm to feed the hogs. He said growing grain for animal fodder is more forgiving than for human consumption. What Hidden River Farms sells to the public is its heritage pork.
Even if he wanted to sell milled grains, Mulvaney said the closest miller would be hours away.
"Probably up in the Skagit Valley," he said. "It's a little bit of a trip. But the closest butcher isn't that much closer."
It's Not Just For Breakfast Cereal
Mulvaney and others said the loss of local processing infrastructure—grain mills, malt houses, so forth—is a barrier to meeting rising demand for local grains from end users. Those include artisan bakers, craft brewers and the fast-growing distillery business.
Jason Parker co-founded Copperworks Distilling in Seattle. He began searching more than three years ago for local farmers to source malted barley for distinctive whiskeys.
"Now we are doing single farm, single variety, single vintage malts that we're turning into whiskey," Parker said. "We are able to share that flavor from the field all the way into the bottle."
Parker said Washington state is now home to more than 100 craft distillers. Oregon has more than 50.
So far, official statistics from USDA don't show any significant bump up in grain production in Western Washington or Western Oregon. Anecdotally, we've heard of a revival in plantings of wheat, barley and rye in Washington's Skagit County and in Linn, Lane and Benton counties of Oregon's Willamette Valley
Two Grain Initiatives In Two States
OSU plant breeders said beer brewers and distillers are excited about a project to introduce new varieties and flavors of barley. OSU's Barley Project is seeking to breed varieties better adapted to grow in different parts of the Northwest and for specific end products.
Professor Pat Hayes says the project recently won a $2 million federal grant to focus on organic "naked" barley, which is easier to process because the seeds do not have hulls.
In Washington's South Puget Sound region, which has experienced a long-term trend in lost farmland, the South Sound Farmland Trust, WSU Extension and several farmers are collaborating to fund a market analysis for a livestock feed processing facility.
"What is needed is a regional grain buyer," WSU Thurston County Extension Director Stephen Bramwell said in an email. "The feed grain mill would provide a regional buyer, albeit on a fairly small scale to start with."
Bramwell said project backers plan to make a pitch for support to the Port of Olympia Commission on February 12.
NW News Network Producer Kevin Mooney contributed to this report.
Copyright 2018 Northwest News Network