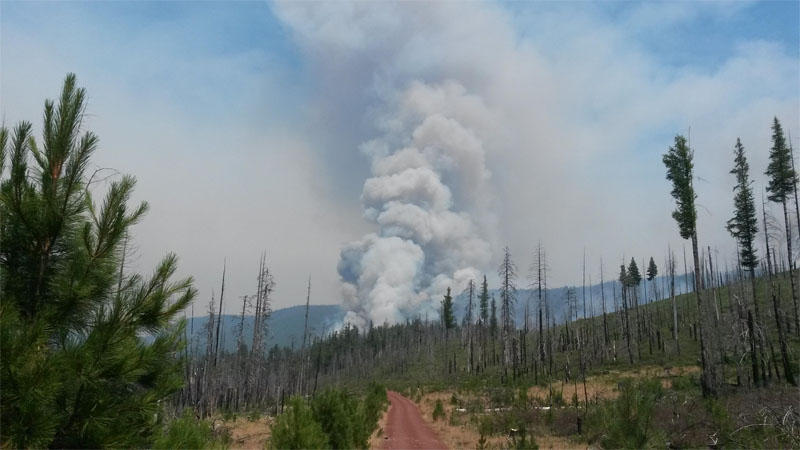 In The Fire-Prone West, Differing Views Of What Forest Health Really Means
Last year's intense fire season led to calls for more "treatment" of federal forests to remove excess fuel that can make for bigger, hotter wildfires. In November, House Republicans passed a bill to grease the skids for more work in the woods. The bill now awaits action in the Republican-controlled Senate. But while there's broad bipartisan agreement that more needs to be done to promote forest health, the opposing sides can have very different pictures of what that looks like on the ground.
Nick Smith said the need for more active management of public forests is great, and urgent. 
"We have currently over a hundred million acres, according to the Forest Service, of federal forest land that are at some risk of catastrophic wildfire," Smith said.
Smith is Executive Director of the industry-affiliated non-profit group Healthy Forests, Healthy Communities. He said decades of fire suppression and unwise logging practices — as well as climate change and drought — have resulted in forests that are dangerously overstocked and fire-prone. And, he said, current federal policies have failed both forest health and local timber-dependent communities. And that, Smith said, is where the Resilient Federal Forests Act comes in.
"It's aimed at reducing the cost and time it takes for agencies to implement projects on forests that are at immediate risk of wildfire, insects and disease," said Smith.
The bill — also known as HR-29-36 — is co-sponsored by Oregon Second District Rep. Greg Walden. It would streamline the process for green-lighting forest projects in a variety of ways. One is by expanding the use of so-called Categorical Exclusions. These are categories of projects that are assumed to be benign so they're not subject to detailed environmental analysis. For example, currently, post-fire salvage logging projects are excluded if they're under 250 acres. The new bill expands that categorical exclusion to 10,000 acres.
George Sexton with the Ashland-based environmental group K-S Wild – points to another example. 
"There's a categorical exclusion for "early seral habitat creation," said Sexton. "That is the timber industry euphemism for taking out a mature forest and replacing it with a fiber plantation."
The U.S. Forest Service currently has more than 35 categorical exclusions it can use. Another section of the bill would put new limits on legal challenges, and would prohibit plaintiffs who win their case in court from getting their legal fees reimbursed. George Sexton said that would sharply limit the public's ability to stop logging proposals that violate environmental laws. 
"What HR 2936 would do is say, yeah, you can bring a case but A, you can never win, and B, you'll never be able to afford it," Sexton said.
The bill would also give legal priority to the 1937 law that mandates timber harvest on the so-called "O&C" lands in western Oregon. One effect of that would be to essentially negate the Cascade-Siskiyou National Monument in southwestern Oregon, which is already targeted for downsizing by the Trump Administration. The bill said its main intent is to expedite projects that will improve forest health and much of its language refers to thinning, hazardous fuels reduction and insect and disease control. But environmentalist Tom Wheeler said those kinds of projects aren't the ones that get tied up in red tape.
A thinning project that is truly restorative and beneficial, you're not going to need to do a ton of analysis, you're not going to have to write an environmental impact statement. You can do less work to do these projects because they're going to have a beneficial effect on the environment" Wheeler said.
Wheeler is with the Environmental Protection Information Center in Arcata, California. His concern is that full-scale commercial logging is being carried out under the guise of "thinning." 
"Instead of removing some of the weaker trees, or the trees we don't want on the landscape, they'll remove the biggest and best trees, because those are the ones that are going to make the best profit for a timber sale," Wheeler said.
And that, he said, isn't promoting forest health. But Travis Joseph – with the Portland-based American Forest Resource Council — said not to worry. 
"From our perspective, what we're trying to see is healthy, resilient forests that are around forever. And we believe that we have a very serious threat that we need to address through logging, through active management" said Joseph.
Joseph said it can take several years and millions of dollars to jump through all the regulatory and judicial hoops to get a logging project completed. 
"So, we're viewing the world through the lens of, we have this crisis, the current process is not allowing us to deal with it in a timely, cost-efficient way," Joseph said. "What tools can we bring to the table to improve that process?"
The House of Representatives passed the bill last November, along largely partisan lines. It's currently awaiting action in the Senate. But even if HR-29-36 doesn't make it out of committee, expect parts of it to resurface in other forestry bills.
Copyright 2018 Jefferson Public Radio