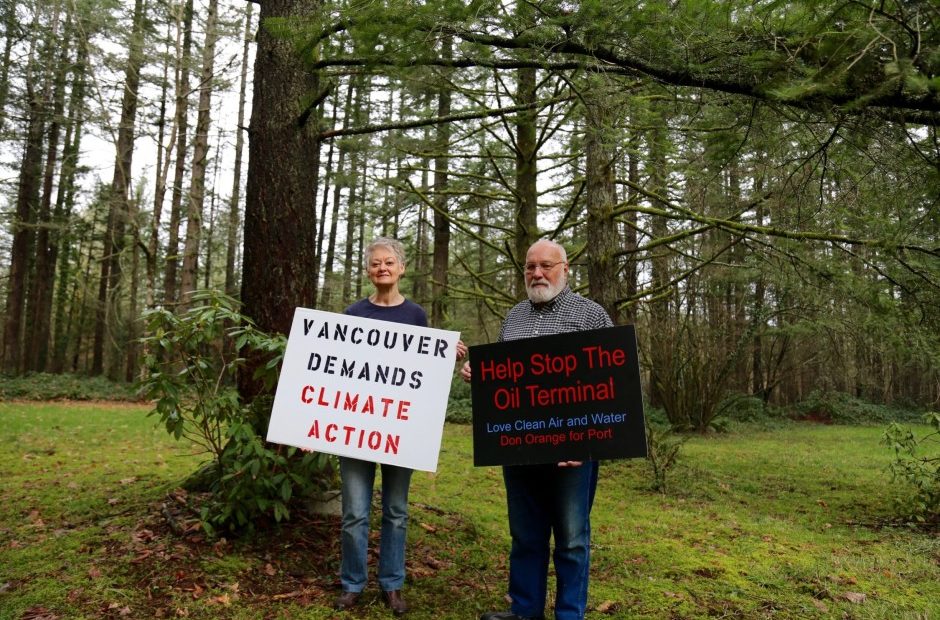 How A Grassroots Effort In Vancouver Fought Big Oil — And Won
Early this year, Washington Gov. Jay Inslee said no to a massive oil-by-rail terminal proposed in Vancouver, Washington.
The $210 million Vancouver Energy project, a joint venture from Tesoro and Savage, would have brought up to 360,000 gallons of crude oil a day on trains traveling along the Columbia River. The proposal would have been the largest oil-by-rail terminal in the country.
The companies have spent the last four years working through the state's regulatory process. Along the way, they've encountered a wave of local, grassroots opposition.
Such opposition is common against fossil fuel ventures on the West Coast, but what sets Vancouver apart is the community's ability to keep up the pressure for years.
'The Risk Was So High'
Jared Smith drove toward the far west end of the Port of Vancouver on a recent day and parked in the middle of a big, empty space that's now filled with gravel.
"See where those rail cars are right now," said Smith, the former president of the local International Longshore and Warehouse Union. "That's where the oil terminal was going to go."
The area Smith pointed to is called Terminal 5. It's surrounded by a looped track where rail cars stop to unload cargo. The Vancouver Energy oil terminal project would have brought four additional unit trains a day, each carrying about 100 cars filled with crude oil from the Bakken oil fields in North Dakota.
"It would be a lot, and would certainly clog up the rail line here," he said.
Smith works as a crane operator at the water's edge, loading and unloading ships as they head through the port back down the West Coast.
When he first heard about Vancouver Energy's proposal, he immediately worried about his colleagues at the port.
He knew if there was a derailment or an accident at the terminal, they would be the ones closest to harm.
"We're always in favor of good paying jobs that are benefiting the community, but with this, the risk was so high," Smith said.
The union became more vocal in their opposition to the project after a 2013 oil train derailment in Quebec, Canada, which killed 47 people and destroyed much of the downtown neighborhood.
"After Lac-Megantic happened, it took on a whole new level of meaning for us," said Smith, referencing the town in Quebec.
Fruit Valley Joins The Fight
Less than half a mile from where Smith stood at the port is Fruit Valley, a working-class neighborhood that became key to the grassroots fight against the terminal.
"When it hits that close to home and you have that visual every day," said Linda Garcia who has called the area home for 20 years.
"You kind of go into momma bear mode." 
Garcia has been an active voice in opposition to the project since the beginning. She first heard about it after representatives from Vancouver Energy gave a presentation to residents in Fruit Valley.
It didn't go over well.
Soon after, the Fruit Valley Neighborhood Association became the first of about a dozen neighborhoods to pass a resolution against the terminal.
"When this whole thing first started, I think we were a little bit worried that nobody would have our back, that we would be poor little Fruit Valley struggling to fight the big bad oil company on their own," Garcia said. "But to see this many people, step up and come forward and help us slay Goliath, it was tremendous."

Gov. Jay Inslee's recent decision to quash the terminal was welcome news to Garcia, who has spent the last four years showing up at rallies and testifying at meetings, some that went on until 1 a.m.
"It was like this never-ending battle," said Garcia, recalling a Vancouver City Council meeting that had to be relocated to the Hilton Vancouver to accommodate the hundreds that showed up to testify.
"I think that was my turning point," she said. "Where I truly believed something good might come from this, that we might actually win because we had sheer force and sheer will."
A Local Movement Grows To Thousands
As the permitting process stretched on for years, organizers against the project began expanding their networks and pledged to continue showing up to public meetings in large numbers.
"We've been to pretty much every Port of Vancouver meeting for the last four years," said Don Steinke, a retired science teacher who lives with his wife Alona in East Vancouver.
Steinke has been involved with the local Sierra Club chapter and has been fighting different fossil fuel projects proposed in southwest Washington for the past decade.
"It's one thing to fight coal exports going to foreign countries. It's another thing to fight the American oil industry," said Steinke, who initially had reservations about opposing the oil terminal because he thought it would be impossible to take on Big Oil.
But once he heard the ILWU was opposed, he started to get more involved.
Steinke is now a key organizer in the opposition movement and pens weekly email blasts to the more than 4,000 people on his mailing list.
"It's a really emotional experience to see so many people willing to sacrifice their time and help a cause for the greater good," said Steinke, who frequently rents buses or vans to carpool Vancouver residents to hearings and environmental meetings across the state.
"This is one of the most powerful industries in history and this is where they most want to be," he said, referring to American oil companies. "And it looks like we're stopping them."
'People Helping People'
One of the biggest victories for terminal opponents came when Don Orange won a seat on the Port of Vancouver Board of Commissioners in November. Orange had gone up against a candidate, Kris Greene, who was almost entirely funded by the companies backing the terminal.
Orange — a political novice who campaigned only on the platform of opposing the terminal — ended up winning by more than 30 points.
A key to his victory was an army of volunteers who canvassed neighborhoods across the district. One of them was Cathryn Chudy, who knocked on every door in her Rose Village neighborhood.
"By nature, I'm pretty shy. Going to people's doors is really tough for me," Chudy said. "But I can do my own precinct, ask my own neighbors."
Chudy said she knocked on close to 600 doors and later logged about 1,000 conversations phone banking for Orange.
"I had to do my part, one conversation at a time," she said.
When describing the swell of opposition against the terminal, Chudy borrowed a phrase she heard from a friend of hers in Hood River: grindstoning.
"Collectively, day after day, month after month, we're putting our collective noses to the grindstone," Chudy said. "It's people helping people, and I'm one of those people."
The Thin Green Line
On the day the news broke that Inslee had rejected the terminal, Garcia and Steinke joined several others who have long rallied against the project in a celebration rally outside Vancouver City Hall.
The group was a mix of Sierra Club members, city councilors, retirees and business owners who are wary of Vancouver becoming an oil town.
"This quickly became one of the largest and one of the biggest campaigns we've ever been involved in," said Dan Serres, the conservation director of the environmental group Columbia Riverkeeper.
He says Vancouver is part of a wider movement and he has seen growing resistance in the area challenge the fossil fuel industry.
Two years ago, three oil-by-rail terminals were planned on the Washington coast in Grays Harbor. Plans for all three were eventually cancelled because of fierce local opposition. In September 2017, the final of six coal terminal projects proposed over the last decade in Oregon and Washington was rejected in Longview, Washington.
"The Pacific Northwest is stopping those proposals," said Serres. "We call ourselves the thin green line, but I think it's bigger than that. It's community by community, really envisioning a cleaner future. And I think it gives people hope that we don't have to keep building this infrastructure. We can do better than this and we are."
After four years of going up against Vancouver Energy, people like Linda Garcia are not ready to hang up their picket signs just yet.
"It's still sinking in, there's kind of a sense of disbelief," said Garcia. "I'm really hesitant to celebrate because it's gone on for so long."
And the fight isn't necessarily over. Tesoro-Savage has until the end of the month to appeal the governor's decision. In a Jan. 30 statement, the company said Inslee's decision had set "an impossible standard for permitting new energy facilities in the state."
The statement went on to say that the rejection sends "a clear anti-development message from state leadership that will have far-reaching negative impacts for industries across Washington state."
If Tesoro-Savage decides to appeal, it would take the fight out of neighborhoods like Fruit Valley and into a new battleground: the courtroom.
Copyright 2018 Oregon Public Broadcasting