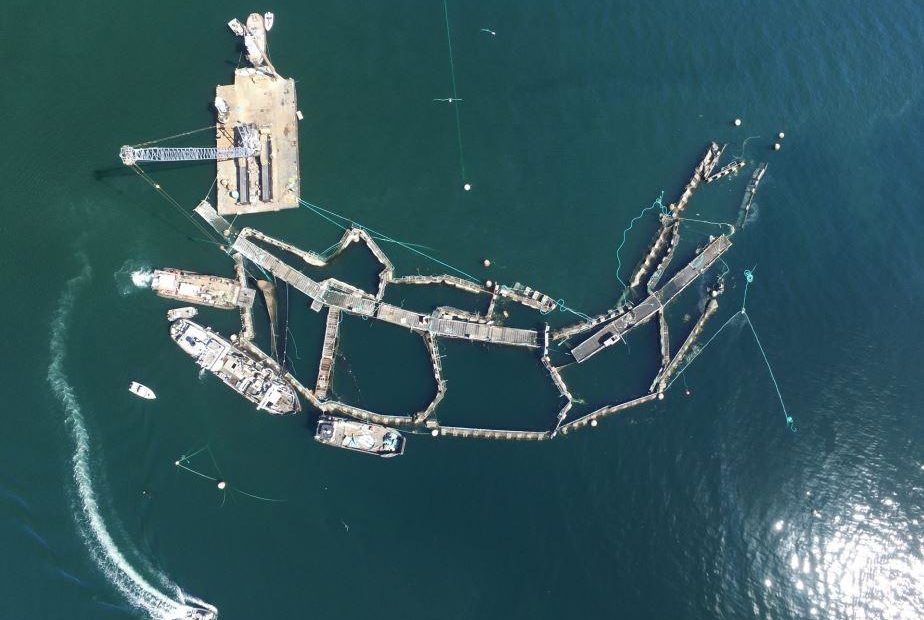 Remember NAFTA? It Might Keep Atlantic Salmon Farms In Puget Sound
The Canadian owner of an Atlantic salmon farm that collapsed last summer near Anacortes vows to use the North American Free Trade Agreement to save its fish farms in Puget Sound. New Brunswick, Canada-based Cooke Aquaculture says it will pursue mandatory arbitration under NAFTA if the Washington legislature tries to phase out Atlantic salmon farming.
Both chambers in Olympia have passed bills that would phase out farming of Atlantic salmon in Washington waters. If legislators reconcile the bills' differences, Gov. Jay Inslee is expected to sign the phase-out of Atlantic salmon farming into law.
Company vice president Joel Richardson said Cooke has been willing to compromise, even offering to raise only female fishes in order to prevent escaped Atlantic salmon from spawning and taking over wild salmon streams.
"The Senate and the House is really leaving us with very few options to continue our operations here," he said Monday night.
Richardson said the company will seek to recover the $76 million it has invested in its fish farms in Washington, as well as costs and lost profits.
"They're taking that investment away unjustly, and that deserves compensation, and there's a very real possibility that could be arbitrated under NAFTA," Richardson said.
Washington state officials estimate that 250,000 Atlantic salmon escaped Cooke's farm near Anacortes after it collapsed in August. The company says 160,000 of the farm's 305,000 salmon escaped.
The previous, American owners of Cooke's eight Washington fish farms also had major structural failures and salmon escapes in the late 1990s, according to the Washington Department of Fish and Wildlife:
1996: 107,000 fish swim free after an anchor line fails on a salmon farm
1997: 369,000 fish escape while a salmon farm is towed away from a toxic algae bloom
1999: 115,000 fish break loose from a net-pen during a strong tidal current