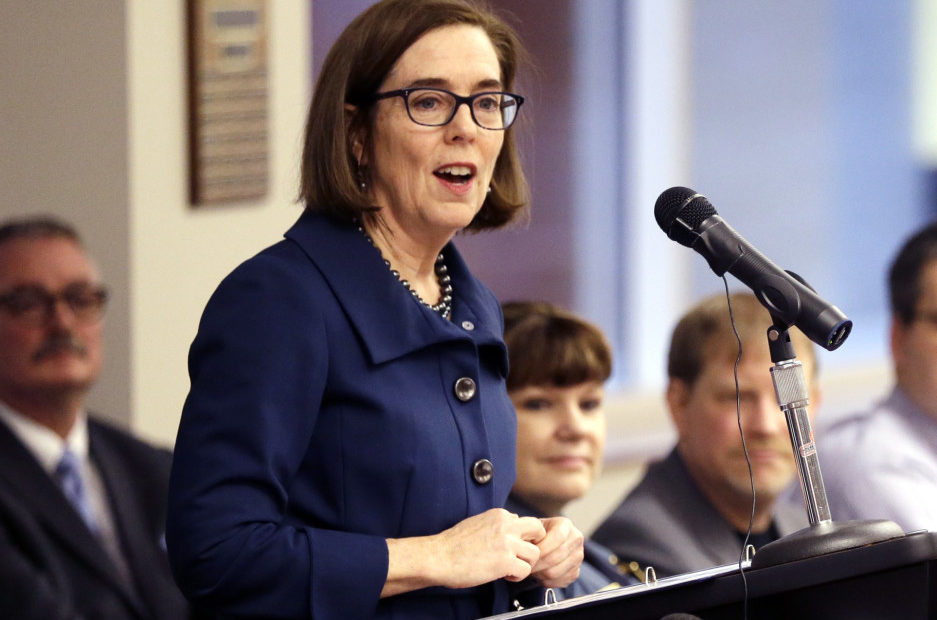 Oregon Legislators Pass Bill Stripping Gun Rights From Stalkers, Abusers
Oregon state senators approved a measure Thursday that would strengthen the state's gun laws by expanding the number of people who are banned from owning a gun in the case of domestic violence or stalking cases.
The bill, a priority measure for Gov. Kate Brown, now heads to her desk for her signature.
In an emotional speech, longtime Democratic Sen. Floyd Prozanski, of Eugene, made rare mention of his sister who was murdered by a domestic violence abuser.
"In my own situation, involving my sister, her murderer was her boyfriend," Prozanski told his fellow lawmakers. "Her murderer was her intimate partner. Her murderer was her domestic abuser. Her murderer killed her with a handgun."
Prozanski, a gun owner for 45 years, said it was time to take steps to protect domestic violence abusers from becoming a statistic. The prosecutor cited numbers showing that 52 percent of women killed in the U.S. by guns from 2010 to 2014 were killed by an intimate partner or family member.
Under current law, a spouse convicted of domestic violence is prohibited from owning a firearm. The measure, House Bill 4145, would expand the number of people who are banned from owning a gun to intimate partners despite marital status and add those who have a misdemeanor stalking order against them.
Several Republicans supported the idea of sending the bill back to committee where it could be worked on more.
Sen. Kim Thatcher, R-Keizer, said the legislation needed more clarity around certain definitions. Sen. Herman Baertschiger, R-Grants Pass, said more money needed to be sent to the Oregon State Police to enforce additional firearm laws. He dismissed the bill as "political chatter" and said the state was missing an opportunity to do real work.
The only Democrat to vote against the bill, Sen. Betsy Johnson, of Scappoose, who is often a swing vote, said it wasn't the time for an "emotional response."
The debate comes on the heels of a gunman killing 17 high school students in Florida. Johnson argued expanding the definition of intimate partner could have unintended consequences.
"Do we really want to give dating partners a new tool for when things go sour?" Johnson said.
Brown sent a statement praising the action by the state Senate.
"Closing the 'Intimate Partner Loophole' is an important step to keep Oregonians safer, and to keep guns out of the wrong hands," she said. "Passing this bill was a priority for me this session, but we know there's more that must be done."
Copyright 2018 Oregon Public Broadcasting