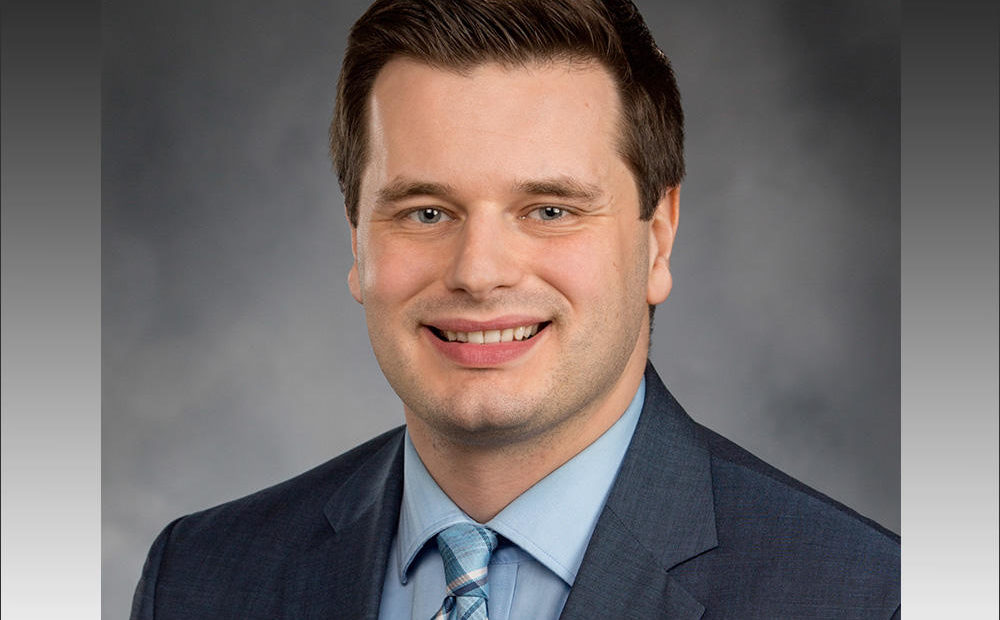 Multiple Women Accuse Tacoma Lawmaker Of Unprofessional, Inappropriate Behavior
As a politician, Washington state Rep. David Sawyer of Tacoma says he's in the business of getting to know people and networking. As a 34-year-old unmarried man, the Democrat says he sometimes tries to date within political circles because those are people who understand his life best.
Given his power as a lawmaker, Sawyer said mixing politics and dating is a "tricky space to operate," and one he acknowledges can lead to "miscommunications."
In recent weeks, eight women interviewed by Northwest News Network, The News Tribune and The Olympian have said Sawyer has crossed personal and professional boundaries, sometimes repeatedly, and accused him of engaging in behavior before and after he joined the Legislature that ranged from inappropriate to harassing.
That included allegations of persistent or suggestive electronic messaging, unwanted attention and comments with sexual overtones. In some cases, the women have complained about Sawyer's alleged behavior to friends, colleagues or House officials.
Sawyer has denied acting inappropriately. In a statement Friday he said: "I believe I have conducted myself professionally and lawfully."
He currently is restricted from working with his staff as House officials review a recent unspecified allegation made against him related to personal-boundary concerns.
Sawyer also told the news outlets in earlier interviews he was counseled by a House attorney in recent months about how his behavior toward a female staffer might be construed.
Five of the eight women interviewed about Sawyer spoke on the condition of anonymity, saying they feared damage to their careers in the public sphere or retaliation from Sawyer.
Seven of the women are current and former lobbyists, legislative staffers and campaign volunteers who first crossed paths with Sawyer professionally. One woman was involved in Tacoma public affairs but knew Sawyer primarily through a mutual friend.
All of the women said they were speaking out now either because of the national conversation about sexual harassment or because they realized they weren't alone in having experiences with Sawyer.
First elected in 2012, Sawyer chairs the state House's Commerce and Gaming Committee and has been key in crafting legislation related to Washington's lucrative legal marijuana system.
'You know you want to get a drink with me'
One woman who spoke on the record about an experience with Sawyer was Jessica Gavre, who served as the legislative assistant for Democratic state Rep. Laurie Jinkins of Tacoma from roughly 2010 until 2013.
Gavre said she met Sawyer in 2009 through local politics. But in 2011, the year before he first ran for office, Gavre said Sawyer began sending her personal text and Facebook messages roughly once a week.
Sawyer "would text me at times that were inappropriate with someone I wasn't really friends with," she said. "11 o'clock being like, 'You know you want to get a drink with me, come down to Pacific Grill.'"
Gavre, who was engaged and later married in 2011, said she often ignored and deleted the messages, which she said made her "uncomfortable and embarrassed." But she felt she couldn't forcefully tell Sawyer to stop, since he was a key member of the Pierce County Young Democrats, an employee of a politically connected Tacoma law firm and likely a future state lawmaker.
"He was powerful," Gavre said.
Later in 2011, Gavre said another woman told her she got similar messages from Sawyer. At that point, she told Jinkins, her boss, about them. Gavre said she repeated her concerns to Jinkins after the 2012 legislative session when the idea of sharing a district office with Sawyer was raised.
Jinkins confirmed to the news outlets that Gavre told her about the text messages and asked that she not have to share office space with Sawyer. Gavre said she didn't ask to make an official complaint with the House. In the end, Jinkins and Sawyer did not co-locate offices.
Sawyer said he pursued a friendship with Gavre since she was politically connected and he was considering a run for office. He said he doesn't remember sending any late-night text messages, but that if he did they were "friendly in nature" and not intended to be "more than that."
He said people in political circles often go out for drinks at night to network.
Sawyer said he later was told the messages had made Gavre uncomfortable. After that, he said he "ceased contacting her."
'Arm candy'
One lobbyist who currently works at the Legislature said she experienced years of on-and-off unwanted attention from Sawyer—including comments about her appearance—after they met at a Young Democrats event in 2011 when she was a 19-year old college student and he was eight years her senior.
Over the years, she said Sawyer would message her in "waves"—sometimes multiple times a day over different platforms.
"I often respond to him, but I'm not trying to engage him," she said. "Usually, I'm trying to make it stop."
The woman allowed the news outlets to review some of the text messages, which began around 2011 and stopped in 2017. They show the lobbyist deflecting as Sawyer repeatedly asked her to spend time with him. Once, in 2017, he invited her to an event as "arm candy."
The woman said Sawyer would at times comment on her physical appearance.
"He says I'm good-looking, beautiful, gorgeous," she said. "I consider it harassment."
The lobbyist said because of their age difference and Sawyer's position, she was wary of confronting him or complaining to House officials. Four of her friends told Northwest News Network, The News Tribune and The Olympian and that she had expressed angst about unwanted attention from Sawyer for years.
"If he were anyone else, I would have been much more direct," she said.
Sawyer said he was "flabbergasted" at the accusation. He described his relationship with the lobbyist as a long-term friendship that blossomed years before the two got to the Legislature.
He said she even came to his apartment and went swimming in the summer of 2017.
Sawyer said there were times when he believes there was mutual "flirtatious behavior." He also said he explored "the possibility" that they could be "more than friends."
The woman said she did go to his apartment to swim, in part because she "thought he was getting better."
"I have often forgiven him because I second guess myself," she said.
Even though they haven't communicated in recent months, Sawyer said he never had any inkling that she was unhappy with him.
Other concerns
During the 2017 session, Sawyer invited a young legislative staffer to a board game night and later left a Star Wars-themed yogurt on her desk.
He told the news outlets the gift was meant to be a "friendly gesture," based on mutual interests, but that House officials warned him the behavior could spark unfounded rumors they were romantically involved. He said he believes the staffer, who he did not identify, had no issue with him.
Reached by the news outlets, the staff member did not want to be named or have her version of events fully detailed. But she said the gift and other attention he showed her over several months was inappropriate.
The woman said she addressed her concerns directly with Sawyer, but, spurred by the national "Me Too" reckoning, later reported the behavior to the House.
"I am shocked that he decided to go public with this without even addressing some sort of apology or understanding of the situation with me first," she said. She later added: "This is, by definition, retaliation."
Three women also told the news outlets about what they considered inappropriate behavior on the part of Sawyer while he was in office, including:
A current legislative staffer who said Sawyer would comment on her body or clothing about once a week during the 2017 session. Sawyer denies this.

A woman who worked at a Tacoma nonprofit who said Sawyer texted her frequently and made multiple overtures despite her making it "very clear multiple times" that she wasn't interested in a romantic relationship. Sawyer said he didn't recognize the woman's story and didn't recollect that behavior.

Ellicott Dandy, a former lobbyist for One America, who said Sawyer made her uncomfortable during a meeting in 2015 by inserting sexual innuendo into the conversation. Sawyer did not respond.
Another woman who agreed to be named was Lindsey Grad, now a lobbyist for the Service Employees International Union Local 1199. She said Sawyer "incessantly" text messaged her late at night for a six-month period in 2008 when they worked together on Democratic campaigns. She called Sawyer "deeply unaware of his behavior."
Sawyer is the second lawmaker Grad has made allegations against in recent months. In November, she told the Associated Press that former Democratic state Rep. Brendan Williams of Olympia subjected her to unwanted attention.
Grad said after that story was published, women came to her with stories about Sawyer's conduct. She said that sparked her to share her own experience. 

"I know they should be taken seriously because I had my own experiences years ago with him that fit patterns of inappropriate behavior they describe," Grad said.
Sawyer said he was not pursuing Grad romantically and only wanted to be friends with her. He said he doesn't remember texting her frequently, and it wasn't until 2011, when he was campaigning for the state House, that someone told him the messages had made Grad uncomfortable.
'I did not invite him back'
Sawyer's conduct at a 2011 convention for Young Democrats in Yakima, before he was elected, also raised concerns from one woman.
She accused Sawyer of following her back to her hotel room after hitting on her at a late-night party held at the convention.
"I did not invite him back," she said. "He did not ask to come back with me."
The woman said others in the room rebuffed his efforts to enter.
The news outlets were unable to confirm the woman's version of events with anyone else in the room that night. Two friends of the woman told the news organizations that she recounted her story to them soon after.
Sawyer acknowledged he was "flirtatious" that night but insisted he didn't follow anyone back to their room and doesn't remember "an interaction saying you're not welcome here."
Later in an interview, Sawyer said he did remember "going room-to-room looking for the next place to drink" and acknowledged "there may have been some crossed wires" during the night.
"I'm sorry if anybody was uncomfortable because that was never my intent," Sawyer said.
Sawyer defends himself
Throughout a series of interviews with the three news outlets, Sawyer repeatedly noted he was not in elected office when some of the alleged behavior happened and said that if he was making women uncomfortable, he was unaware.
In instances where he was later told of concerns about his interactions with women, Sawyer said he changed his behavior or stopped contacting them.
"I think it's more of my personality where I do cast a wide net," he said. "I'm in the business of getting to know people."
In his statement Friday denying unprofessional or illegal behavior, he called for legislative leaders to "continue all efforts to build a safe and fair process to address all claims and to ensure the Legislature is a professional workplace for staff, legislators and lobbyists." 

Many women at the Capitol have called for a more neutral place to report workplace complaints so they don't have to go to the politically appointed House and Senate administrations. Sawyer said he supports those efforts.
Several of the women say there are clear lines that Sawyer has crossed frequently.
The lobbyist who is eight years younger than Sawyer said he made her feel as if she was a "sexual object, not a professional."
"If he doesn't realize the power he has, then he shouldn't be the person wielding it," she said.
This story was reported in collaboration with The News Tribune and The Olympian.
Copyright 2018 Northwest News Network