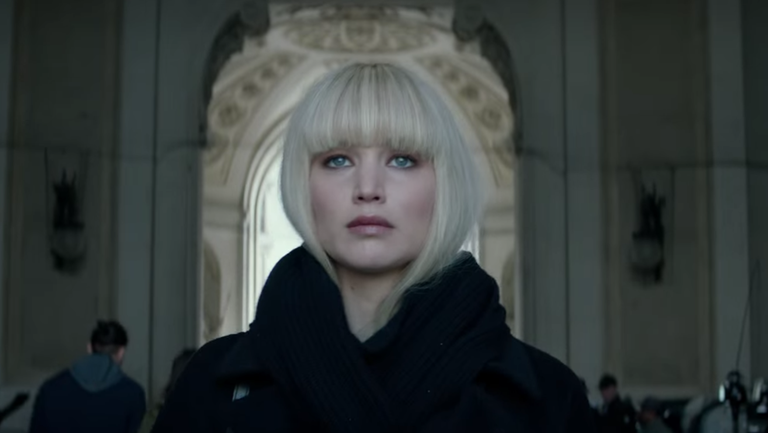 FILM REVIEW: A Dancer Transformed Into A 'Red Sparrow'
With the awkward state of Russian-American relations back in the headlines, "Red Sparrow" as the latest starring vehicle for Academy Award-winner Jennifer Lawrence seems perfectly timed. She plays Dominika Egorova, a prima ballerina with the Bolshoi in Moscow (introduced on stage to the strains of Tchaikovsky's "The Sleeping Beauty") who finds herself blackmailed into working for the Russian secret service.
Lawrence brings determination, resourcefulness, and a fairly consistent accent to the role. If only the story around her were nearly as compelling. Frances Lawrence (no relation), who previously directed her in "The Hunger Games" franchise, makes fine use of the Eastern European locations, primarily Budapest. But the narrative often drags, with an excessive running time of more than two hours, fifteen minutes. In fact, much of the prologue to the main plot could have been much better handled as a series of flashbacks. 
The script by Justin Haythe, from the 2013 novel of the same name by 33-year CIA veteran Jason Matthews, wants to be sophisticated. At times it succeeds, especially when Dominika has to outwit a bevy of manipulating, often predatory, men. Chief among them: her Uncle Vanya (shades of Chekhov), convincingly played by the Belgian actor Matthias Schoenaerts, whose intensity may remind you of Michael Fassbender.  Jeremy Irons portrays the Russian general responsible for outing the mole in their midst, with Ciaran Hinds in the role of a grumpy colonel.
Then we have the American characters. Joel Edgerton, the Australian actor recently seen in the excellent historical drama "Loving," is Nate Nash, the CIA operative eager to turn Dominika.  (They'll always have the Grieg piano concerto.)  Mary-Louise Parker is Stephanie Boucher, a senatorial aide with military secrets to sell. Meanwhile, Dominika has to accept her unsavory part in this cat-and-mouse game in order to provide for her ailing mother (Joely Richardson) back home. 
The movie's title refers to the young espionage recruits trained–in fact, bullied and shamed–into catering to the vices and weaknesses of their enemies by seducing them.  After all, we're told, deceit begets power. While the film intends to present this aspect of its story as erotic, it's really more sadistic, as epitomized by Charlotte Rampling as the director of the "academy" where this indoctrination takes place.
Likewise, the movie wants to present itself as notably intelligent.  Unfortunately, the gaps in the plot, the lack of on-screen chemistry between Dominika and Nate, and the not-so-big reveal at the end leave "Red Sparrow" a few notches below John le Carre. At least Jennifer Lawrence reminds us that she's not about to be pigeon-holed in terms of her roles and challenges as an actor.