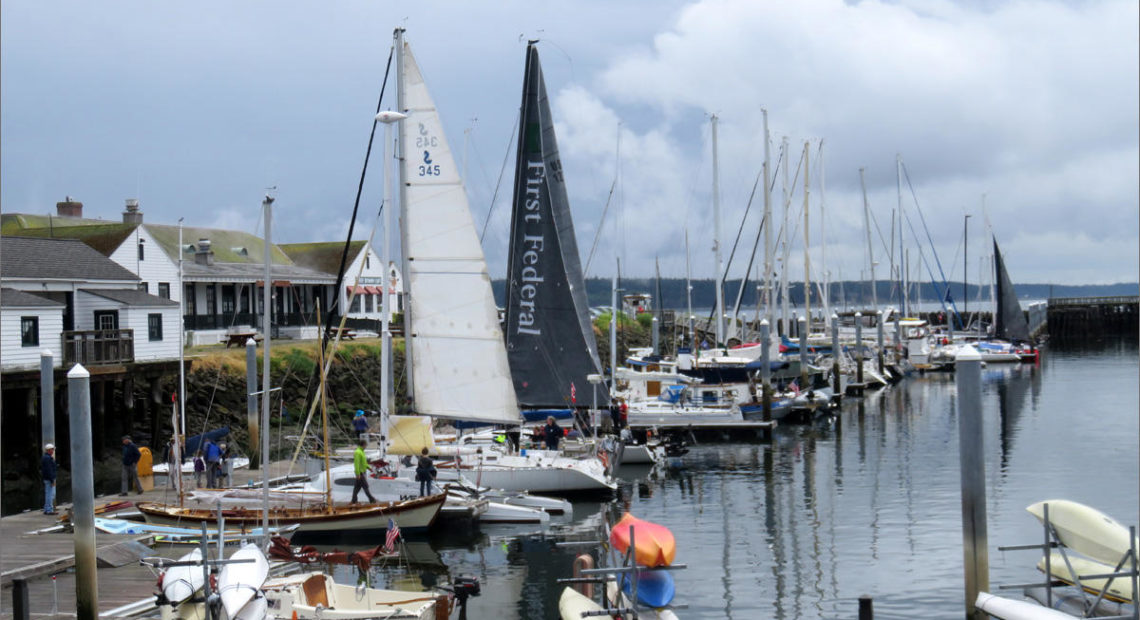 Adventurers Aplenty Line Up In Washington For Fourth Running Of Race to Alaska
The starting gun fired bright and early Thursday morning for the fourth annual running of the maritime Race to Alaska. The 750-mile adventure marathon has been compared to the Iditarod but with a chance of drowning, being run down by a freighter, or getting eaten by a grizzly bear.
Any size boat with any size crew can compete in the Race to Alaska as long as it has no motor and can get to Ketchikan self-supported. Entries range from cabin-less catamarans and comfortable trimarans, to daysailers, rowboats, several kayaks and paddleboards.
The Race to Alaska begins with a qualifying stage from Port Townsend to Victoria and then around three dozen teams begin racing in earnest on Sunday up the Inside Passage to Ketchikan.
Race co-founder Jake Beattie of the Northwest Maritime Center, the race's nonprofit organizer, said he never ceases to be amazed by the human spirit the watery marathon draws out.
"There are incredible human stories in this one, I mean no shortage of them," Beattie said.
There's the "prone paddler," ex-U.S. Marine Steve Rhoades plans to stroke to Alaska on a 20-foot paddleboard using only his gloved hands. The 64-year-old from Bainbridge Island hopes to use the feat to draw attention to homelessness and as a fundraiser.
There's the team of under-20 somethings from Portland that Beattie said "might actually win the race."
And then there's Doug Shoup who is competing solo under the apt name of Team Perseverance in an 18.5-foot Hobie Mirage Island sit-on-top kayak with outriggers and sail.
"We told him, no he couldn't race because he wasn't ready," Beattie said. "But he trained all winter. He lost 100 pounds and now he's in the race. He's a local guy from Sedro-Woolley."
Skipper Jeanne Goussev of Bainbridge Island leads the all-female crew of Team Sail Like A Girl. As she and her crew were doing last minute outfitting of their 32-foot "buoy racer" on the eve of the competition, Goussev said she signed up for the sheer challenge and to promote women in sailing.
"We know we're going to have to dig really deep and reconnect with that strong person that we know we all have inside, but maybe we don't always have the opportunity to meet her on a regular basis," Goussev said. "We look forward to that and hope we can encourage people—especially women—to just jump in and take leadership roles and get out there."
Competitive cyclist Matt Johnson of Seattle is aiming to be the first to complete the race using pedal-power alone. He's doing the race solo in a home-built boat that resembles a recumbent bicycle with outriggers connected to a propeller. 
"I stripped all of the sailing components off the boat and turned it into a pure pedaling boat," Johnson said. "I wanted to get to Alaska under my own power. And I saved a lot of weight and it's really simple and easy."
Johnson said he figures it will take him 10 to 16 days to pedal to the finish line.
Previous winners have used racing catamarans and trimarans to sail day-and-night to reach Ketchikan from Victoria in around four to five days.
As in year's past, the top finisher earns $10,000. Second prize is a set of steak knives.
"I know people don't believe that we actually vet these teams, but we do have a vetting process," Race to Alaska Race Boss Daniel Evans said. He said he looks for "the right amount of crazy and bravery and skill."
This year featured a new warm-up to the maritime marathon, a shorter Puget Sound race dubbed "the spawn of the Race to Alaska." The official name for the new event, which ran from Monday to Wednesday, was SEVENTY48.
As the name implies, entrants had 48 hours to navigate the 70 miles between Tacoma and Port Townsend. Only human-powered craft were permitted, unlike the parent event where engine-less sailboats dominate.
A team composed of four-time Olympic kayak medalist Greg Barton and paddling partner Kevin Olney captured the $11,700 winner-take-all purse in the inaugural running. They used a long, narrow, lightweight "surf ski" to traverse the course along the west side of Puget Sound in 9 hours 39 minutes, which represents an average speed of over 7 miles per hour.
Evans said the SEVENTY48 race drew 117 teams in all, which is one of many reasons he believes it will be a repeater.
UPDATE, June 14, 9 a.m.: Prone paddler Steve Rhoades exited the race early on the first day and returned to the beach in Port Townsend. He told a race monitor that it would be unwise to continue after he re-aggravated past hip and shoulder injuries.
Copyright 2018 Northwest News Network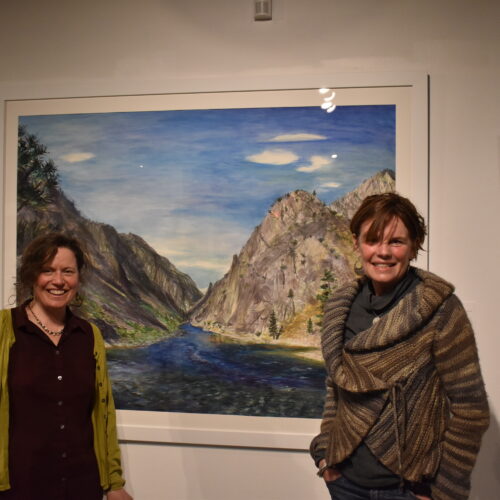 Northwest artists have drawn inspiration from salmon as long as people have walked along the running streams. But, the movement to close four dams on the lower Snake River has some artists, activists and naturalists hopeful that their pieces will not only tug at heartstrings, but also move forward the conversation of salmon conservation and restoration.
Washington Gov. Jay Inslee recently signed budget bills to study removal of the four dams. Activists have been calling for the dam removals in order to preserve and restore salmon populations.
Continue Reading PNW artists' work evokes salmon to educate, inspire change
Read More »