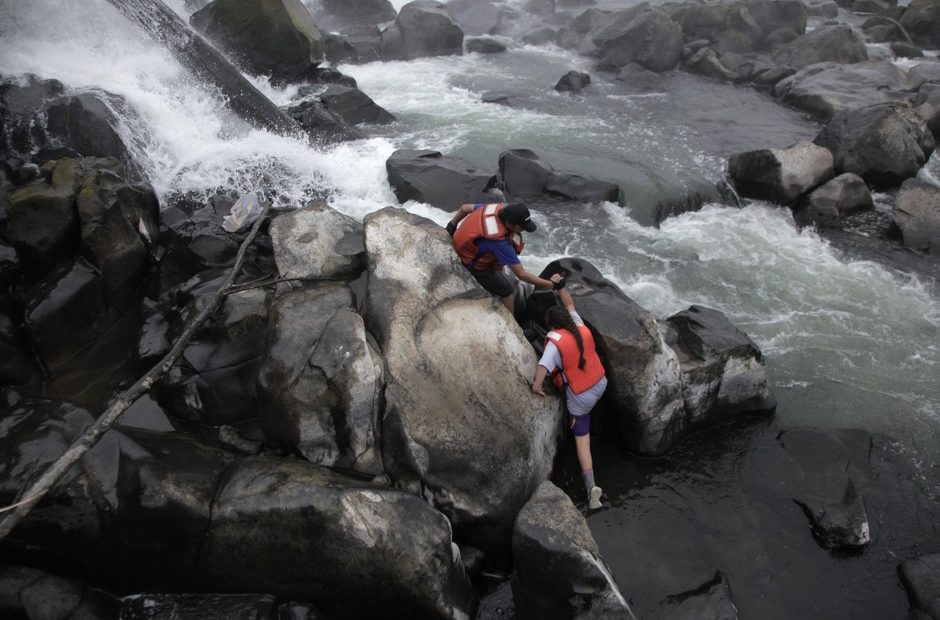 Record Lamprey Return A Cultural Win For Native Tribes
When Aaron Jackson was growing up in eastern Oregon, he'd never seen a lamprey in the Umatilla River. Tribal elders remembered harvesting the fish there for ceremonies.
But by the time Jackson was a kid, 40 years ago, lamprey were gone.
Now, Jackson is the lamprey biologist for the Confederated Tribes of the Umatilla Indian Reservation. He's overseeing one of the many efforts throughout the Columbia Basin in Washington and Oregon that aims to restore lamprey runs. Jackson hopes, one day, tribal members will be able to harvest lamprey from the Umatilla River — and that the fish will be self-sustaining.
"To be able to have a harvest here in the Umatilla, we'll be able to, once again, walk in the footsteps of our ancestors that harvested lamprey here since time immemorial," he said.
With funding help from the Bonneville Power Administration, the tribes have worked to move lamprey around the dams and up to the Umatilla River.
"We understand the cultural significance of Pacific lamprey to the tribes which is one reason we've funded lamprey projects in the Umatilla," said Lorri Bodi, vice president of environment, fish and wildlife with the Bonneville Power Administration. "As a food source for other creatures, lamprey are also very important to a healthy functioning ecosystem such as in the Umatilla River so it's great to see our efforts paying off."
Tribal members were excited when they saw the fish start returning. In 2011, Jackson thought 129 fish in the river was a major step.
Now, lamprey numbers have dramatically increased. So far this spring they've seen more than 2,600 fish migrating up the Umatilla River to spawn.
Jackson said he thinks they'll see at least 3,000 lamprey this summer. It's still not enough for the tribe to harvest, but it's moving in the right direction.
"The due diligence has now moved to a sense of mini-accomplishment. We're not there yet, but things are looking better," Jackson said.
Lamprey are what are native people in the Northwest called a "first food." They're served at dinners and feasts at the longhouse and used at funerals and weddings.
"It's important to have a healthy, robust and thriving population in the Umatilla River because not only do they have an ecological importance in the food web, but it's also important for our tribal culture and our tribal history — to be able to carry on our traditions," Jackson said.
Although there's still a lot unknown about Pacific lamprey, biologists do know they spend up to seven years as larvae in streams before migrating out to sea, where they live for up to three years before returning to spawning grounds in Northwest streams.
In the 1960s and 1970s, it was a common practice to eradicate what people thought were "trash fish," Jackson said. Managers in the West would often put the pesticide rotenone in the rivers to kill off fish like lamprey and suckers — and make space for more desired fish, like salmon and steelhead. All of this was before biologists realized the ecological importance of those lesser-loved fish.
That's about when the tribe first started noticing lamprey numbers in the interior Columbia Basin dip. The population became functionally extinct in the 1970s. Tribal members alerted people to their concerns.
"Their concerns fell on deaf ears by managers for quite some time," Jackson said.
In the early 1990s, BPA began funding a lamprey restoration project with with the tribe. After years of research, the tribe began collecting lamprey from dams on the Columbia River, bringing them upstream and releasing them just before they spawned.
Early on, things moved slowly.
"You could count all the fish at Three Mile Dam (on the Umatilla River) on your two hands," Jackson said. Tribal members traditionally harvested lamprey at that dam.
Flash forward about 25 years.
"Last year, we had a return of 2,076 lamprey to Three Mile Dam. This year, within the first three weeks of May we broke that record," Jackson said.
Jackson said lamprey numbers have also increased elsewhere, like near Hood River, where