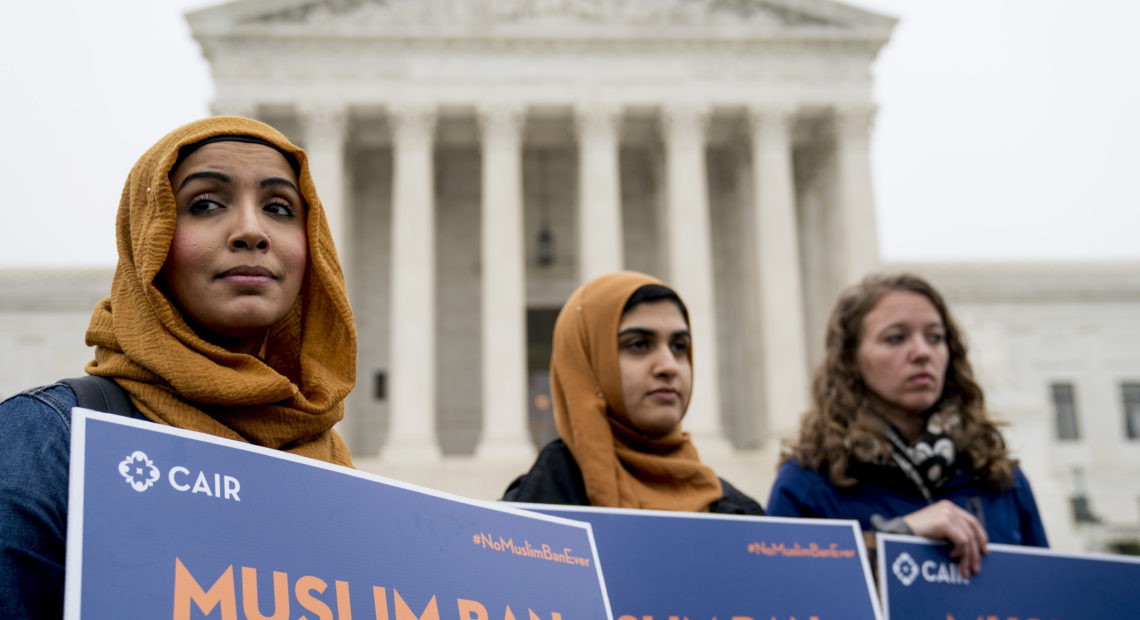 In Big Win For White House, Supreme Court Upholds President Trump's Travel Ban
PHOTO: Zainab Chaudry, from left, Zainab Arain and Megan Fair with the Council on American-Islamic Relations, stand outside of the Supreme Court for an anti-Trump travel ban rally before oral arguments. CREDIT: Andrew Harnik/AP
BY NINA TOTENBERG & DOMENICO MONTANARO
In a 5-4 ruling, the U.S. Supreme Court upheld the President Trump's travel ban, which barred nearly all travelers from five mainly Muslim countries.
The president's proclamation was "squarely within the scope of Presidential authority under the INA,'" the court wrote in its majority opinion, referring to the Immigration and Nationality Act.
The court seemed to tip its hand at oral arguments in April, when a majority of the justices appeared ready to side with Trump.
The court was ruling on what was the third version of the ban, which Trump has complained is a "watered-down" version.
The court allowed it to go into effect while the case was litigated, but the lower courts had ruled that all three versions either violate federal law or are unconstitutional.
Like the earlier two bans, Version 3.0 bars almost all travelers from five mainly Muslim countries, and it adds a ban on travelers from North Korea and government officials from Venezuela.
Reaction to the ruling was swift.
"This ruling will go down in history as one of the Supreme Court's great failures," said Omar Jadwat, director of the ACLU's Immigrants' Rights Project, in a statement. "It repeats the mistakes of the Korematsu decision upholding Japanese-American imprisonment and swallows wholesale government lawyers' flimsy national security excuse for the ban instead of taking seriously the president's own explanation for his actions.
"It is ultimately the people of this country who will determine its character and future. The court failed today, and so the public is needed more than ever. We must make it crystal clear to our elected representatives: If you are not taking action to rescind and dismantle Trump's Muslim ban, you are not upholding this country's most basic principles of freedom and equality."
Copyright 2018 NPR. To see more, visit npr.org