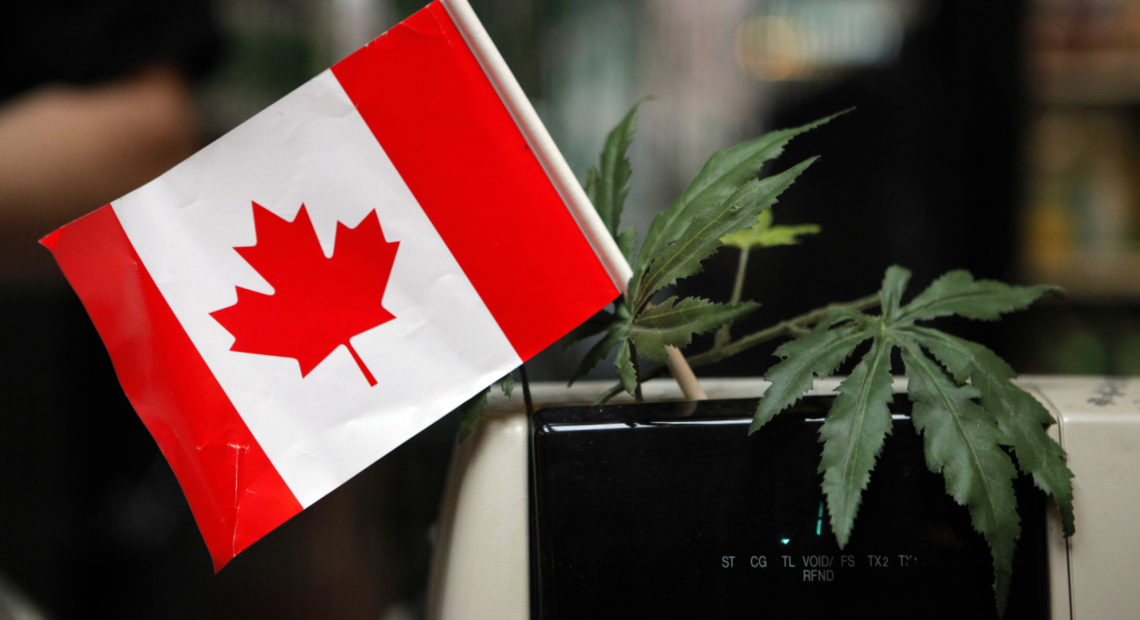 The Great White North Goes Green: Five Big Points About Canada Legalizing Marijuana
Canada is legalizing marijuana nationwide October 17.

Age limits, government involvement, sales taxes — with legalization nationwide rather than by a state-by-state (or province-by-province) basis, the Canadian cannabis industry is shaping up differently than the way it was established across the U.S.

BANKS
Access to banks gives businesses in the Canadian cannabis market an advantage when starting out compared to the U.S. As a federally illegal drug in the U.S., most banks avoid getting involved with the cannabis industry, even in legal marijuana states.
Most banks tend to avoid giving loans to businesses that sell 'narcotics'. According to the DEA, that's where marijuana stands in the U.S. regardless of state law.
Still, states like Washington or Oregon have hundreds of dispensaries operating without the help of any bank. Which can create its own complications.
If the business doesn't do well, there's no option for bankruptcy. It's a predicament that pushes some dispensary operators to sell their product illegally across state borders or at auction for fractions of the market price just to keep the lights on.
"The major Canadian banks were slow to warm to this," said Chris Barry, a Seattle-based marijuana business attorney. Barry says smaller, independent banks got the ball rolling and major banks are coming around to participate in the market.
GOVERNMENT-RUN STORES
While legal nationwide, it's up to individual Canadian provinces and territories to determine how to handle distribution.

For example, British Columbia is planning a mix of public and privately owned stores while the Northwest Territories may sell cannabis at existing liquor stores.

The federal minimum age to use marijuana in Canada will be 18, though most provinces are opting for 19 to match the drinking age.

MARIJUANA DELIVERY SERVICE
Cannabis is nothing new to the Canadian market, and neither is marijuana by mail — a novel idea, though illegal process, in the U.S.

Canada Post has been shipping medical marijuana to authorized patients since 2013, and the postal agency says most of the processes in place will carry over for the recreational market.

The postal service will require proof of age upon delivery and won't leave the package unless someone is there to receive it.

PRICING AND TAXES
Canada has set the minimum price for cannabis at about $10 a gram (U.S.), which is about on par with the average price in the states. Boston holds the highest price per gram in states that have legalized marijuana at $11 a gram.
But the government hopes to further disrupt the illegal market by setting the base price even lower if possible.

Taxes on legal marijuana will either be $1 a gram or one-tenth of the product's price, whichever is greater, plus federal and provincial sales taxes.

Washington state has a marijuana tax rate of 37 percent, but in states like California, the total tax rate can reach nearly 50 percent, which licensed pot businesses say drives people to the black market. The Canadian government agreed to give provinces and territories 75 percent of the tax revenue to avoid similar situations.

PRODUCT VARIETY
The advertising used and the variety of products available in the Canadian market will also differ.

Health Canada, the country's national public health department, has dictated large warning labels and strict restrictions on font sizes, styles and colors. The idea is to discourage misuse and to avoid appealing to minors, but will leave little room for company branding.

Some smaller farms worry they won't be able to differentiate themselves with these restrictions in place.

Some may be disappointed to learn that the Canadian market will not have edibles. The government said it needs about another year to develop separate regulations.

So you'll have to wait for your favorite delicious Canadian comfort food  … pot-tine.
Reporting from the Associated Press was used in this article.