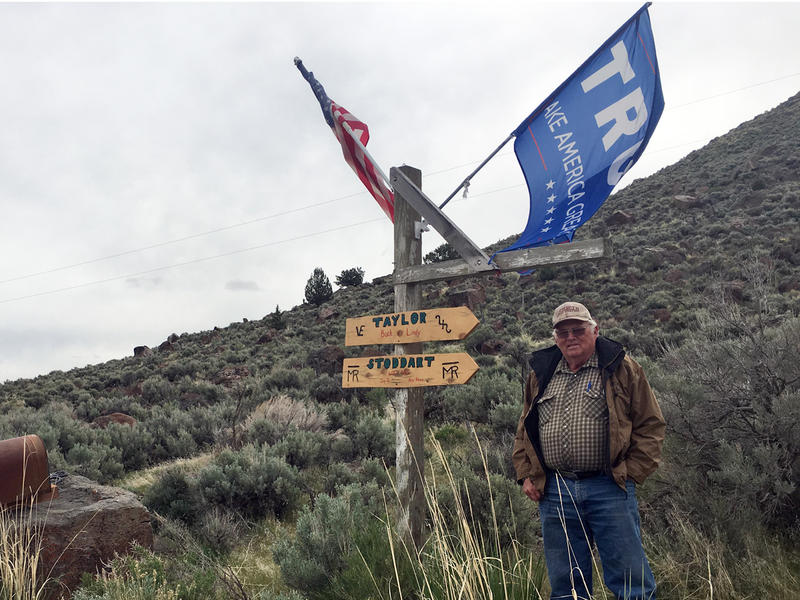 Northwest Ranchers Have Beef With Trump's Trade Wars, But Still Support The President
U.S. beef ranchers who voted heartily for President Donald Trump are getting a bit skittish about his trade wars. International tariffs are set to hit U.S. beef the first week of July.
Buck Taylor runs around 1,000 red angus mother cows in the Diamond Valley of remote southeast Oregon. He sells fresh steers and heifers each fall.
The Trump administration's trade tariffs could really hurt Taylor's business. Possibilities include a glut of meat on the market and lower prices for his cattle at the fall sale. But he still feels positive.
"I am, yes, a very staunch Trump supporter," Taylor said. "I am so proud of our United States, in the last, well, since he's been elected. Of all the turn arounds that he promised that he's kept."
Taylor flies a large Trump flag off the posts that mount his mailboxes. Still, he does have some concerns over losing trade with China, Canada and Mexico.
"I think yes, we might take a hit in the ag business because of the trades," Taylor said. "The actual wellness of the United States is more important to me than my small industry of agriculture."
The hurt could be big. China is a newer and more promising market for cuts of beef not popular in America. Canada took nearly $1 billion in beef last year. And Mexico is also slapping heavy tariffs on American pork. Which could mean a flood of chops—cheaper than beef.
Outside of Madras in central Oregon, JoHanna Symons' saddle squeaks. It's about the only sound as she rides her gelding quiet and slow through big pens of young cattle. She doesn't want to spook them.
She's looking for any coughing or injured calves on her family's 4,500-head feedlot so they can doctor them.
"It's not a good situation when you have a dead calf because these cattle average about $900 each, that's what they cost. So we do everything in our power to keep them alive and well."
The Symons family breeds 750 range cows and finish their calves in a feedlot. Then they butcher the adult cattle and deliver the meat to restaurants and stores. She's built this operation from scratch with her husband, trying to cut out the middlemen.
An increased load of beef on the U.S. market could really hammer Symons' price from gate-to-plate.
"It's a concern," Symons said. "I don't think there is much that someone like me can necessarily do about it. I feel like some of us little guys, our hands are just tied. But, it's a concern."
She also voted for Trump.
"No, my mind isn't changed at this point," Symons said. "If we were to be cut off from like Mexico, or some other big players, it would be very concerning to me."
Symons also worries about steel and aluminum: fence posts, tractors and vehicles. 

"There is a lot to this trade deal," she said. "And I just hope and pray that he [Trump] definitely thinks of the larger picture."
Taylor says having Trump as president makes him feel more listened to. More valued as a rural person.
The day after the election, Taylor and his four grandchildren spray-painted the gate to what he calls Flag Field. It now looks like an American flag—complete with reflectors for stars.
"We're proud of it," Taylor said.
Just like he's proud of Trump.
Copyright 2018 Northwest News Network