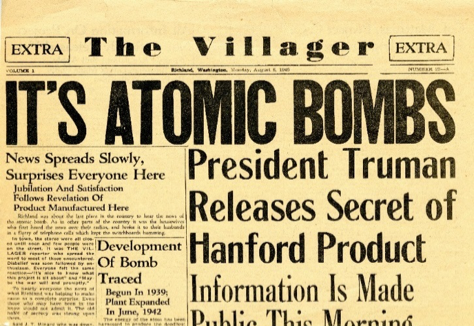 Evolution of the Secret City: A Fireside Chat About the Hanford Story
In 1943, the Hanford Site was selected as the newest location for the top-secret Manhattan Project and began 75 years of innovation, discovery and leadership. To honor this legacy and the continued work at Hanford, Leidos will host panelists from Hanford's past and present to share stories and discuss the evolution of this secret city. A limited amount of free tickets are available. Register here.
The event will be recorded and broadcast on NWPB TV on Thursday, August 2 at 7pm.
Event Details:
July 19, 2018
REACH Museum
1943 Columbia Park Trail, Richland
5 – 7:30 p.m.
5 – 5:30 p.m. Check-in and REACH Museum Browsing
5:30 – 6:30 p.m.  Panel Session
6:30 – 7:30 p.m. Reception 
Welcome By:
Bob Wilkinson, President, Mission Support Alliance
Panelists:
Eric Boyle, Ph.D., Chief Historian, Department of Energy (DOE) Office of History
Jack Briggs, Publisher 1992-1997, Editor 1985 -1992, Reporter 1960-1985, Tri-City Herald
Doc Hastings, U.S. Representative 1995-2015
Mike Lawrence, Manager, DOE Richland Operations Office 1984-1990R