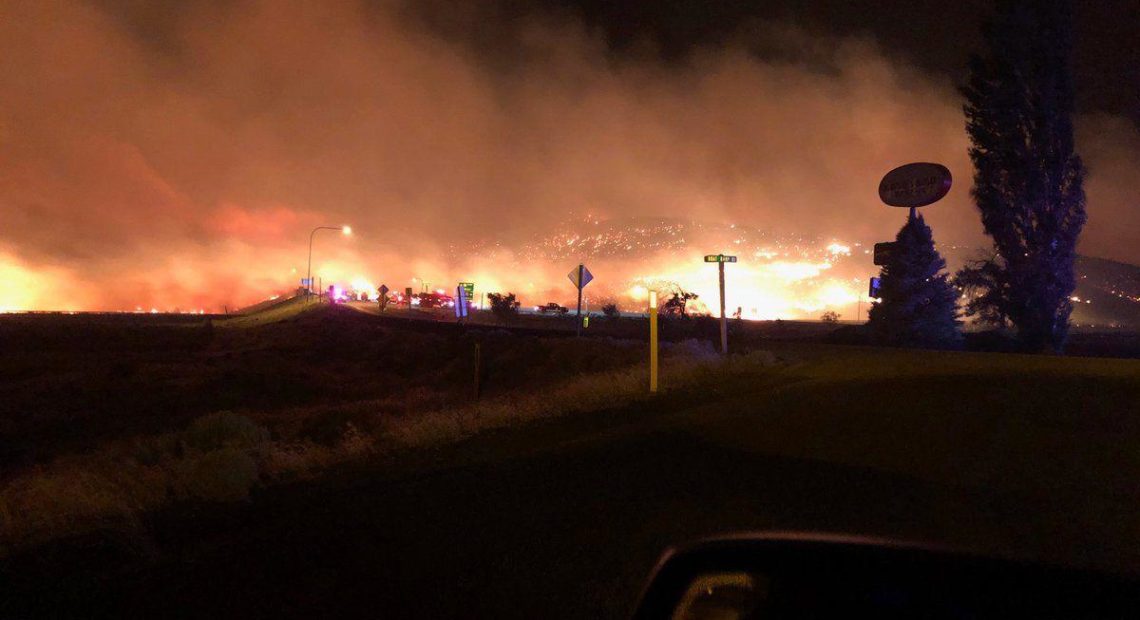 UPDATES: I-90 Back Open At Vantage After Fast-Moving Fire Forces Evacuations
This is a developing story and fire situation and will be updated as new information is available.
UPDATE, 11:40 a.m.: Interstate 90 will reopen in both directions at noon today, July 10, according to the Washington State Patrol and Washington State Department of Transportation.
UPDATE: Both directions of I-90 near Vantage will reopen at noon. @WSDOT_East @wspd6pio

— I-90 Snoqualmie Pass (@SnoqualmiePass) July 10, 2018

 
Along the southwestern edge of the Columbia River where I-90 crosses it at Vantage — it appears like campfires are burning. Plumes of smoke rise up off the river's edge.
The wildfire is burning up islands of fuel. But the crews have established lines around the whole perimeter.
Now, firefighters are working to strengthen their hand and dozer lines and mop up the interior of the fire. They want to keep the fire from jumping ahead to the south and toward the military Yakima Training center only several miles away. Wanapum Dam is about six miles away. And the Wanapum Indian Village about 20 miles downriver.
At the moment, the fire isn't threatening any of Wanapum Dam's substations or the dam itself.  People are starting to return to their homes in Vantage — but fire crews are warning them, they might need to leave if the fire sparks up.
The area is prone to wildfires. Just last Friday, the westbound lanes of I-90 were briefly closed due to a small fire between Vantage and the top of the Ryegrass Hill.
FOR MORE:
–Kittitas County Sheriff's Office
–Washington DNR Fire (Twitter)
–Washington State DOT East (Twitter) 
–Washington State Patrol Public Info (Twitter)
Original Story:
A fast-moving fire has closed a 20-mile stretch of Interstate 90 in both directions from Ellensburg to Vantage. Eastbound lanes are closed at MP 115 at Kittitas and westbound at MP 138. There is no estimated time for reopening, and no detour was available Tuesday morning.
The Ryegrass Coulee Fire started late Monday night, July 9, and has forced the evacuation of hundreds of people in Vantage at the Columbia River, and it remained at a Level 3 "get out now" evacuation level Tuesday morning at 8 a.m., according to the Kittitas County Sheriff's Office. Crews are fighting the fire against gusts of 25-30 mph. As of Tuesday morning, the fire covered about 1,000 acres and was zero percent contained.
Jill Beedle, a spokeswoman for the Kittitas County Sheriff's office said the fire burned on both sides of I-90, damaging guardrails and highway signs. She said winds reached 60 mph in the area.
Randy Shepard, a spokesman for the state Department of Natural Resources, said a priority of firefighters was saving the town of Vantage.
Washington State Parks officials said the Wanapum Recreation Area and Ginkgo Petrified Forest State Park in the Vantage area were closed.
Sabrina Jones from Yakima was camping at Vantage last night and describes what it was like watching the fire advance.
"We had 15 minutes to get about three motor homes worth of stuff into one and three trailers hooked up and one switched off in 15 minutes," Jones said. She and her family evacuated east across the Vantage bridge across the Columbia River and watched the flames advance.
Reporting contributed by Anna King on scene in Vantage and Kittitas and Zachary Garner in Pullman. Additional reporting from the Associated Press was used in this story.