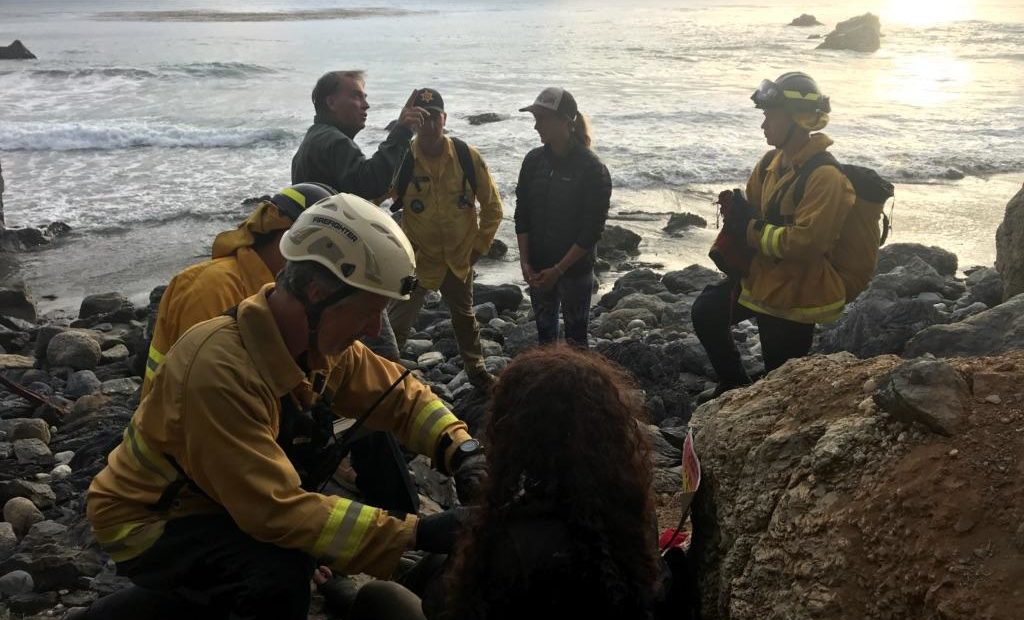 Stranded Oregon Woman Drank Water From Moss To Survive After California Cliff Plunge
BY MICHAEL BALSAMO, AP
An Oregon woman who was badly injured and stranded for a week after her Jeep plunged 250 feet over a cliff into the ocean near Big Sur in California says she survived by drinking fresh water dripping from moss until she was rescued by a couple hiking along the beach.
From her hospital bed, 23-year-old Angela Hernandez posted a detailed account Sunday night on Facebook of her survival after the crash.
The Portland woman said she spent each day walking the isolated stretch of beach, searching for help, and was unable to make her way back up to the highway.
She said she had a brain hemorrhage, collapsed lung, broken ribs and collarbones, and severe sunburn.
"For her to survive for seven days on the coast with waves crashing over you at times, with injuries that she had, is amazing," Monterey County Sheriff Steve Bernal said. "She was a fighter. She had the will to survive and I think most people in that situation probably wouldn't have lasted that long."
Hernandez had been driving to her sister's home in Lancaster, near Los Angeles, on July 6 when a small animal crossed in front of her, causing her to swerve and lose control of her car, she wrote.
"The only thing I really remember after that was waking up. I was still in my car and I could feel water rising over my knees. My head hurt and when I touched it, I found blood on my hands."
She said she broke a window of her car, jumped into the ocean and swam ashore. She fell asleep on the beach and realized what had happened after she woke up.
Her shoulders, hips, back and thighs were radiating pain and all she could see was the cliff, rocks and ocean.
"People don't normally survive plunges down the Big Sur coast like this. She is very lucky," Bernal said.
In the days that followed, Hernandez walked the beach searching for help, climbing on rocks to avoid sharp sand and walking on the shore to get away from hot rocks, she said.
"I found a high spot I was able to climb up to and found myself there almost every day," Hernandez wrote. "I could see cars driving across the cliff and felt like if I could yell just loud enough, that one could hear or see me. That's all it would take to make it back to my family. Just one person noticing me."
Rescue crews had searched the area and found no "obvious" signs that a car had gone over a cliff, Bernal said.
By the third day, Hernandez's jeans were torn, her socks had holes and she knew she was dehydrated. She made her way back to her car and found a 10-inch radiator hose that had fallen from the car during the crash.
"I walked farther south down the beach than I ever had before and heard a dripping sound," she wrote on Facebook. "I looked up and saw a huge patch of moss with water dripping down from it. I caught the water in my hands and tasted it. It was fresh!!!!"
She said she developed a daily ritual of walking the beach in search of new high ground, screaming for help at the top of her lungs and collecting fresh water.
"It would be a lie to say that things got easier as the days passed," she wrote. "They never did. But, they sure got predictable."
Everything changed on Friday, when Hernandez woke up and saw a woman walking across the shore.
"I thought it was a dream," she wrote. "I screamed, "HEEELLLPPPPP!" and then got up as quickly as I could and ran over to her."
Chelsea and Chad Moore were hiking and looking for places to fish when they spotted Hernandez's wrecked car and then her. Chelsea Moore ran and got help as her husband stayed with Hernandez and gave her fresh water.
"We just kind of panicked and were like, 'Oh my God, you were in that car we just saw and are alive,'" Chelsea Moore told KION-TV in Monterey County.
Chelsea Moore made her way to a camp and called 911 before spotting a missing person handout with Hernandez's photo.
She rushed back with help and Hernandez was hoisted up a cliff by rescuers and taken by helicopter to a hospital, where she is recovering.
"I couldn't believe that they were even real," Hernandez said of her rescuers. "I couldn't believe that we had finally found each other."
Copyright 2018 Oregon Public Broadcasting