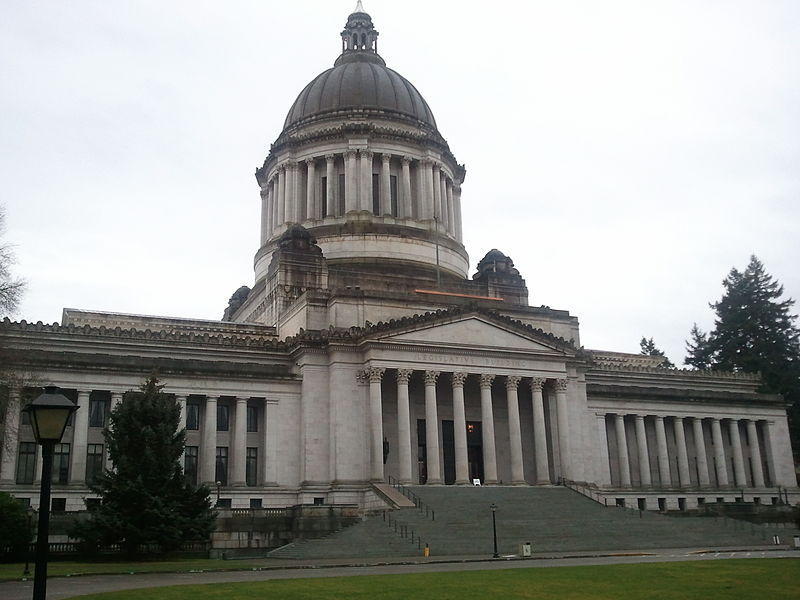 Victims Will Have New Place To Report Harassment, Misconduct In Washington State Senate
In response to the #MeToo movement, the Washington state Senate will create a new human resources officer position to investigate complaints of harassment and other workplace misconduct, replacing a previous system of "facilitators" who served as a go-to resource for victims.
The new position is one of several recommendations that grew out of a Senate respectful workplace task force that has been meeting since January. The task force, made up of front line staff, was tasked with updating and improving the Senate's workplace conduct policies and reporting procedures. The recommendations were formally adopted Monday afternoon during a meeting of the Senate's Facilities and Operations Committee, which functions as the Senate's board of directors.
"We believe this policy will instill more confidence in the reporting and investigation of complaints," said Kimberly Wirtz, a member of the task force who serves as communications director for the Senate Republican caucus, in a statement.
By establishing a human resources officer (HRO) position, the Senate is addressing a frequent criticism of the Washington Legislature–that it lacks a formal or traditional human resources structure and reporting process. However, by making it an internal rather than external position, the Senate is going against the wishes of many women who work in and around the Legislature who have called for an outside, independent reporting process.
During a briefing with reporters on Monday, two members of the task force said this "first phase" review of policies was "by staff, for staff" who wanted someone internal to the Senate they could go to, but that a second phase will soon get underway and include the larger legislative community, including lobbyists.
"Will the lobbyists be able to come to this HRO? I anticipate that they will," Wirtz said. "Will there be a separate entity for their purpose? That has yet to be determined."
Under the Senate's new system, victims will have the option of reporting harassment or other misconduct directly to the HRO or, as previously was allowed, to their direct supervisors or to Senate administrators. The Senate administration will retain its previous authority to hire an outside "neutral third party" to investigate complaints.
To preserve the independence of the new human resource officer, that position will be hired by a special committee made up of three Democrats and three Republicans appointed by the Senate majority leader. On Monday, Secretary of the Senate Brad Hendrickson said he hoped to have that position filled by the start of the 2019 session in January.
The issue of sexual harassment in the Washington Legislature came to light last October when public radio, The News Tribune and The Olympian published a story about the climate for women at the Capitol.
The news outlets spoke with nine women–mainly a mix of current and former legislative staff and lobbyists–who described an environment over the past decade where overt harassment is rare, but inappropriate comments, lingering hugs, unnecessary touching and unwelcome attention are common.
Many of the women said they warn each other about alleged wrongdoers or overly forward men and are regularly forced to take steps to avoid uncomfortable or potentially dangerous interactions.
Following that reporting and related stories about lawmaker misconduct, more than 200 women signed a "Stand With Us" letter demanding a change to the workplace culture at the Capitol.
"We have no safe, neutral place to report our experiences. And there are currently few possibilities for meaningful consequences for inappropriate behavior," read the letter.
Under the Senate's new structure, the human resources officer will have the authority to manage and investigate complaints, but not to take disciplinary action. That authority will remain with the Secretary of the Senate and the Facilities and Operations Committee. The HRO will also be responsible for coordinating sexual harassment and workplace conduct trainings in the Senate.
In addition to the new position, the task force recommendations adopted Monday include a requirement that findings of harassment or misconduct against a sitting state Senator will be made public. At the same time, the revised policy also includes language about preserving the confidentiality of investigations and people who file complaints.
Other changes include clearer descriptions of prohibited conduct, a requirement that supervisors, including state senators, report incidents of prohibited conduct and new mandates for regular anti-harassment training.
The Washington state House also has a sexual harassment workgroup that's been meeting to develop recommendations to House leadership. That group is tasked with establishing an independent reporting process for victims as well as improved training and a new "code of conduct."
In addition to staff, the House workgroup–unlike the Senate task force–includes representatives from the lobbying community. It plans to submit its final recommendations by this December.
Senate administrators and task force members said Monday they intend to work with the House during the second phase of their effort to revise workplace conduct policies. They also left open the possibility of a shared human resources officer position between the two chambers.
Copyright 2018 Northwest News Network