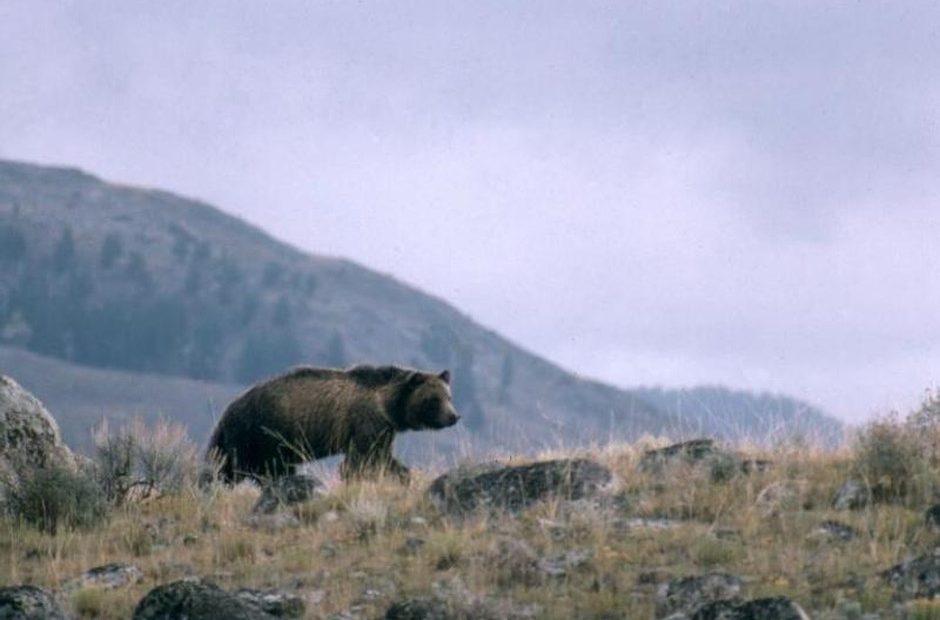 Amendment Defunding Grizzly Reintroduction In Washington Passes U.S. House
An amendment to prevent the relocation of grizzly bears to Washington's North Cascades has passed the U.S. House. The move is opposed by conservation groups, which say more grizzly bears are needed in the state.
The amendment, proposed by Rep. Dan Newhouse, R-Wash., would deny funding for the U.S. Department of Interior to transport grizzly bears into Washington. Newhouse said this amendment was important to his constituents who are concerned about the possibility of another predator so close to home.
"We saw that (Interior) was determined to move forward, regardless of what the opinions of the people who would be most impacted," Newhouse said.
Newhouse said he felt it was necessary to "take positive action" to make sure that the Interior Department was not able to bring in grizzly bears.
"I'm hearing from an awful lot of people that are expressing grave concerns about having grizzly bears literally in their backyards," Newhouse said.
To that end, he said he's working with officials in the Interior to schedule more public comment opportunities in the Okanogan area. These would be in addition to earlier public comment periods around the state that focused on options the federal government could take to reintroduce grizzlies to the North Cascades.
There are fewer than 10 grizzly bears in Washington's North Cascades. Biologists say if something isn't done now, grizzlies will soon be gone from the area. They say grizzlies are important to the area's ecosystem.
Records from the Hudson's Bay Company indicate there were once thousands of grizzlies in the state. In the mid-1800s, records indicate trappers traded nearly 4,000 grizzly hides through forts in the area — although all of those pelts may not have come from the North Cascades. Biologists say there was a healthy population of grizzlies at one time. The bears were wiped out from fur trading, hunting and habitat fragmentation.
The federal government is in the middle of drafting options for restoring grizzly bears to the North Cascades. The controversial plans range from doing nothing to transporting varying numbers of bears from areas like Canada and Montana.
"(The North Cascades) is the only place outside the Northern Rockies that wildlife officials have said is wild enough for grizzly bear restoration in the Lower 48 — the only place," said Chase Gunnell, spokesman for Conservation Northwest. "If we're going to have grizzly bears into the future, we can't just have them around Yellowstone or Glacier National Park. We need to diversify the population. And the Cascades are it."
Gunnell said this amendment wouldn't necessarily prevent the federal government from continuing to study the various options for grizzlies in the North Cascades — it would only prevent funding to the Interior Department for transporting grizzlies.
Interior Secretary Ryan Zinke said during a surprise visit to Washington that he was "in support of the great bear" and moving forward with a careful process to decide what to do with grizzlies here.
About that process, Zinke said, "I'm not going to make a prejudgment, but I can tell you the winds are very favorable," Zinke said.
Gunnell said Newhouse's amendment is skirting an open, public process, which is expected to present a draft decision by the end of this year. Gunnell said he's concerned about the precedent this would set, with Congress members "pulling on the purse strings" of wildlife officials.
"Our Fish and Wildlife Service, National Parks Service and other wildlife professionals are the ones best suited to address endangered species issues," Gunnell said.
The bill includes funding for the U.S. Department of Interior, Environmental Protection Agency and Forest Service. It also includes measures to:
– Remove gray wolves from the Endangered Species List in the Lower 48 by 2019;
– Fund wildland firefighting and prevention programs at $3.9 billion, with an additional $500 million for Forest Service fire suppression operations. It also includes $655 million for hazardous fuels management;
– Urge the Forest Service to find funding for upgrades to facilities at the North Cascades Smokejumper Base in Winthrop;
– And encourage the Forest Service to better monitor grazing permits near riparian streams that could affect threatened or endangered species.
The Interior Department funding bill now heads to the U.S. Senate.
Copyright 2018 Earthfix