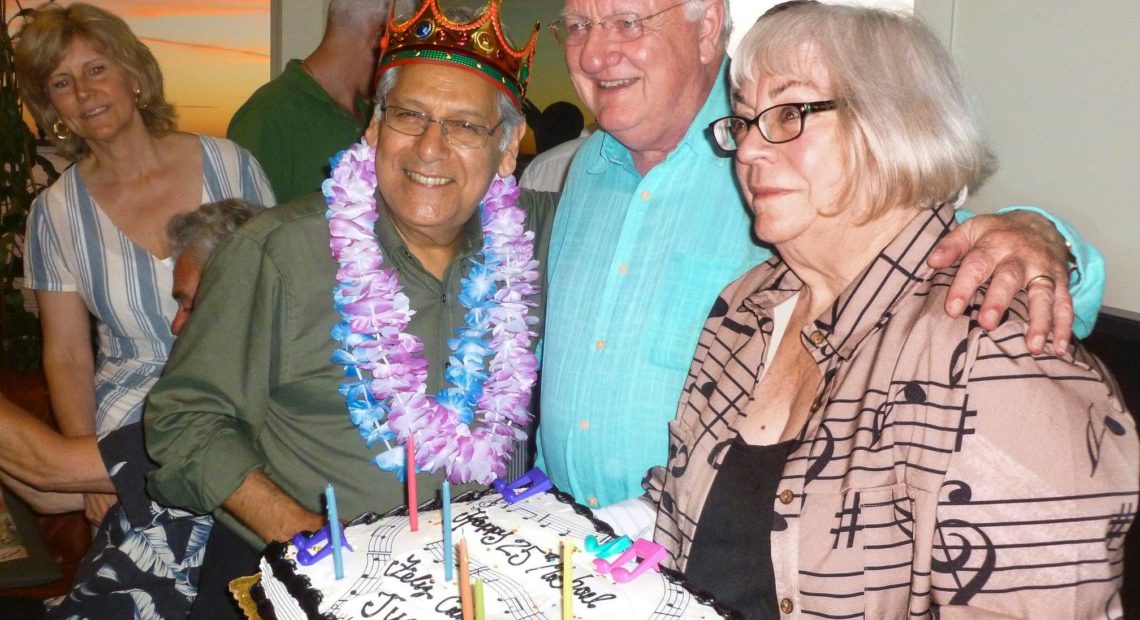 Tasty Treats For Melodic Summer Nights: What Fuels The Musicians At Northwest Summer Festivals?
A long, relaxed summer evening in the company of live classical music and fine food. That's a favorite Northwest pleasure offered around the region: Orcas Island Chamber Music Festival (Concert on the Village Green), Bellingham Festival of Music (Chamber by the Bay), and Seattle Chamber Music Society Summer Festival (Music Under the Stars), to name a few. It's the kind of pleasure that fuels your soul.
But who's fueling the people who make that music?
BELLINGHAM FESTIVAL ORCHESTRA
Sometimes it's the musicians themselves, like violinist Juan Ramirez-Hernandez of the Atlanta Symphony. He returns to the Northwest every summer to play in the Bellingham Festival Orchestra, but at the festival he is also known the master of mole (and guacamole).
Ramirez-Hernandez does a big mole party every year for orchestra members, the festival board, and other guests, in celebration of his own birthday. According to festival board member Ellen Pfeifer, not only does the violinist cook the mole, but he also grows the many varieties of chiles in his garden back home. He dries the chiles, grinds them and makes sauce, and he flies it out to Bellingham. This year, Pfeifer says, Ramirez-Hernandez made something like 120 pounds of tamales and shipped them to the festival, not only to celebrate his birthday, but for celebrating the festival's 25th anniversary.
ORCAS ISLAND CHAMBER MUSIC FESTIVAL
"Food is a very, very large component of the Orcas Island Chamber Music Festival – from donated rehearsal lunches to post-concert receptions and dinners and a few extra amazing parties along the way," festival artistic director and violist Aloysia Friedmann says. "We've also had some of our artists prepare meals on occasion, which is always exciting."
Violist Toby Appel, who once worked as artist Georgia O'Keefe's personal chef, wowed his fellow Orcas festival musicians and staff by whipping up a post-concert dinner from leftovers. Orcas resident ensemble The Miró Quartet brought key limes from their home base in Texas for a signature key lime pie, part of a complete dinner the four prepared at the home of one of the festival's homestay hosts. One festival donor always kicks in generous amounts of local crab. Friedmann and her husband, pianist Jon Kimura Parker, make sure there's always plenty of salmon on hand.
But it's the humble slices of banana bread that may be the musicians' most recognizable Orcas festival tradition. For the past 10 years, festival fan and homestay host Barbara Bentley — a field biologist by profession — has been making and freezing her special banana bread, now a favorite rehearsal-break snack.
SEATTLE CHAMBER  MUSIC SOCIETY
Seattle Chamber Music Society Summer Festival hires a professional chef to feed its musicians. Throughout July, Cass Vaivadas spends four full days a week — all the non-performance days — in the home kitchen of festival board member Jill Bader, where musicians gather between rehearsals for lunches and outdoor evening dinners. Because the festival lasts a month, and the players change frequently, Vaivadas receives a detailed message from festival executive director Connie Cooper well in advance, advising her on allergies, sensitivities and the tastes of musicians in search of comfort food.
"I did happen to ask a group of them the other night if they had any requests," Vaivadas says, "and one person piped up and said she really wanted quiche. It's not something I normally make in the summertime. And she's gluten-free!"
So she went with her own summertime quiche fillings — one vegetarian, one not — with a gluten-free crust from the America's Test Kitchen How Can It Be Gluten-Free Cookbook, to fuel the music of a Northwest summer festival evening.
CASS' QUICHE FILLINGS
from Seattle Chamber Music Society Summer Festival
6 eggs
1 Quart half & half
1 tsp salt
½ tsp white pepper
Version #1 with meat:
Bacon/shallots/gruyere How much? "Kind of throw in some"
Version #2 veggie:
Leeks/goat cheese/roasted red peppers. Says Cass: "Quiche is like pizza: you can put anything in."