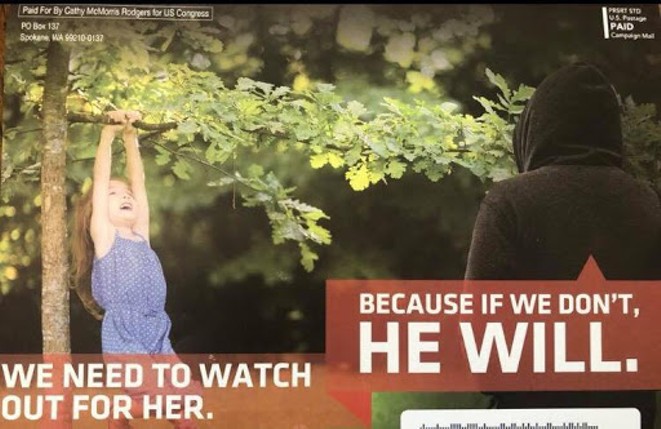 Washington 5th District Race Draws Criticism For McMorris Rodgers Ads
The race for U.S. House in eastern Washington has taken a negative turn.
Despite criticism, 5th District Republican Congresswoman Cathy McMorris Rodgers isn't backing down on a controversial ad campaign attacking her Democratic opponent, Lisa Brown, using information proven to be misleading and false.
In the mailed and television ads, McMorris Rodgers calls Brown dangerously liberal and alleges she voted against a bill when Brown was in the state legislature that would have prohibited sex offenders from living within a quarter mile of a school.
Brown did vote against the initial bill, saying it was poorly written and not tough enough. She later voted for another bill in 2005 that banned sex offenders from schools, child care centers and playgrounds.
Travis Ridout, a political scientist at Washington State University, told the Associated Press that running negative ads so early makes some sense for McMorris Rodgers.
"If McMorris Rodgers does really well in the primary, then donor and voter enthusiasm for Brown may wane," Ridout told the AP. "But if Brown does well, McMorris Rodgers will look extremely vulnerable."
One ad includes a supposed excerpt from an article in the Columbian newspaper saying Brown voted to release sex offenders from supervision.
The accompanying quote is misattributed to Brown, as reporter Daniel Walters with Spokane's Inlander newspaper has shown.
From The Inlander: 
"Here's the thing: The line "Brown voted to release from supervision predators like," does not actually appear in the Columbian article. Brown's name doesn't appear in the Columbian article at all.
 "The article does outline the concerns of a state corrections officer that early versions of Senate Bill 5891 would have resulted in the release of criminals like Fisher from community supervision — essentially Washington's version of probation and parole."
The words are paraphrased from concerns raised by a state corrections officer during earlier drafts of the bill.  
The Columbian article McMorris Rodgers' campaign used never actually mentions Brown's name.
According to the Associated Press: 
"Brown said the McMorris Rodgers ad was misleading and showed that the incumbent is worried. The ad claimed Brown voted against a bill that would have given the state authority to prohibit some convicted sex offenders from living within a quarter mile of a school. Brown said she voted against the bill because she did not think it was tough enough, saying it should have included preschools and child care centers.
 "They ran the same attacks against me in 1996 when I was running for the (state) Senate," Brown told the AP. "I'm amazed they would resurrect that… Negative ads so soon show a real concern about what the primary is going to look like."
McMorris Rodgers' campaign has pushed back on criticism and defended the ads.
"This is Lisa's record and she needs to defend it," McMorris Rodgers' spokesman Jared Powell told the AP.
Several hundred psychologists and others in the mental health field have signed an open letter to McMorris Rodgers, urging her to stop the ads and apologize.
McMorris Rodgers will hold several public and private events throughout eastern Washington July 30 through August 3, including town hall meetings in Republic and her hometown of Kettle Falls.
She is not scheduled to host any public town halls in Spokane – the district's largest city. But she will host a private fundraiser with fellow Republican Rep. Devin Nunes, chairman of the House Intelligence Committee, on Monday, July 30 at the Spokane Club. 
ADDITIONAL REPORTING BY NICHOLAS K. GERANIOS, AP:
McMorris Rodgers has two primary challengers from within her own party, who appear to have little chance of making a dent in her path to the general election. Brown is the only Demo