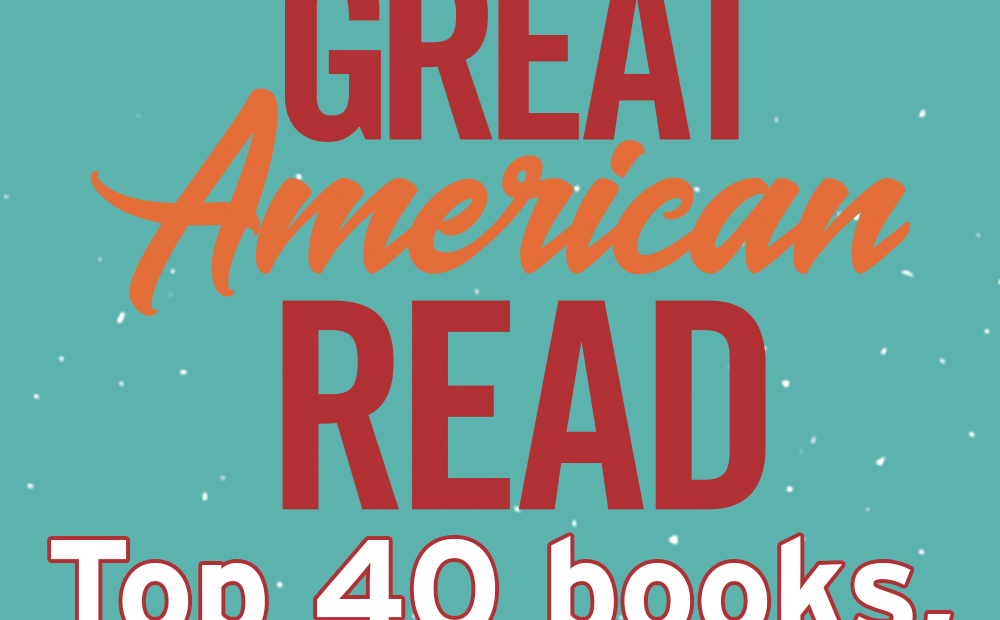 The Great American Read – Top 40 Books, So Far
The Great American Read has reached TWO MILLION votes in the search for America's best-loved novel. But it's still anyone's game! Below are the TOP 40 BOOKS from the list of 100 that are currently leading the pack. If you don't see your book, there is still time to change that. You can vote for your favorites each day until Thursday, October 18, 2018 at midnight PT, when voting closes. Click here for details on all the ways you can vote.
TOP 40 BOOKS
(LISTED IN ALPHABETICAL ORDER, NOT BY VOTE RANKING)
1984
A Prayer for Owen Meany
A Tree Grows in Brooklyn
The Adventures of Tom Sawyer
Alice's Adventures in Wonderland
And Then There Were None
Anne of Green Gables
Atlas Shrugged
The Book Thief
The Catcher in the Rye
Charlotte's Web
The Chronicles of Narnia (Series)
The Clan of the Cave Bear
The Color Purple
The Count of Monte Cristo
The Da Vinci Code
Dune
Gone with the Wind
The Grapes of Wrath
Great Expectations
The Great Gatsby
The Handmaid's Tale
Harry Potter (Series)
The Help
The Hitchhiker's Guide to the Galaxy
The Hunger Games (Series)
Jane Eyre
The Little Prince
Little Women
Lonesome Dove
The Lord of the Rings (Series)
Outlander (Series)
The Outsiders
The Pillars of the Earth
Pride and Prejudice
Rebecca
The Stand
To Kill a Mockingbird
Where the Red Fern Grows
Wuthering Heights
The Great American Read returns to PBS starting on Tuesday, September 11, 2018, with 7 new episodes airing weekly on Tuesday nights at 8pm on NWPB.  The winner will be revealed in the final episode on Tuesday, October 23, 2018.

Check out these book reviews from some community members!