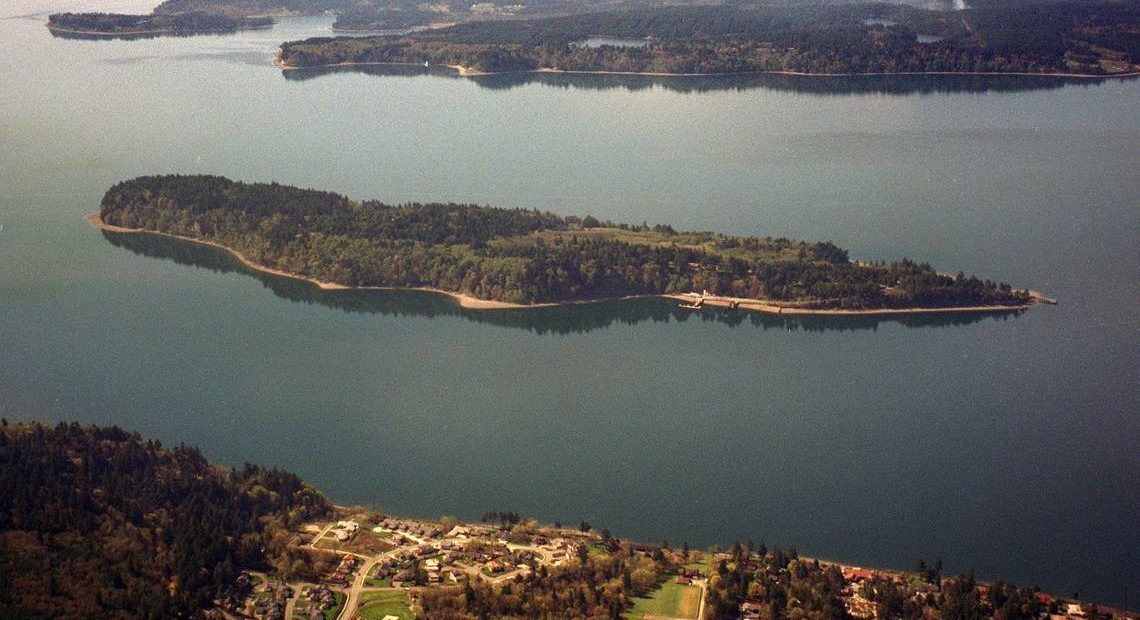 UPDATES: Man Steals Horizon Air Plane From SeaTac Airport, Crashes On South Puget Sound Island
PHOTO: Ketron Island in the south Puget Sound, site of where a stolen Horizon Air turboprop plane crashed on Friday evening, Aug. 10, 2018. CREDIT: The News Tribune
Federal aviation officials and the Pierce County Sheriff's Office say a man who stole a Horizon Air Q400 turbo prop plane from Sea-Tac International Airport Friday night has crashed on Ketron Island in south Puget Sound.
This is a developing story and will be updated as information is available and confirmed.
NOTE: The National Suicide Prevention Hotline is available 24/7 at 1-800-273-8255 or online at suicidepreventionlifeline.org. A live chat is available there, too.
UPDATE, Aug. 11, 5:40 p.m.:
Seattle public radio station KUOW reports:
Investigators and airline officials began to piece together information about how a 29-year-old Horizon Air employee was able to take a Bombardier Q400 turbojet from Sea-Tac airport and fly for more than an hour before crashing into a small island in South Puget Sound.
They believe there were no passengers on board and no structures hit when the plane crashed into Ketron Island on Friday night.
Speaking at Sea-Tac Airport on Saturday morning, they stressed that the investigation was just getting started, with many questions still unanswered. But officials gave some details about the unauthorized flight.
Investigators would not name the employee who took the plane, but a law enforcement source identified him to Seattle public radio station KUOW as Richard B. Russell of Sumner, Wash. Investigators confirmed he was a 3 ½ year employee for Horizon Air who worked as a ground service agent.
"He worked his shift yesterday. We believe he was in uniform," said Alaska Air Group CEO Brad Tilden.
Tilden said the company runs background checks on their employees and that it was the job of the employee in question to be around aircraft.
"Airports have a non-secure side and a secure side. He's meant to be on the secure side, that's part of the fulfillment of his job responsibilities," Tilden said.
Questions have been raised about how a plane can be stolen from a busy airport.
On Saturday, airline and Sea-Tac representatives said Russell, who identified himself as "Rich" to air traffic controllers, was fully credentialed and had access to the cargo area where the plane was.
Tilden said the system in place is to credential and secure employees and air fields, but not planes. Unlike cars, there are no keys needed for the door or to turn on the plane, he said.
-Reporting by Kate Walters, KUOW. See more coverage from KUOW.
UPDATE, Aug. 11, 12:10 p.m.:
Federal, state and local authorities continue their investigation into the incident, with the FBI taking the lead, the agency said in a news conference today.
A small fire that started on the uninhabited south end of Ketron Island is under control, after response from local and state authorities. The Washington state Department of Natural Resources was coordinating response to the fire with local agencies, according to DNR chief Hilary Franz. There are several dozen residents on the island that is accessible only by boat.
The North American Aerospace Defense Command (NORAD) said the two F-15 jets that were dispatched to follow the plane were attempting to take it out over the Pacific Ocean, the Seattle Times reported. NORAD confirmed that the jets had not fired on the Horizon Air plane, and that it crashed on the island without their intervention.
Investigators with the National Transportation Safety Board and Federal Aviation Administration are on the island today looking at the wreckage and attempting to recover the cockpit voice recorder and flight data recorder.
Correspondent Tom Banse attended a news conference Saturday morning, where officials described some of the process for how the man got into and ultimately piloted the plane.
Also:
– The man who stole the Q400 turboprop was authorized to be in that area of airport.
– He needed to push back the plane with a tug before starting engines to taxi out.
– Airline brass sounded as amazed as rest of us by aerial acrobatics the rogue pilot did before crash.

— Tom Banse (@TomBanse) August 11, 2018
Banse reported that Horizon and Alaska Air officials reiterated that there aren't "keys" to a plane's outside door nor an ignition with keys like a car, and that to start the engine, the man needed "to throw a series of switches correctly."
In a late-night statement Friday, the president of the National Air Traffic Controllers Association praised the work of the air traffic controller who is heard on recordings communicating with the person in the cockpit.
"We especially acknowledge the contributions of the controller who worked this aircraft and communicated with the individual at the controls. This controller works at Seattle Terminal Radar Approach Control (TRACON), an FAA facility located in Burien, Wash., just west of Seattle-Tacoma International Airport. The recordings of the incident display his exceptional professionalism and his calm and poised dedication to the task at hand that is a hallmark of our air traffic controller workforce nationwide."
August 10, 2018, 11:06 p.m.:
Correspondent Austin Jenkins, based in Olympia, reports seeing emergency operations ongoing around Ketron Island.
The lights of police boats off Ketron Island tonight where stolen Horizon Q400 went down after reportedly being chased by military interceptors pic.twitter.com/UPhC8D9HmJ

— Austin Jenkins N3 (@AustinJenkinsN3) August 11, 2018
Jenkins reported this from near the scene of the crash Friday night:
"We can see evidence of fire on the hillside here on this island. Police boats and helicopters are circling. There is a ferry at the dock and police vehicles with flashing blue lights are moving away from the ferry at this point. This is clearly the location where this plane went down. But it's a very remote island, very dark, not a lot of evidence of houses. And what we're seeing is a glow in the woods of what appears to be the remnants of where this plane went down. The remnants from the flames from the fire that was started when the plane crashed. And as I say, there are helicopters circling, police boats in the water, and a ferry at the dock on this island with more flashing blue lights, near the ferry."
In recordings between the man and air traffic control, the man who stole and piloted the plane said he was a "broken guy" but also joked about whether the airline would hire him as a pilot if he landed safely.
"Nah, I'm a white guy." #seatac pic.twitter.com/OVtJqphgqo

— Jimmy Thomson (@jwsthomson) August 11, 2018
The man, who was addressed as "Rich" in audio recordings with air traffic controllers, said he didn't want to land at nearby McChord Air Force Base (part of the larger Joint Base Lewis McChord).
He told them, "Those guys will rough me up if I try and land there."
During another part of the exchange, the man said he was concerned he was going to run low on fuel.
Later, he said he's "got a lot of people that care about me."
10:15 p.m.:
Pierce County sheriff's officials say a man who stole an Alaska Airlines plane from Sea-Tac International Airport was "suicidal" and there is no connection to terrorism.
Ed Troyer, a spokesman for the Pierce County Sheriff's Department, says on Twitter Friday night that a 29-year-old airline mechanic stole the Horizon Air Q400 from Sea-Tac International Airport.
Witnesses reported seeing the plane being chased by military aircraft before it crashed near Ketron Island. There were no passengers aboard.
The sheriff's department said they were working to conduct a background investigation on the man, whose name was not immediately released.
The man could be heard on audio recordings telling air traffic controllers that he's "got a lot of people that care about me" and that he is "just a broken guy."
Sea-Tac airport operations were disrupted for a time Friday, as other flights were grounded and prevented from taking off.
At 8:30 p.m. on Friday night KUOW Seattle public radio reporter Anna Boiko-Weyrauch wrote an ominous tweet:
"My pilot speaking," her tweet began. "It's a Horizon Q400 big turboprop. Some guy stole it. Looked up how to fly on the internet. He's been around Mount Rainier, now is going to Olympics. He doesn't know what he is doing. He has everything in the area locked down."
Within the hour, Sea-Tac Airport confirmed the rogue mission: "An airline employee conducted an unauthorized takeoff without passengers at Sea-Tac; aircraft has crashed in south Puget Sound."
9:50 p.m.
Officials at Sea-Tac International Airport say an Alaska Airlines plane that was stolen by an airline employee and has crashed in Washington state.
Airport officials say in a tweet Friday night that an airline employee "conducted an unauthorized takeoff without passengers."
Witnesses reported seeing the plane being chased by military aircraft near the airport.
The Pierce County Sheriff's Office said on Twitter that preliminary information suggested that a mechanic had stolen the aircraft. The tweet said the crash may have been caused by the mechanic "doing stunts in air or lack of flying skills."
A Coast Guard spokeswoman said the agency was responding to a report of a smoke plume and possible plane crash. Petty Officer Ali Flockerzi said a 45-foot vessel was headed to the scene.
9:37 p.m.
Alaska Airlines says there was an "unauthorized take-off" of an airplane and witnesses reported a jet being chased by military planes near Sea-Tac International Airport.
We are aware of an incident involving an unauthorized take-off of a Horizon Air Q400. We believe there are no passengers on board. More information as we learn more.

— Alaska Airlines (@AlaskaAir) August 11, 2018
The airline tells The Associated Press that the plane was a Horizon Air Q400 and it believed no passengers were on board.
Horizon Air is part of Alaska Air Group and flies shorter routes throughout the western U.S.
The Q400 ix a turboprop aircraft with 76 seats.
Initial reporting by The Associated Press. Additional reporting by Kate Walters and Isolde Raftery of KUOW, Austin Jenkins and Tom Banse of the Northwest News Network, and Scott Leadingham of Northwest Public Broadcasting.