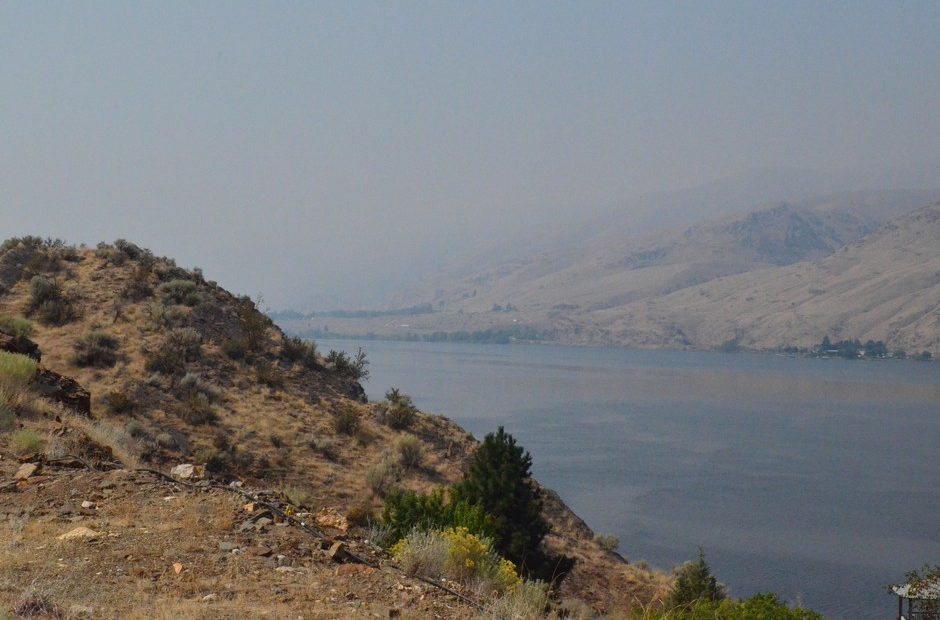 Wildfire Smoke Means Smaller Newborns And More ER Visits
Ask anyone who lived in Washington's Wenatchee Valley in 2012 about the smoke that year, and they'll remember. The fires were close and the valley's dry hillsides trapped the wildfire smoke. It was so bad clinics and drug stores ran out of masks. The air was so choked with smoke that summer camps were canceled and children were kept inside.
Anastazia Burnett won't forget that summer. More than once, asthma attacks drove her to the walk-in clinic for emergency treatment. At the time, she was newly pregnant with her first child.
It was scary, she remembers, "because, when your blood oxygen is low, your baby's blood oxygen is low, too."
Climate change is advancing. Snowpack is decreasing, and summers are hotter and drier. A century's worth of fire suppression is leaving forests overloaded with fuel. All of that is creating the conditions for wildfires to spread quickly and widely and burn huge trees along with the underbrush. Fire seasons are now 105 days longer in the western U.S. than they were in the 1970s. And longer wildfire seasons means more smoke pouring into cities and towns.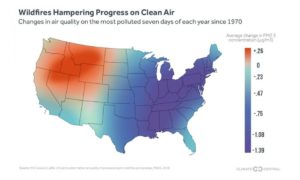 So even while air quality has generally been improving across the U.S. since the passage of the Clean Air Act, air quality is getting worse in large swathes of the West during fire season. That is a major threat to public health, because air pollution aggravates conditions such as asthma and emphysema, and it can also harm those who were previously healthy.
'Clearly Linked To Climate Change'
Dan Jaffe, a professor who researches air pollution at the University of Washington in Bothell, has published a paperin a scientific journal this summer that showed that the most polluted days of the year are becoming even more polluted in the Intermountain West.
A separate look at air quality data by the non-advocacy news and science organization Climate Central show researchers found a similar trend: In Washington, Oregon and California's Central Valley, a higher percentage of poor air quality days are occurring during wildfire season.
"These effects are very clearly linked to climate change," Jaffe says — which means as climate change advances, air quality is likely to get worse.
And poor air quality because of smoke is pretty unavoidable for everyone.
"When the air quality is bad, we don't get breaks until … the fires get contained or the wind shifts," says Dr. Craig Kunz, a pulmonologist in Wenatchee. "It's more of a constant exposure that you can't really avoid."
Public health officials advise people to stay inside during smoke waves, but people still have to go outside for groceries, medications and doctor visits. That's especially true for people like Burnett, with lung conditions like asthma or emphysema that often flare up during smoke events.
"Your chest starts to feel tight and then it will get tighter and tighter, and you feel really short of breath like you've been running a lot," Burnett says, "and it just doesn't go away."
People with lung conditions are more likely to refill their prescriptions, go to the doctor and be hospitalized during wildfire smoke events. Researchers with the EPA say that, between hospital admissions, emergency room visits, and premature deaths, wildfire smoke exposure costs the U.S. between $11 billion and $20 billion per year.
No One Is Immune
People with pre-existing conditions aren't the only ones who are affected. Children are also vulnerable because their lungs are developing. Low-income people are at risk as well, in part because they're less likely to have well-sealed homes and air conditioning.
When pregnant mothers are exposed to wildfire smoke, there's a "small but significant decline in birth weight," says Colleen Reid, a geography professor at the University of Colorado in Boulder who researches the public health effects of wildfire smoke.
Reid says scientists haven't finished teasing out all the other potential health effects of wildfire smoke. They're most worried about PM2.5, a component of wildfire smoke and other sources of air pollution that is so small it can make its way into human lungs and bloodstream.
Other, more extensively studied sources of air pollution are known to harm cardiovascular health and can increase the risk of obesity and diabetes.
"What we've wondered is can these really high air pollution but short time period events such as wildfires impact the cardiovascular system in the same way that chronic long-term exposure to lower levels of air pollution can," Reid says. Some of the studies that have looked at that question have found an impact — and some have not.
A Fire Strategy To Curb Smoke
Some researchers suggest one way to help the communities hit hardest by waves of smoke for days or weeks at a time year after year would be to change the way forests are managed.
By setting prescribed fires during the shoulder seasons, forest managers can reduce the risk of summer megafires, while burning the forest at times when the wind will carry smoke away from major population centers.
And prescribed fires produce less pollution per acre than wildfires, adds Janice Peterson, an expert on wildfire smoke and air quality with the Forest Service. That's because they're set when the forest is wetter, so they don't burn the forest crown or smolder in the forest floor.
Even if prescribed fires would be beneficial in the long-term, though, there are obstacles to setting them.
"The rub," Peterson explains, is that, "if wildfire smoke pollutes the community for days on end … nobody is responsible. Nobody gets in trouble." But, if the Forest Service sets a fire and there's smoke "for, you know, two, three, four hours or sometimes maybe a couple of days … we do get in trouble for that."
Peterson says Washington's Methow Valley and Bend, Oregon, are particularly resistant to having to deal with any smoke from prescribed fires. Both locations depend on year-round outdoor tourism to fuel their economies, and, in recent years, they've attracted many upper-income residents and vacation-home owners.
Resisting Smoke From Prescribed Fire
Both Washington and Oregon have strict smoke management plans that side with communities like the Methow Valley and Bend.
As a result, Peterson says, "a lot of times we don't burn the amount of acres we would like to because … there's too much concern about affecting public air quality."
After the severe wildfires of 2014 and 2015, the Washington Legislature asked the state's Department of Natural Resources to update the smoke management plan to make it easier to set prescribed fires — and Oregon is also revisiting its smoke rules. That said, it's complicated.
"Given the strength of our air quality laws, it's really hard … to say, you know, 'Yes, we can allow more smoke where humans are going to breathe it,'" Peterson says.
From a public health standpoint, Kunz, the pulmonologist, says short-lived smoke exposure is better than out-of-control wildfires.
"These large fires burn for a long time, and patients are exposed to poor air quality for a prolonged period of time," he explains. With that prolonged exposure, he says, patients with lung diseases get much worse, and patients who've never had lung problems often show up in his office for the first time. But, he says, "I don't see patients when they've had short-term smoke exposure. They're not coming in and seeking more help or getting into problems or having emergencies."
Earlier This Year
In the Wenatchee Valley, the smoke came later than usual this year, but it's here. The early August air is thick and stings your eyes and nose when you walk outside.
Burnett can normally see the Cascades out her back window — but, today, smoke obscures the view.
"You can't even see Pine Canyon, which is, you know, just like one field across," she says. "When I opened up the hatchback of my car, you could see ash falling … and that's how it's been the past week or so."
When the smoke gets bad enough, Burnett keeps her kids, who are 5 and 2 now, indoors. She has an air filter going in the living room. She says, sure, they start to get a bit of cabin fever — but summer smoke east of the Cascades is like rain in Western Washington: something you just have to deal with.
Still, she says, "if every year were as bad as 2012, I would definitely consider moving."
This story was produced through a partnership with Climate Central, a non-advocacy group that researches and reports on the changing climate. Climate Central's Maya Miller contributed to this story.
---
About This Story
What question did we set out to answer?
How is wildfire smoke exposure changing and affecting public health, and what can be done about it?
Who is in the story?
We interviewed experts on wildfire smoke exposure and public health, including atmospheric scientists, public health experts and doctors.
We also traveled to one of the places worst hit by smoke pollution in recent years and spoke to people affected by the smoke.
We also spoke to a Forest Service expert who could comment on policy changes that would benefit public health.
Copyright 2018 Earthfix