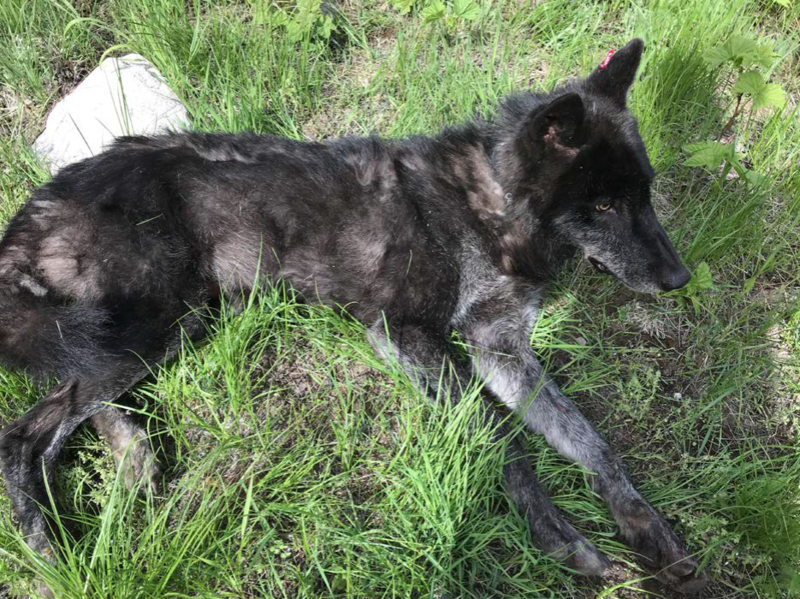 Judge Says Washington Wildlife Agency Can Kill Togo Pack Wolf For Cattle Hunting
Washington state government marksmen now have clearance to go out this weekend to shoot a wolf from a pack that has been preying on cattle in the Colville National Forest. A judge on Friday declined to extend a temporary stay on the killing won by several environmental groups last week.
Lawyers for the Center for Biological Diversity and Cascadia Wildlands were back in Thurston County Superior Court Friday morning seeking a longer injunction. They wanted to prevent the Washington Department of Fish and Wildlife from killing members of the Togo wolf pack.
"There is a high burden that has to be met," said Judge Carol Murphy in issuing a denial from the bench. "That burden has not been met at this time."
The new Department of Fish and Wildlife director, Kelly Susewind, watched from the back of the courtroom. After the ruling, he said he was "glad" the agency can proceed.
Still, inside and outside court Friday, the wildlife agency faced questions about the necessity of hunting down the male wolf, given that he is already limping from an existing bullet wound in a rear leg and probably not currently a threat to livestock.
"In order to change pack behavior, it's still appropriate to lethally remove the collared male," Susewind said in an interview.
The West Coast wolf advocate for the Center for Biological Diversity predicted the disruption of the pack structure from killing its leader could increase — not decrease — problems for ranchers in the mountains near the Canadian border.
"In killing that wolf, that leaves his mate on her own to hunt and feed herself and her two pups," said Amaroq Weiss. "If she's hunting by herself, she's not going to be able to take a big, wild prey animal like an elk down by herself. The most vulnerable prey that is in the area is livestock. So this may actually exacerbate the conflicts and result in more livestock losses, which no one wants."
Weiss called the courtroom outcome "a tragic result" for the wolf, his pups and mate.
Susewind's authorization to take lethal measures against one or more members of the Togo pack came after the pack preyed on cattle on six separate occasions in the Kettle River Range since last November.
Late last week, a cattleman shot and injured the Togo pack male in an incident that remains under investigation by Fish and Wildlife. The rancher told the agency's staff that he shot in self-defense after encountering the growling wolf, who may have been protecting the pack's pups.
Environmental groups in the Pacific Northwest other than those that brought the lawsuit are grudgingly going along with killing problem wolves as a last resort policy.
"Lawsuits and polarization haven't worked out well for wolves elsewhere, so we see little upside in spreading those tactics to Washington, where wolf recovery is going relatively well overall," said Mitch Friedman, executive director of the Bellingham-based group Conservation Northwest, in a statement critical of the legal challenge.
He said collaboration between conservation groups, government agencies and livestock producers "is leading to less social conflict concerning wolves." It's also making ranchers more willing to adopt non-lethal wolf deterrence techniques, Friedman said.