September Focus: The Internment Of Japanese-Americans
Every September more than a million people go to the Washington State Fair — oblivious that the Puyallup fairgrounds site was where people of Japanese ancestry were rounded up and incarcerated during WWII.
It was one of 16 so-called "assembly centers" in California, Oregon, Washington and a small sliver of Arizona. 120,000 people of Japanese ancestry were forced from their homes and kept in these centers, then sent to one of 10 "relocation" camps. Imprisoned behind barbed wire for the length of the war, two-thirds of them were American citizens.
This month, watch and listen to special programs examining how this shocking violation of American democracy came to pass, and its legacy in the present.
On Radio:
Order 9066 is the first major radio documentary series to chronicle this crucial and often overlooked period in U.S. history. It takes its name from the executive order President Franklin D. Roosevelt signed just months after Japan bombed Pearl Harbor. A compelling and heart-rending story told by the people who lived through it, narrated by Sab Shimono and Pat Suzuki, veteran actors who were both incarcerated. Saturdays, Sept. 8, 15 & 22, NPR News service, 9-10 PM
 On TV: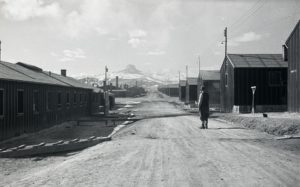 Legacy Of Heart Mountain takes us inside the War Relocation Center named after nearby Heart Mountain in Wyoming, one of 10 camps used to incarcerate Japanese Americans. Thousands of innocent people's lives were changed forever. KTNW-TV Sept. 7, 7 PM; KWSU-TV Sept 16, 6 PM
Our American Family: The Furutas  Through hard work, the Furutas established a successful goldfish farm, only to have their business devastated and family separated in the wake of WWII. Following years in an Arizona relocation camp, their indomitable spirit prevailed as they returned home and banded together to pursue the American dream for a second time. KWSU-TV Sept. 8, 10 PM; KTNW-TV Sept 13, 7:30 PM
Silent Sacrifice: Stories Of Japanese American Incarceration  Japanese Americans in the San Joaquin Valley had established farms and businesses when they were suddenly forced to abandon their homes and move into temporary assembly centers, then sent to permanent internment camps. KWSU-TV Sept. 9 (2 PM, Parts 1 & 2); Sept. 11 (8 PM, Part 1), Sept 18 (8 PM, Part 2); KTNW-TV Sept. 9 (7 PM, Part 1), Sept. 16 (7 PM, Part 2), Sept. 11 (Noon, Parts 1 & 2)