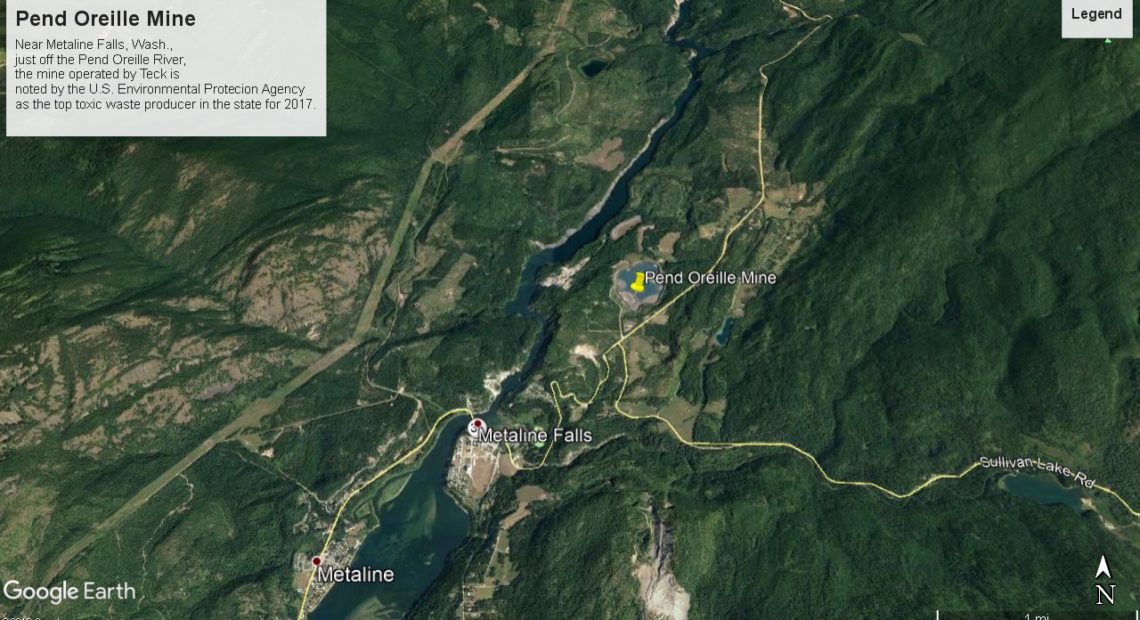 Washington's Biggest Toxic Waste Polluter: A Mine (With Hanford Not Far Behind)
Since the late 1980s, the U.S. Environmental Protection Agency has been keeping track of big polluters through their Toxic Waste Inventory or TRI. The EPA has released their latest data for 2017.
We crunched some numbers for Washington, and here are the results.
Note that for this inventory, the EPA considers toxic waste to be chemicals or pollutants that cause cancer or chronic and acute human health effects, as well as significant adverse environmental effects.  
EXPLORE THE SITES ON THE MAP

In first place is the Pend Oreille Mine operated by international mining company Teck in northeastern Washington. The federal Department of Energy takes second because of clean-up efforts at Hanford's decommissioned nuclear plant.
Hanford's top-two reported pollutants were toluene and lead for a combined 4.3 million pounds of waste. Toluene is used commercially as a solvent and often associated with the smell of paint thinners or glue. Lead is also a known carcinogen. Most of that waste was released on site, during a one-time release last year.
The Pend Oreille Mine produced more than double that amount with 10 million pounds of waste. Most of that was made up of lead and zinc compounds released on site.
Other major polluters included the Kettle River Operations Mill in Ferry County and the Longview Fibre Paper and Packaging operation in Cowlitz County.
Ultrayield Micronutrients in Yakima County, Agrium US Fertilizer Operation in Benton County, Cosmo Specialty Fibers in Grays Harbor County, and potato producer Lamb Weston in Benton County finished off the top-10 list. (Note: Pend Oreille and Hanford are on the list twice because they released more than one kind of toxic waste.)
Pend Oreille was the county with the most waste according to total releases based on weight. But Benton was the county with the most waste producers with three major polluters based in the area, including Hanford.
In total, various operations in Washington state produced over 32 million pounds of waste. That's the weight of thirty A380, 300-passenger airliners.
Copyright 2018 Northwest Public Broadcasting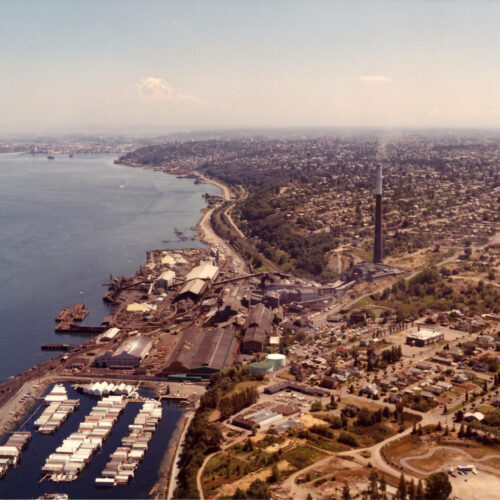 It was a clear day in Tacoma on January 17, 1993. Commencement Bay was crowded with boats. Families gathered on boat decks and across North Tacoma sidewalks to watch the demolition of what was once the tallest smokestack in the world, the ASARCO smokestack that loomed over Tacoma's waterfront for nearly 100 years.
With the press of a button, a child, supervised by demolition experts, detonated the smokestack. People cheered, bought commemorative sweatshirts and Doug Taylor's grandfather set off an air horn in celebration, nearly causing his father to topple off their boat. Continue Reading A park from pollution: 30 years after the ASARCO smokestack demolition, Tacoma's waterfront transforms