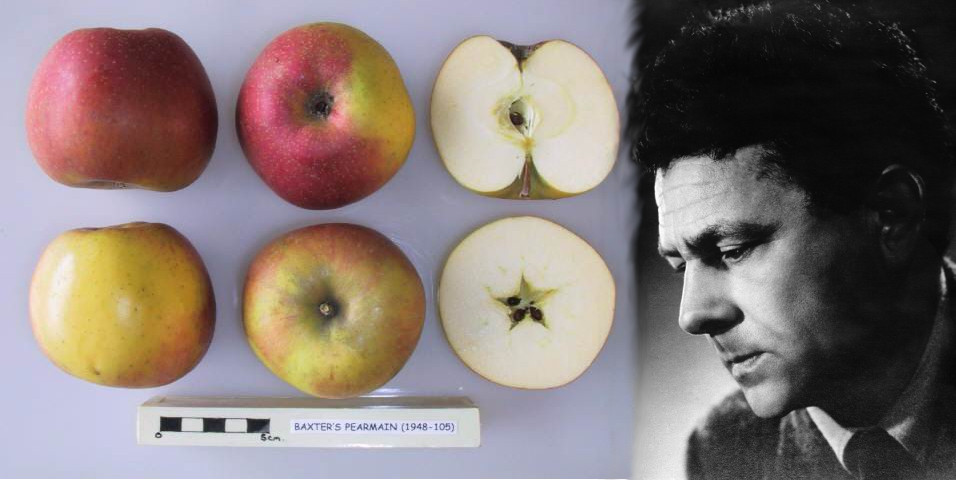 Apple Rescuer, Gentle Composer: Gerald Finzi
Consider this year's apples: Born from the seeds of an earlier generation's trees, the fruit you hold in your hand this fall will allow you "to shake hands with a good friend over the centuries."
That's how the composer and antiquarian Gerald Finzi put it. As your apples ripen, with the sweet strains of classical music on NWPB keeping them company, both your taste buds and your ears can find inspiration in Finzi's story.
Finzi and his family cultivated some 400 varieties of apples at their home in Hampshire
He lived only 55 years, but his legacy of quiet delights lives on: we program his graceful music, and England's National Fruit Collection displays the delicious results of his horticultural work. Finzi rescued not only rare 18th century musical manuscripts, but also rare species of almost-lost English apples.
Born a city boy, in London in 1901, with an uncommon talent for music, Finzi preferred  the country life. With his artist wife, Joy Black, he created a quiet world: raising a family, composing, collecting antique books, and rescuing those apples.
Dr. Matthew Ordidge of the University of Reading says Finzi's contribution to the National Fruit Collection includes at least five varieties: Baxter's Pearmain; Lord Lennox; Mead's Broading; Morris's Russet; and Norman's Pippin. In all, he and his family cultivated some 400 varieties of apples at their home in Ashmansworth, in Hampshire.
Finzi's mentor, friend, and fellow composer Ralph Vaughan Williams recalled, "Finzi was almost as keen on reviving forgotten varieties of apples as the works of forgotten English composers."
At their farm, the Finzis nurtured an ensemble of passionate amateur musicians, the Newbury String Players, who brought to the villages and towns around their farm performances of high artistic value. During World War II, they sheltered refugees.
"A lover of reading, collector of books, and conservationist—whether of 18th century music or apples," says the website of the Finzi Trust, a continuing source of support for musicians and other artists in our time.
Here's hoping your autumn gatherings make room for more Finzi-like moments: reflective and respectful and gently quiet, in the midst of a noisy world.